Mardi Agro Technology Park Langkawi
If you love fruits and eco tourism, then this is a perfect place for you. Spread over some 35 hectares of land area, this agro park was set up in 1990 and is run & managed by the government. Although the overall objective is to research in agriculture and farming, the key attraction here are the vast stretching fruit farms with sweeping view of the catchment area of Gunung Raya Reserve forests. 
Mardi Agro Technology Park, Entrance, Langkawi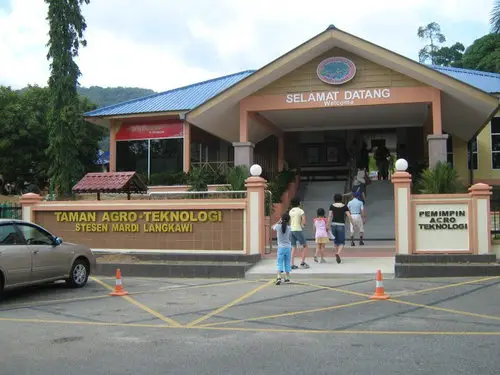 The park is located next to Lubuk Semilang Recreational Park in Padang Matsirat and within short driving distance from Kuah town and the airport. 
Guided Fruit Farm Tour
There is a guided fruit farm tour offered inside the park. Specialized trucks with covered roof but open on both sides are used to take the tourists around the fruit orchards. It has comfortable seats and you will get good views all around as it moves. The guide (usually a young lady) would stop the truck every time you come to a new fruit orchard or there is something interesting to be shown. 
The first visit is to the Tropical Fruit Farm. There are over 20 different types of seasonal and non-seasonal tropical fruit trees in the farmland here. The fruit farm covers about 40% of the total land area of the park. Some of the many fruits you can see here includes star fruits, guava, citrus, mango, rambutan, pulasan, durian, cempedak, jack fruits, longan, and many others. 
Landscape of Mardi Agro Technology Park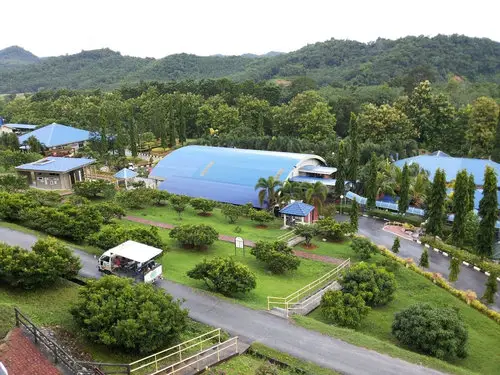 There is a large jack fruit that has a shape of a human head hanging from the tree and has become a favorite picture spot. The jack fruit has been further made up with leaves and paints to look like a comical human head. You can just stand covering your head behind it and ask some one to take your picture. 
You will get a funny picture with your head as if being replaced with the jack fruit. There are similar more such photo opportunities here with fruits. 
All along the friendly guide will keep sharing knowledge about these fruits which have all been grown organically without using any chemicals. There is also a place where you will get to taste samples of these fresh fruits ... a great energy booster after having been under the sun for long.  
Jackfruits at Mardi Agro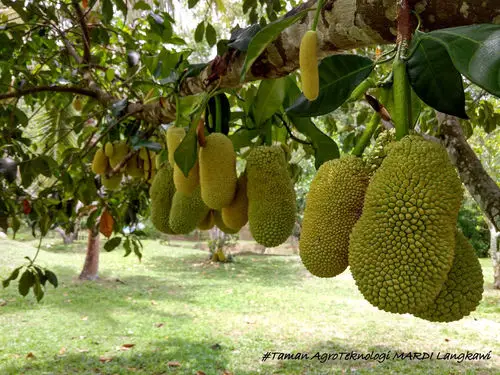 The next visit is to the Hi-Tech Vegetables Farm. This is a sheltered vegetable farm that has rain water shelters for fruits & vegetables, as well as insect proof structure for the leafy vegetables which are prone to attract insects. You will be briefed about how such hi-tech farming is effectively carried out and their benefits. 
All through your visit to the farms, the guide will not only explain the fruits and vegetable production that you see, she will also get you involved in fun activities like making a grasshopper or a ring with coconut leaves etc. 
However note that it is not a good idea to take the fruit farm tour when it is raining. There is no audio commentary available while you are seated inside the truck. So unless it stops, you are able to get out and the guide explains, you won't have much knowledge about the fruits. More over all the fruit trees are tagged with scientific names, so you won't know the common names of many fruits unless you recognize it. 
Star Fruits at Mardi Agro Park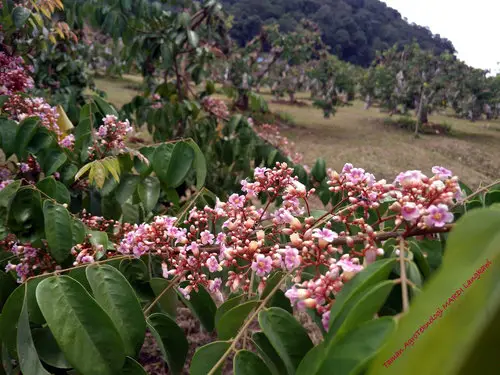 When it rains, the truck keeps moving and you will only be able to see the fruit orchards and the fruits from a distance instead of being able to touch and feel them and then understand how they have been cultivated. The best season to visit the fruit farm is between May to July when you can see maximum varieties of fruits. 
Note that the guided fruit farm tour is charged extra per person. The basic entrance fee does not cover this tour. 
Recreational Area
There is a vast natural area in the park which has been conserved for recreational purposes. You can come to this part, relax and enjoy the scenic view with lush greenery all around. Entry to this part is covered under the basic entrance fee. 
At an additional cost, you can take a guided tour here to explore the exotic flora & fauna of the park. Or if you are interested to stay overnight, there is basic camping facilities provided at extra charges. If you are a bit adventurous, you can take trek along a trail through the forest area. You can get a guide if you so want. There is also a pond by the edge of the forest where you can go for fishing. You will need to bring your fishing tackle and other gears though. There is also cycling offered in the recreational area (cycles included). 
Educational Package at Technology Information Center
There is a learning session of 2 hours offered in the information center. The class room has a capacity of 80 persons. They let you know about the hi-tech farming and many details about tropical fruits. You will also get to know about organic farming, fertilizers used in such methods, insect management and more. 
Park Facilities
There is a large car parking area in front of the entrance. There is also a cafe which serves platter of fruits. You can buy fresh organically produced fruits as well. A shop 'Agro Bazaar' inside the ticketing center building at the entrance sells packaged products like jams etc, wafers and ice creams. Restroom facilities are available. 
Entrance & Other Fees
1) Recreational Area (basic entrance): RM20 adult; RM10 child. 
2) Farm tour: RM20 adult; RM10 child. 
3) Guided jungle trekking: RM 20/hour 
4) Cycling: RM 2/hour 
5) Tent rental RM40/pax (up to 4 persons per tent) 
6) Campsite charge RM 5.00/person/day 
7) Food & beverages for camping (Breakfast, Lunch, tea & dinner): RM22/pax 
8) Educational package: RM12/per person. 
Open Hours
Saturday to Thursday: 9am to 5pm 
Closed on Fridays 
Location & Contacts
Located adjacent to Lubuk Semilang Recreational Park in Padang Matsirat area. About 12kms (15 minutes) from Kuah town and 9kms from the airport. 
Address: 
Mardi Agro Technology Park 
Jalan Padang Gaong, Lubuk Semilang 07000 Langkawi 
Phone: 604 - 953 2550 or 2551 
Map location of Mardi Agro Technology Park 
Related Articles
Visitors' Reviews/Comments
Share your experience.