Langkawi International Book Village
X CLOSED 
Themed and styled after the Hay-on-Wye book village of Wales (England), this is the 18th such book village in the whole world and the first and only one in South East Asia. Located at one side of Lubuk Semilang Recreational Park at the foothill of Gunung Raya, the idea was to create a book village covering a vast stretch of area in a wonderful forested parkland within lush greenery and nature. 
Several buildings spaced out from each other and with traditional Malaysian architectures were built on this hilly terrain. They housed and exhibited thousands of books of wide range of subjects and interest, and the project Kampung Buku Malaysia (meaning Malaysia Book Village) was finally launched sometime in December 1997. 
Langkawi International Book Village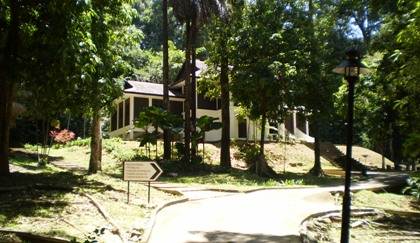 There are six such massive buildings that exhibit books of all kinds - new, second-hand, rare and even antiquarian books. As a book lover, you not only get to read the books, you can even buy them at reasonable prices. In fact some second-hand and rare books are being sold at very cheap prices. There are books being sold for RM5. 
A section houses and sells only rare collection of books and magazines. There are more than 500 numbers of such rare books in this section, some are more than 100 years old. I was amazed to note that even books of early 1930s had colored prints. 
So what kind of books can you expect at the Langkawi International Book Village? The range is wide ... travel, languages, Europe and Asian culture, literature, sports, gender studies, Arabic literature, religious, children's books ... the range is literally vast. 
Langkawi International Book Village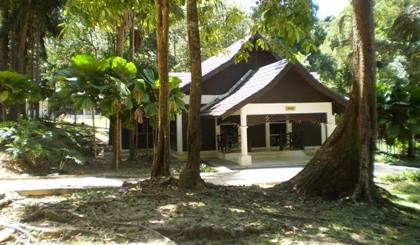 Although you will see several foreign tourists at the book village, there are hardly any locals visible. I wondered if locals here are really interested in reading books. If not, then why such a plush book village has been created which almost always looks empty. 
Being nestled in such a tranquil and charming ambience, it is a heaven for the bookworms. But I had often thought what would be the revenue model of the book village, where does the funding come from for running such a massive set up. 
Other than books, the area itself is a great place to visit. Right adjacent to the village is the Lubuk Semilang Recreational Park. For some reason this excellent parkland has not been popularized with the tourists. You will find ample benches and gazebos there to relax and enjoy the scenery. A stream flows nearby. 
Facilities 
Car parking is available. 
Admission 
Free entrance. Open daily 9:30am to 5:30pm 
Location 
At the foothill of Gunung Raya and adjacent to Lubuk Semilang Recreational Park in Padang Matsirat. Ask any taxi driver and he will take you there. It takes about 15 minutes from Kuah Town and 10 minutes from the Airport. Do not leave your taxi or else you may not get one on your way back. 
UPDATE August 2012: This time I found the book village closed. Although I could enter the premises, there was not a single soul around and the buildings were closed. Looks like due to lack funds and revenue, the authorities decided to close it until a solution is found. Further Update: Sadly the book village is permanently closed. 
Map location of Langkawi International Book Village 
Related Articles
Visitors' Reviews/Comments
Share your experience.