Langkawi Village Complexes
The village complexes I have described below are not the traditional villages in true sense. They are rather complexes which have been developed by the Langkawi authorities and offering various activities within a modern but village like ambience. 
For example the Oriental Village in Pantai Kok looks like a fusion of Chinese and French villages huts and full of retail stores & eateries, many of which have a cottage style look. The Air Hangat Village is a complex with both modern amenities and cottages surrounded by lakes and gardens. 
The International Book Village is comprised of several buildings of traditional Malay Architecture in a forest environment. So as you visit these places, other than getting engaged into their respective offerings, you are likely to experience a side of Langkawi's village life which is otherwise inaccessible to tourists. 
Here are the main village complexes of Langkawi: 
(Pantai Kok, Jalan Teluk Burau) 
This is a wonderful open complex full of shops and eateries that are built in Chinese & French village style. This charming yet modern village has duck ponds and footbridges that add to its overall appeal. There are numerous souvenir & retail stores, and also a duty free store. The complex has several restaurants and galleries as well.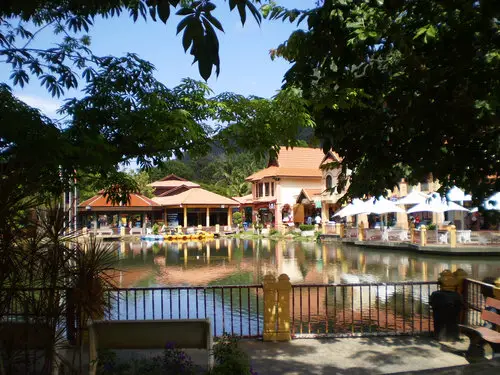 This is also the place where the famous cable car ride takes place. The village offers several other attractions & activities including Elephant Adventure, Duck Tours (on both water & land), Bike & Segway trail tours around the village, Tiger Exhibits and so on. Children can visit an animal farm located here housing rabbits, deer etc. Overall, it's a great place for families. 
(North East, on Jalan Air Hangat) 
This complex has been recently modernized. The original attraction here has been the natural hot water spring which is supposed to heal any problems with your feet if you dip them into the water. Which I tried and definitely felt better after a long strenuous walk. However the water is quite hot though. The complex now has added great Spa facilities including a series of top class Jacuzzis, restaurant, beautiful manicured lawns and pools, and village type stalls selling different kinds of souvenir & gift items, etc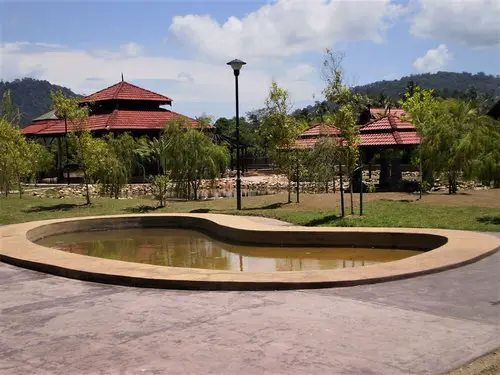 (Pantai Kok) 
This modern and sprawling complex is spread across several acres of land area and is located along the Telaga Harbour Park. The complex has several one or two storied buildings that are full of upscale boutique stores, restaurants and bars. 
As you stroll along the boardwalk by the side of the harbor, you will see a series of open style upscale restaurants of varied cuisine and bars many of which offer outdoor seating with great views of the water.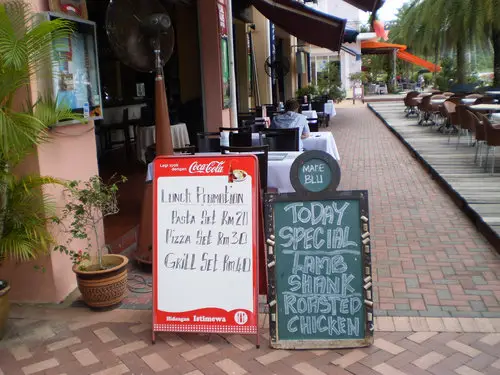 Other than many retail outlets selling home products, furniture, dress materials and such, you will also get sophisticated Spas & Salons here. During the the nighttime when all lights are illuminated along the harbor, Perdana Quay springs into action with many patrons and tourists flocking in. 
(Lubuk Semilang, Padang Matsirat) X CLOSED 
This is a large complex set up in natural greenery with many tropical trees. Several wooden buildings house enormous collection of rare and antique books. This is a place for those who love to read and collect books. There are wide ranging topics including Malaysia's history and travel. Many rare books are on sale at a reasonable price. The complex in a hilly landscape is also great just to take a stroll around amidst tropical forested land offering a wonderful tranquil ambience. 
Related Articles
Visitors' Reviews/Comments
Share your experience.