Air Hangat Village, Langkawi
Air Hangat (also spelled as Ayer Hangat) Village is a modern cultural complex located 14km north of Kuah Town. The center of the attraction here is the three-tiered hot water spring wells. Most interesting part is that it is a natural salt water hot spring which is rare and can be found only in three other countries in the world. While fresh water hot springs are common and can be seen in several places, but not the salt water hot springs. 
Earlier the village was known as Telaga Air Hangat meaning Hot Spring Well when essentially the hot water spring was the only tourist attraction here. The complex has been upgraded recently after three years of renovation work. In addition to the hot spring being converted into a three tier well, it now includes Jacuzzis where natural hot saltwater is pumped in, small ponds & fountains in landscaped gardens, cultural shows, restaurant, selling souvenir and gift stalls etc. 
Air Hangat Village, Langkawi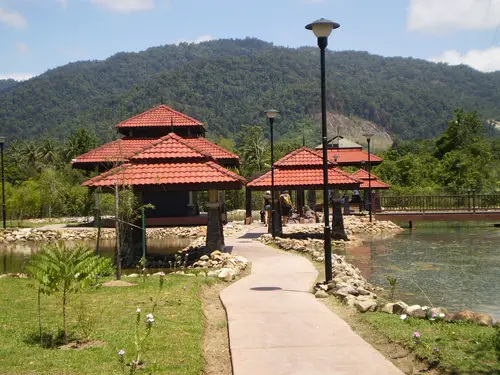 The first tier of the hot spring well is farthest away and near the outermost fence of the village. This is where the water is warmest. This is housed in a roofed gazebo like structure overlooking the beautiful mountains. You can sit around the well and dip your feet. Most tourists do it. 
Hot Spring, Air Hangat Village, Langkawi 
Although you won't see any fountains, natural hot water comes out from below the floor of the well and you can see the bubbles. As you dip your feet for the first time, you may feel the water too hot, but will soon get used to it and start liking the feel. 
Hot Spring, Air Hangat Village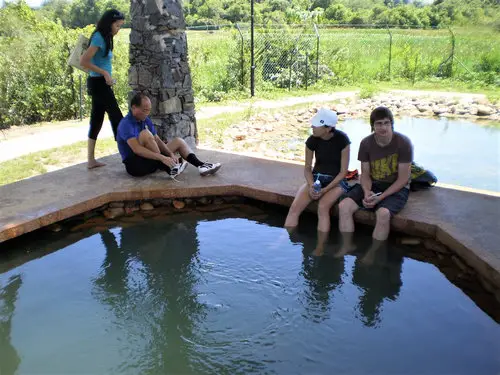 It is said that the salted natural hot spring water here is rich with mineral content and very effective for healing any feet related ailment. It is quite effective for skin diseases, gout and joint aches.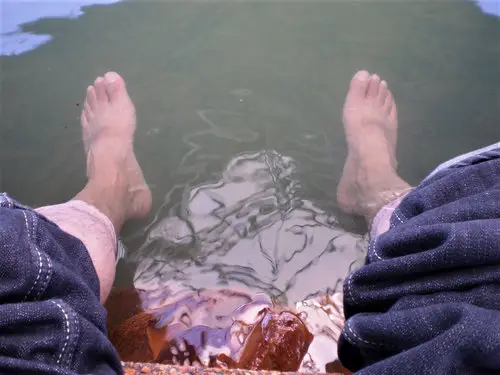 On one side of the village there is an 18-meter high mural made out of river stone. At the center of the mural there is a board that narrates the legend behind formation of the village. Like many other places and attractions in the island, Air Hangat Village also has a fascinating legend associated with it. 
The story says that two giants Mat Cincang and Mat Raya got engaged into a heavy fight during the wedding of Cincang's Son with Raya's daughter. Raya noticed that the bride groom was eyeing another woman during the wedding reception. The brawl got so nasty that they started throwing pots, pans and jugs towards each other. 
It is said that a jug full of boiling hot water fell into this place. As a result a natural hot spring has been formed here and the name to the place given as Air Hangat. 'Air' means 'Water' in Malay and 'Hangat' means 'Hot'. So Air Hangat means Hot Spring. 
However the real scientific reason behind this hot water spring is quite different. The rocks under the islands surface here are quite hot due to geothermal heating. The deeper layers of earth's crust are even warmer. So the water which is in contact with the rocks at a depth get warmed up and come out as hot springs. 
Air Hangat Village, Langkawi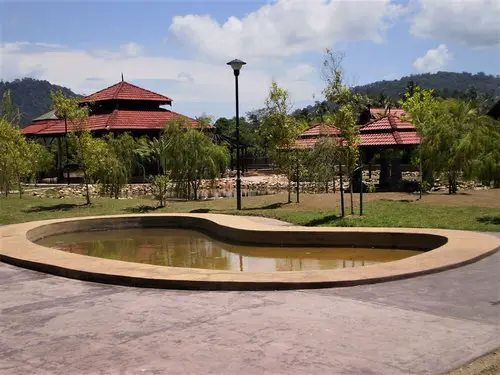 You can budget about one hour for the visit to Air Hangat Village unless you plan to engage in activities like Jacuzzi, Batik lessons etc.  
Facilities at Air Hangat Village
There is a series of twelve Jacuzzis built in Air Hangat Village along the right side boundary. These are independent private units and complete with toilets, baths and even a gazebo to enjoy the natural ambience. Natural hot salted water is pumped into the Jacuzzis from the spring. One unit can accommodate a family and up to 8 persons. 
Jacuzzi Entrance, Air Hangat Village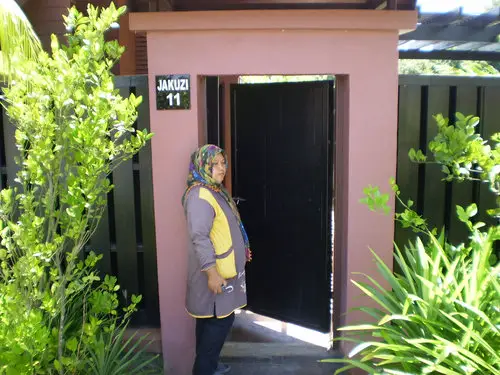 This is the only Jacuzzi where you will get natural salted hot water. It is great for treating chronic skin diseases, removing toxins from the body, reducing pain of gout and refreshing yourself from fatigue. The Jauzzi is offered in a hourly rate (RM70 - promotional).  
Salt Water Jacuzzi, Air Hangat Village 
There is foot reflexology massage available at the complex. 
Several activities take place in Air Hangat village including Cultural shows, Malaysian dance, Batik painting, kickboxing etc. 
There are stalls selling souvenir and gift items like trinkets, caps, bags etc. 
There is an on-site restaurant serving Malaysian, Thai and Indonesian dishes. They also offer take-away food. The jellyfish Satay is really nice. 
There are restrooms, car parking facilities available here. 
Admission Fee
RM5 per adult. Children below 12 are free. 
Open Hours
Open daily from 9am to 5pm. The last entry is at 5pm. The complex remains open for one more hour thereafter. 
Location & Contacts
Address: 16 Jalan Air Hangat, Mukim Air Hangat, 07000 Langkawi. 
Phone: +604 959 1357 
You can also contact Langkawi Tourist Information Center at 604-9667789. 
The complex is located 14kms north of Kuah and can be accessed from the road Jalan Air Hangat. You can easily take a taxi. Keep the taxi waiting or else you may have difficulty getting a taxi to return. There is also enough parking available in case you have a rental car. 
Map location of Air Hangat Village, Langkawi 
Related Articles
Visitors' Reviews/Comments
Sheena (January 2017) 
Please do not go to Air hangat village for hot spring jacuzzi. My hubby and I went there a week back in December and was welcomed to take the jacuzzi package. We were brought to a room where they had jacuzzi and toilet as well as a small shower area. We realised that the water in the tub was dirty and looked yellowish in colour. After that my hubby developed a bad allergic reaction on his legs and thigh due to bacterial infection. He had pimple looking like blisters all over his legs. We had a worst experience there. Please don't ever go there! 
Raj (langkawi-insight.com) August 2012 
When I visited Air Hangat Village this time, I was disappointed by the lack of maintenance of the ponds and the water areas. They were full of weeds and algae, and looked quite dirty, although it is quite evident that lot of money has been spent in renovating the village. Everything else otherwise looks quite new, but there are very few visitors.