Oriental Village, Langkawi
Oriental Village is an open air all-in-one complex. It's full of stalls & retail stores selling all kinds of items like clothes, souvenirs, bags, sunglasses, art & craft items and lot more. Other offerings include several food & beverage outlets & restaurants, host of activities, rides & tours, animal exhibits, spa and even a boutique hotel. 
The entire village complex is laid out as a themed lifestyle complex having a large central lake and with architecture in Chinese & Japanese style giving it a quaint yet modern look. There are marked paved pathways all through the village and arch footbridges at several points to cross over water streams. Overall the setting is wonderful and enjoyable for a leisure stroll. 
Entrance to Oriental Village Langkawi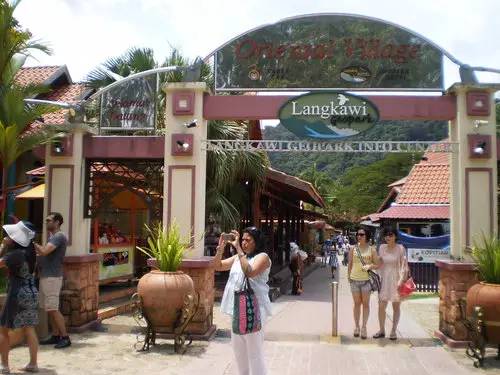 Oriental village is also the home for Malaysia's one of the top attractions - The Cable Car and the Sky Bridge. So if you are planning a visit to the village to enjoy its offerings, you will need to set aside a full day. It is located at the western side of the island in Burau Bay area and at the foothill of Mount Mat Cincang (near Pantai Kok). 
The Oriental Village administration is run by LADA Eco-Tourism Sdn Bhd which is a subsidiary of Langkawi Development Authority (LADA). The overall objective is to let the visitors enjoy end-to-end offerings of a self contained complex that has almost everything in one place. There are two entrances or gates (A & B) to the village. The main entrance is Gate A. The other one is through a narrow hanging footbridge built over a water canal. 
Oriental Village, Langkawi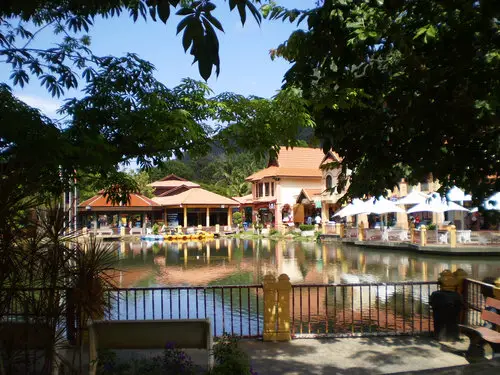 Attractions & Activities at Oriental Village
You will be amazed at the number of activities that take place at the Oriental Village complex. This is because the village is now a major tourist attraction by itself.  
Here are the main attractions & activities in the village: 
This is undoubtedly the top most attraction here. The frequent long queues in front of the ticketing counter is indicative of that. The 15 minutes cable car ride takes you to the summit of Mount Mat Cincang (709 meters) which is the second highest mountain in Langkawi and one of the three geoparks of the island.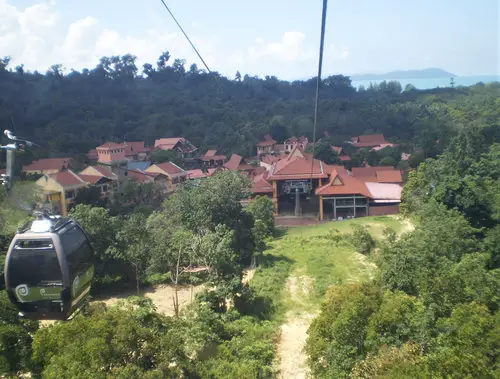 It has one of the steepest gradients in the world (42 degree at some stretches) and offering awesome views of the islands, sea and even that of the mainland Thailand from the top. You will also get to see the famous Seven Wells Falls from the cable car and the lush rainforests on the slope of the mountain. 
From the top station of the cable car, you can access this 410-foot long curved foot bridge suspended near the top of Mount Mat Cincang. As you walk along and reach the last triangular platform on the bridge, the view all around is breathtaking.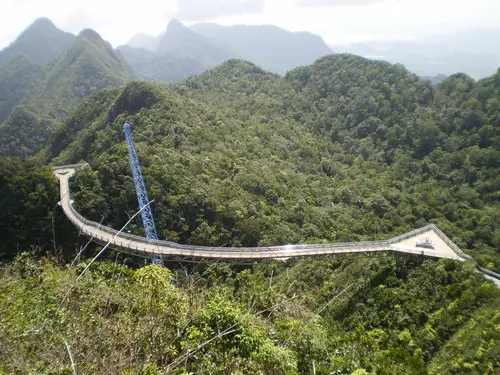 This is another amazing tour on an amphibious vehicle which is both a bus and a boat, and also looks like a combination of the two. It will first take you on road through the neighboring area and then splash into water at nearby Telaga Harbor. And then it shows you the marina and many other landmarks from the water before returning. 
A new art museum known as 'Art in Paradise' has come up at Oriental Village. It has more than 100 amazing three dimensional artwork. It's the largest in Malaysia.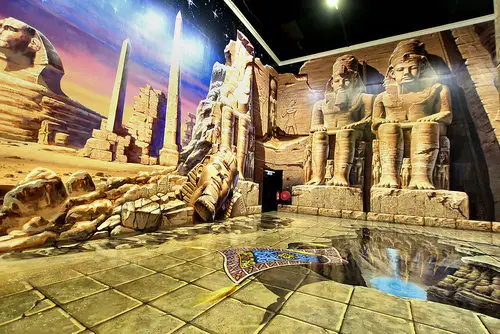 Photo: Phalinn Ooi, flickr, cc by 2.0 
You can ride the famous elephant Lasah who appeared in the Hollywood movie 'Anna & The King' and several other tele-films. There are fun, river and jungle adventures on elephant back. You can also join the feeding session to feed the elephant. 
You will meet Zanah - a young Malaysian tigress, which was the first to be brought into Langkawi. You can see her fun & frolicking activities in the exhibit area from a close distance. The gallery also has artwork and small models of tigers, elephants etc on sale. Entry is free. 
Segway Guided Tours
These are personal transporters and self balancing & eco-friendly machines on two wheels. There is an outlet at the center of the village that offers rides on these battery operated vehicles. Once you start riding, you can control the speed and direction easily. You can either choose a fun ride and to go around the Oriental Village or take the jungle ride through the secondary forest to the foothill of Mount Mat Cincang. 
The fun rides costs RM17 per person and Jungle ride RM30 per person. You can also ask them to take your group photo as you ride (extra charges applicable for photo). 
Anjung Spa
Their specialty is Fish Spa.... dip your feet into the aquarium and hundreds of fishes would remove all the dead cells from your feet. When you see your feet again, they would look different and fresh. However the Spa also offers several other massages including Thai Massage, Shoulder massage as well as Pedicure & Manicure services. Combo packages are also offered.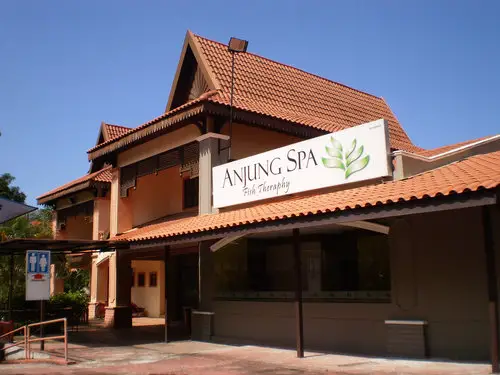 Langkawi ATV/QUAD Adventure
The company offers thrilling rides on ATVs (All Terrain Vehicles) on both jungle and beach trails. Most jungle rides take place in the secondary rainforest of Mount Mat cincang. The rides can be from 15 minutes to more than an hour. The company is operating since 2007 and have 8 Quad vehicles with engine sizes between 90cc to 330cc. Rides are available for beginners and experienced. You will find them next to the Elephant Adventure. 
Animal Farm
There is an animal farm inside the Oriental Village. With a backdrop of the mountains and having being setup in lush greenery, the farm looks very pretty. There are several common and small animals inside like deer, rabbits etc which could of interest to the kids. Entry fee is RM1.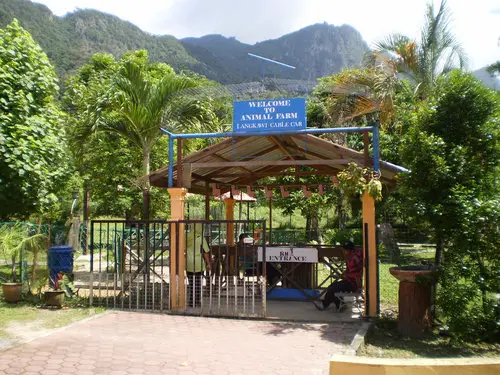 Langkawi Geopark Interpretive Center
It is also known as the Langkawi Information Center. You can walk into this impressive center to know all about why and how Langkawi has been accorded a world geopark status in 2007 by UNESCO. The center has a lot of information and artifacts about the rock and other geological formations of the island. Shortly after entering through the main gate, take a right turn and you will see this center placed prominently.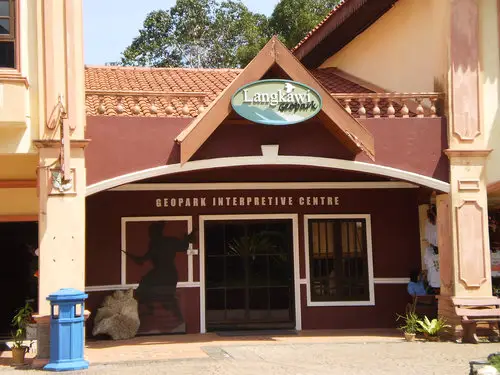 Other Attractions
There are several other attractions & activities in Oriental Village which could entertain families and children. For example, there is a place where you can participate in fish feeding.  
At the central lake, you can do paddle boating. If you are more adventurous, go for Flying Fox... You will be harnessed to an overhead cable with a hook & roller ... you will then zip down the cable from one end to the other ... lasts for less than a minute but quite thrilling for kids. 
Shopping at Oriental Village
One of the main offerings of Oriental Village is shopping. It is in a way can be seen as a themed and open air shopping complex. There are large number of retail outlets and stalls selling all kinds of goods here including souvenirs, trinkets, accessories, clothes, art work and lot more. You will also get some of the best deals here in the island. There is also an outlet selling duty free items including perfume, alcohol & tobacco.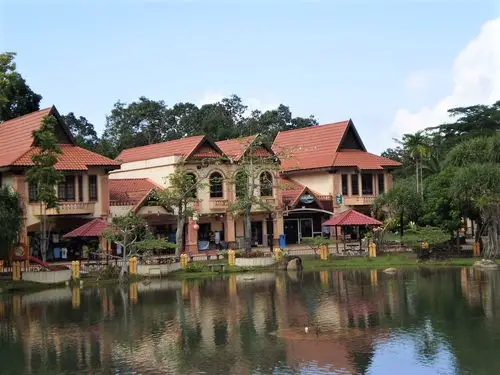 Restaurants in Oriental Village
Having been engaged in activities & rides and done some shopping, the nest thing is to have some sumptuous food at the village. To compliment that, there are several nice restaurants and even a large food court in the village complex. However note that all restaurants in Oriental Village (except Mizumi which is run by Berjaya Resort) close by 5:30pm. So you can plan to take lunch here but not dinner. 
Dropstone Cafe
(Category: Budget, Cuisine: Malay & Western) 
This is a friendly and casual restaurant serving both Malay and western dishes. The menu is quite exhaustive and includes salads and several main courses. It has air conditioned inside as well as outdoor seating. It serves breakfast, lunch and dinner.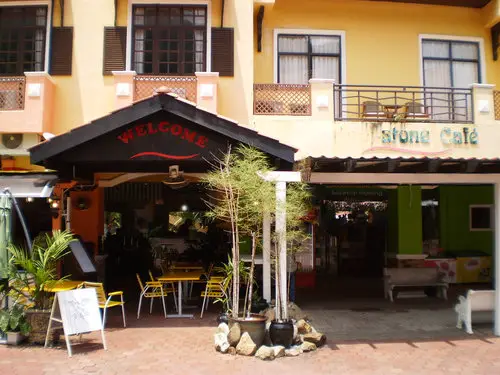 Mizumi Japanese Restaurant
(Category: Upscale, Cuisine: Japanese) 
This is an authentic Japanese restaurant with nice lake view. The ambience is nice and the menu quite impressive. It's a bit pricey though. It's run by
Berjaya Resort
. This is the only restaurant in Oriental Village which remains open for dinner.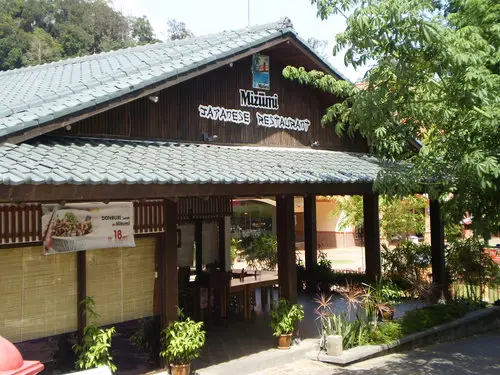 Oriental Cafe
The best part of this roof covered open restaurant is its location. It is ideally located on the lake. They serve both local and western dishes at reasonable prices. You can take a waterside table and enjoy the open view all around. Open for lunch and dinner.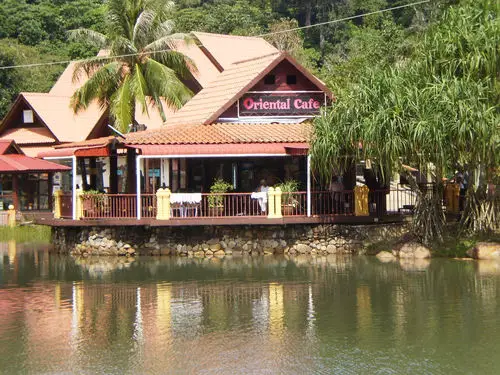 Laila's Kebab House
This upscale restaurant is well known for its kebab items. You will find many tandoor items (made in earthen oven) including Tandoori Chicken, Naans, and more. Our favorites here is Naan, chicken kebabs and dahl. You will find a menu displayed outside on a stand. It is tucked in a corner of the village near the food court.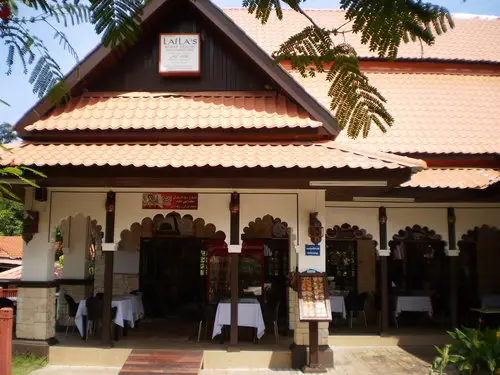 Food Court at Oriental Village
There are several restaurants in the food court offering a wide range of cuisine including Malaysian, Indian, Asian and Chinese. The anchor restaurant and the most popular with the locals and the staff of Oriental Village is Tweenz Corner. They serve authentic Malaysian dishes including Nasi Campur, Nasi Lemak, Chicken rice, fruit juices etc.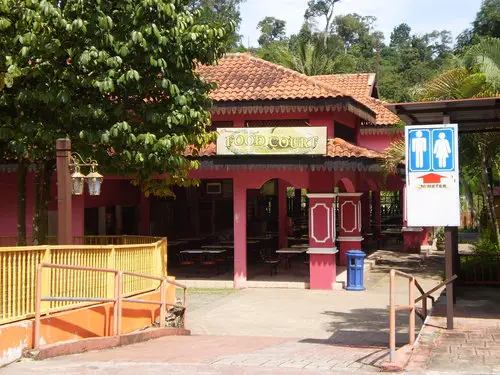 Hotels in Oriental Village
There are several stay options at the village complex. 
Geopark Hotel
This is a mid range boutique hotel offering 3-star amenities. Being at the foothill of Mount Mat Cincang and facing a lake, the hotel is located in a picturesque setting. It has 30 rooms of two categories. The hotel also offers dormitory accommodations for students and budget travelers. 
Camping
The camping site of Oriental Village complex is located next to the
Seven Wells
Waterfall area. The entire area is carpeted and has a lovely outdoor ambience. 
Admission & Open Hours of Oriental Village
Entry is free. The shops usually close by 6pm (some by 7pm) and restaurants by 8pm. 
Facilities
There is ample car parking outside. The complex has toilet facilities. 
Location & How to Reach
Oriental Village is located at the north western side of Langkawi in Burau Bay (Patai Kok) area. You can take a taxi or a rental car to reach the place. One way taxi fare from the Pantai Cenang beach is RM26 and takes about 20 minutes to reach. Although taxis are normally available here, during high season I would recommend that you keep the taxi waiting or else you may not find one to return. Phone: +604 959 3099. 
Map location of Oriental Village 
Related Articles
Visitors' Reviews/Comments
Audrey Cheong (June 2015) 
My friend and I will be exploring Langkawi on bike.  Is there secured bike parking facilities or other paid facility for safekeeping of our bike at oriental village so that we could visit the skybridge? Thank you. 
Raj (langkawi-insight.com) June 2015 
There is enough open parking space outside.