Art in Paradise
An Amazing 3D Art Museum in Langkawi
This is one of the newest additions in Langkawi. An amazing 3-Dimensional art museum known as Art in Paradise located in Oriental Village (location of cable car ride) was opened to public on 31st January 2015. It was officially inaugurated on 7th February 2015 by the former Prime Minister of Malaysia Tun Dr. Mahathir Mohamad. 
So what can you expect here? Well, amazing new era of art where part of the artwork is coming out in the space giving it a lifelike real look! There are over 100 such artwork created by 23 Korean artists and several talented local artists. You can see dragon coming out of the picture frame, or a gentleman's hand projecting out of his portrait to shake hands with you and many more. But one of my favorites here is the girl on a swing with her body in the space... awesome work!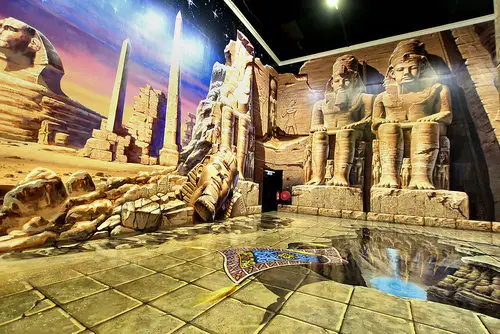 This is the second largest 3D art museum in the world and certainly the largest in the whole of Malaysia. It spans across 3 floors in a building and covers a total floor area of about 2,000 square meters. So another feather in the cap for Oriental Village and of course Langkawi. So instead of just a cable car ride, shopping in quaint stores, food and elephant rides, you can also see this 3D museum while visiting Oriental Village. 
There are several zones or sections in the art museum each having its own theme and type of 3D art. Zones include the Optical Zone tricking your eyes to see image differently, Aquarium zone full with images of marine life, Safari zone depicting artwork with animal life, couple of Interactive zones where you can interact with the art objects, Fantasy zone where you will feel you are in dreams, Classic zone with replicas of artwork from famous artists, the Main Hall zone which is the main attraction in the museum showcasing mind blowing paintings and artwork on Egyptian theme, waterfalls, castles etc, and the Malaysia zone depicting life, heritage and culture in Malaysia. 
Admission & Open Hours 
Entry Fee - Adult: RM38, Child: RM28. Family ticket for 2 adults & 2 children: RM120  
Child of age 2 or under is free. Art in Paradise is open daily from 9am to 6pm. 
Location & Contacts 
Art in Paradise Langkawi 
Oriental Village, Burau Bay, Pantai Kok area (where the cable car ride takes place). 
One way taxi fare from the Pantai Cenang beach is RM26 and takes about 20 minutes to reach. Although taxis are normally available here, during high season I would recommend that you keep the taxi waiting or else you may not find one to return. 
Map location of Oriental Village 
Related Articles
Visitors' Reviews/Comments
Share your experience or stories.