Langkawi Elephant Adventure Rides
You thought Langkawi doesn't have elephants? Well, it's a fact that in the whole of Malaysia the total number of elephants have depleted over time, and only some 2,000 elephants are now there in the wild. This is a miniscule number when you compare it with the neighboring country like Thailand where there are more than 1200 elephants only in private captivity. Despite that Langkawi has created opportunities for one to experience elephant rides. 
An Asian species elephant called Lasah was brought to the island in 2006 and since then adventure elephant rides are offered from the Oriental Village located in the Burau Bay / Pantai Kok area. If you are heading for a Cable Car ride or a Duck Tour from the Oriental Village, it's a great opportunity to combine an elephant ride to enhance your experience in Langkawi. 
Lasah - Elephant Adventure Ride, Langkawi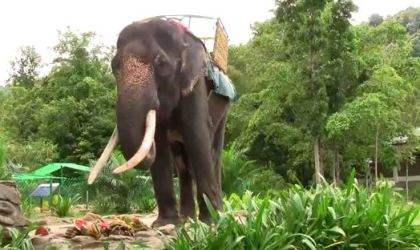 Lasah is no ordinary elephant, in fact she is a superstar. Lasah has featured in several feature films including in the Hollywood movie "Anna & The King" that was partially shot in Langkawi and also in several tele films. She has appeared in many public performances including in magic shows and entertainment programs in international zoos. 
So you can ride a large and famous Asian elephant in Malaysian style and explore many areas of the Mount Mat Cincang Geopark. It's a great adventure tour particularly for families with kids & children. 
So what adventure rides are offered?
There are several actually lasting from 5 minutes to close to 30 minutes. Each adventure ride accommodates two adults seated on the elephant's back in a Malaysian style basket. You can also take a kid along. Here is a synopsis. 
River Adventure on Elephant 
This is probably the most popular ride. The elephant will take you through the forest right to the foothill of Mount Mat Cincang which is the second highest mountain in Langkawi. And then you will cross a river (or sometimes a stream) while seated on elephant back before heading back to the starting point. Along the way you will see many flora & fauna and bird life in the rainforest. The ride is for about 20 minutes duration. 
Elephant Fun Ride 
This is a short ride for about 5 minute to experience an elephant ride in Malaysian style. The ride takes you a garden trail in Oriental Village. It is usually followed by elephant feeding session. You can feed the elephant with a basket of fruits. 
Geopark or Jungle Adventure 
This ride is through the rainforest of Mount Mat Cincanf which is over 500 million years old. As you take the leisure jungle ride, you will see many animal & bird life in the forests and a age old tall trees. The ride lasts for about 25 minutes. 
Update May 2017: Although there has been an uproar from the animal lovers that aging Lasah should be removed from elephant adventures (as evident from the comment section below) to a proper elephant shelter to stop abusing the animal, Malaysian wildlife authorities have made inspections and decided against such move. This is because they found no valid reasons to remove Lasah and confirmed that the park followed international standards for health and wellbeing of the elephant. 
Open Hours & Indicative Costs
X CLOSED 
Office Hours: 10am to 6pm 
Fun Ride package for a couple: RM240. 
Geopark package for a couple: RM370 
River adventure package for a couple: RM420 
Contact Information for Inquiry & Booking
Elephant Adventures Sdn. Bhd. 
Lot 529, Jln. Telaga Tujuh, Oriental Village, Burau Bay, 07100 Langkawi 
(located next to Carpark "B" of Oriental Village, along the road to Seven Wells Waterfalls) 
Tel./Fax: +60.4.959.4959; Mobile: +60.12.512.9200 
Location
Langkawi Elephant Adventures is located in Oriental Village in the Burau Bay area at the north western side of Langkawi. The rides start next to the Cable Car base station. You can take a taxi and easily reach the place. Usually taxis are available on your return. However during the peak season (October to April), it is better to keep the taxi waiting. 
Map location of Elephant Adventures, Oriental Village 
Related Articles
2)
Oriental Village
: All other attractions & activities in Oriental Village complex. 
Visitors' Reviews/Comments
Ed (January 2017) 
I made the mistake of visiting this in December 2016. This Elephant is treated with inhumanity. It wears a harness for rides all day and when not being forced to carry tourists he rocks back and forward on the spot, not leaving the concrete circle in which he is chained every night. Do not visit this attraction. 
Ada (August 2016) 
Lasah is a 36 year old Malaysian elephant who has been used in zoos, tourism and entertainment for over 20 years. Lasah has been forced to work in a logging camp, perform in shows including in a popular Malaysian entertainment outlet and used in commercials and the 1999 film Anna and the King. Ten years ago, this elephant was sent to Langkawi Elephant Adventures on a popular tourism island in Malaysia called Langkawi. There, Lasah is used for elephant rides and lives all alone.  
In July, activists exposed photos of Lasah chained on all four legs at night. This abuse must stop. I was planning to visit Malaysia, but I will give it a second thought. .And I will also inform friends and family about these cruelties. Please do the needful.