Debbie's Place Irish Pub Langkawi
Mid-Range, Bar, Food: Malay & Irish 
Located near the southern end of Pantai Cenang, Debbie's Place is ideal to have a beer or a cocktail and enjoy the friendly ambience. Being at one end of the Cenang road, it is usually not very crowded. But with Greg behind the bar and the Debbie serving you, you won't need any other company.  
The board outside says 'One hand wonder woman' ... you won't understand the meaning unless you spend some time at this pub & bar. When you order for a cocktail or some other guest does, you will see the amazing skills of Debbie, the lady owner, mixing cocktails with great showmanship and that too just one hand (she has unfortunately lost the other). 
Her friendliness, gesture of welcoming guests with a broad smile and willingness & energy to keep chatting with all would make the day for you. Drinks and food are quite reasonably priced. This is one place where you will get pints and Guinness Stout. They also have a range of cocktails and the service is great. A standard cocktail or a drink would be around RM 10 - 12. The bar is well stocked. 
Food menu is usually placed on a stand just outside the entrance. This is a family place and the range of dishes are quite good. To sum it up, you will get burgers, snacks, Irish food, seafood, Pizza and even vegetarian food here. So the cuisine is a mix of Malay and International food. 
Debbie's Place Irish Pub, Langkawi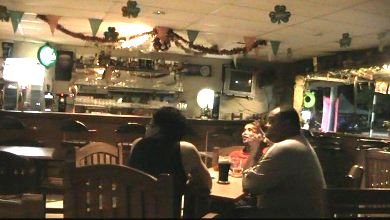 In snacks you will get burgers, spring rolls, samosas, fish fingers etc. If you are looking for some authentic Irish dish, then try out the Irish Stew (RM 30). Other options include Fish & Chips (RM 25), Rib Eye Steak (RM 35), Bangers & Mash (RM 25), Super Salad (RM 17), Pasta with Beef Bolognaize (RM 17), Beef Rendang (RM 25) etc.  
We have tried quite a few dishes out of the above during  our several visits here and our personal favorites here are the Fish & Chips and the Beef Rendang. Some of the specials include Chef's Special Chilliando Prawn (RM 25), Debbie's Lemon Butter Prawn (RM 20), Steam Fish with Garlic Pickle (RM 35), Broccoli Mushroom with Oyster Sauce (RM 10) and several other dishes. 
Debbie's Place Irish Pub, Langkawi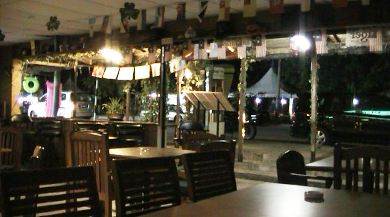 They also have LCD TVs showing sports and other channels. A nice background music is played which adds up to the overall ambience. 
Overall the food is nice but nothing exceptional. You will not usually come here for a scrumptious meal, but to have a drink with some snacks to enjoy an evening with friends. It's on the road with no sea view. But the overall interior and the ambience is nice & enjoyable. 
Debbie chatting with us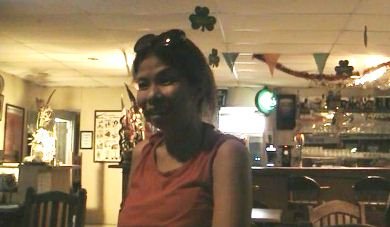 Open Hours 
Daily from 5pm to 3am (last order at 2am). 
You can walk in. No reservation is required, although they do take table bookings as well. Only cash accepted. 
Dress Code 
Casual 
Location & Contacts 
It's about 10 minutes walk from the main beach and located at the southern end of Pantai Cenang and close to where the Underwater World is. 
Jalan Pantai Cenang, Langkawi 
Phone: +60 12-595 3413; 04-9558587 
Related Articles
Visitors' Reviews/Comments
Share your experience.