Four Seasons Resort, Langkawi
Category: 5-Star Luxury,  Location: Tanjung Rhu 
If there is one resort that I must rate at the top of my list of great hotels and have a desire to keep returning, it's this one ... the Four Seasons Resort. In fact, if you ask locals which is the best hotel in Langkawi, this would be the name taken almost by all unhesitatingly. 
So what's so special about this resort? Well if you are looking for a family friendly top class property which is also equally romantic, with unspoiled private beach and offering all pervasive serenity, then nothing can beat Four Seasons in Langkawi. This is a destination by itself. 
I have seldom found guests who stay in this resort venture out of the property to seek for anything new or different. The white powdery beach with so many little islands offshore, the tropical gardens, the vast sprawling landscape, all create an experience which you won't forget easily. But, it does come with a good price tag as well. So let's take a snapshot of our journey through this property and how we spent our time here during one of our vacations. 
When you land and come out of the arrival hall at the airport, you will be met with the driver who doubles up as their trained staff offering you a cold towel and ice cold packaged water. In about 25 minutes, we reached the resort. 
Greeting Lounge / Reception Area 
Four Seasons Resort Langkawi 
This is where we enjoyed the welcome drink 
Once you go past the security at the main gate, the driveway finally leads down to the reception area. We were seated at the Greeting Lounge and offered a very soothing welcome drink made with lemongrass... tasted like a light, smooth & chilled lemonade. We sipped the drink as we relaxed on cushioned wicker sofas placed on an wooden deck in a wonderful natural setting. 
Our welcome drinks served with cool towels 
The lounge with a slanted wooden roof and wooden floor overlooks a beautiful lake surrounded by bushy hedges and palms on both sides, and a gazebo at the other end. It's an amazing setting. Yes that word 'amazing' became common as we experienced every other corner and facility of the resort during our stay. 
From here on, you can avail the battery operated cart (like the golf buggy) to get around the property or walk at your own choice. Some facilities like restaurants and accommodations are quite far and will require some energy if you decide to walk particularly on a hot summer day. 
Rooms & Units 
There are basically two types of accommodations in the resort. For families, the best option is one of the two-storey houses which are divided into four units, two in the ground floor and two in the upper floor. These are known as Melaleuca Pavilions.  
Our Melaleuca Pavilion, Four Seasons Langkawi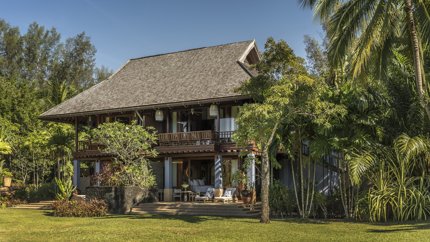 Some of them have nice sea views while the others are nestled in beautiful tropical gardens. The units in the upper floor are accessible by wooden staircase. All rooms have marbled bath with marbled bathtubs. The units in the upper floor have large verandas where you can relax on a day-bed or cushioned chairs and enjoy the ambience all around. 
The other options are the exclusive villas. The Beach Villas are just steps away from the private beach. A pathway through the garden leads to a private plunge pool and a pond. Perched in a seclude area are the Royal Villas with two bed rooms each and having their own private swimming pool and even a spa room. These are ideal for couples or families who like absolute privacy. 
And there are Family Beach Houses and Two-Bedroom villas as well. The best part is, if you have accompanying children (up to the age of 18), they can stay free in your room or villa. However there is a limit to maximum occupancy in a unit. 
There are 91 units including pavilions and villas. All units come with King size or two twin beds. In-room amenities include plasma TV, DVD players, iPod docking station, air-conditioner, phone, tea & coffee maker, mini bar, free wi-fi or wired internet connection points, writing desk, in-room safe, iron & board etc. Extra beds, day beds and additional pillows are provided on request. 
Restaurants, Bars & Lounges 
When it comes to dining and wining, I seriously don't think there is any other hotel in the island which can beat the Four Seasons Resort. 
The
Restaurant Ikan Ikan
which in Malay means 'fish', serves authentic Malay cuisine. It is featured in my list of top 10 restaurants in the island. Overlooking the Andaman sea, it has several seating areas including an open air deck with teak wood floor and two-storey fish-scaled terracotta roof built in Malay architecture. It serves only dinner and offers nice selection of cocktails. 
One of our favorite dining places here is the Kelapa Grill. As the name suggests, this is an ideal place to have seafood grill and steaks. During lunch it serves lighter fares like pizzas prepared in wood fired ovens, stir fries etc. However, we would stroll across to the restaurant to take a table and view the spectacular sunset as we enjoy a cocktail. And then order for a sumptuous dinner to have some excellent grilled items like T-bones, rib eyes, fish fillets etc. 
Loui greeting us at the Kelapa Grill, Four Seasons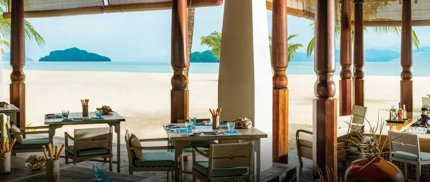 Serai is another great restaurant located by the beach side. It means Lemongrass in Malay and serves authentic Italian cuisine. Breakfast is served in the ground floor while a cozy elegant dining room upstairs serves dinner. You can dine there al fresco as well. But one of our best experiences was to dine on the sand under the Rajasthani tent from India which was illuminated by traditional lanterns. Romantic setting can't go any further than this. 
One of the best bars in the island, The Rhu Bar with its Mediterranean ambience extends into the beach. With colored cushions on lavish wicker sofas, Turkish water pipes and Indian Mughal swings, and all that complimented with lights from hanging wall lamps is a royal ambience to be felt and relished. It offers a Japanese menu along with a wide range of cocktails and fine wine. The bar is open from 3pm till midnight.  
A wedding venue at the private beach 
Four Seasons Resort Langkawi 
The private beach at Four Seasons Resort is an ideal venue in Langkawi for a romantic wedding by the beach. The usual beach venue is right in front of the Rhu Bar. The resort offers professional services for wedding ceremonies and reception. As you can see in the picture above, a wedding venue was being set up on the beach during our stay at the resort. 
Hotel Amenities & Info 
If there is one word for
The Spa
ambience and massage treatments at Four Seasons, that would be to say mesmerizing. The all pervading serenity of the spa, also known as The Geo Spa is unbelievable. There are wooden gazebos and treatment rooms around a central pool, and one right at the middle of the pool. You can sit by the side of the water and gaze at the marvelous rocky wall formations and take your massage or one of several other treatments that are done using top class natural ingredients which are mostly obtained from the rainforest. 
Ifia welcoming us at the Geo Spa, Four Seasons 
There is a separate Adult Pool and also a Family Pool. The adult pool has cabanas for couples needing more privacy. The family pool overlooks the private beach and the ocean. The resort offers sunglass cleaning services, suntan lotion, cool towels, iced water, sliced fresh fruits etc by the pool side. There is also a pool side cafe next to the Family pool serving nice snacks. 
There is a Tennis court with flood lights where you can play both at day time and at night. Private lessons are offered for a fee. A well equipped fitness center open from morning till evening. 
The resort offers daily cycling excursions to the local villages and paddy fields. On Friday evening, a cycling excursion takes place to the local night market. You can also engage in beach volleyball, beach tennis, beach football etc. A range of non-motorized water sport activities are offered from the resort's waterside pavilion like snorkeling, kayaking, standup paddle boarding, windsurfing, sailing etc. 
The resort also organizes a range of tours & other external activities including Mangroves & Geopark boat tour, nature tours, bird watching, golfing, diving, fishing, helicopter ride, sailing & cruising etc. If you are planning for several nights at the resort, take some time out for one of these great tours. 
There is a range of kids programs offered by Four Seasons (the Children's Center is located next to Kelapa Grill). The programs include drawing & coloring, games, kite making, singing, beach activities, yoga, weaving, puzzles, garden tour and lot more. 
Note that Four Seasons Resort is at the northern coastline of Langkawi and relatively in an isolated place. You won't find anything outside the resort premises. The resort can organize a taxi (reserved by the hour) should you like to get around the island on your own. 
How to book this hotel 
If you want to book this hotel through World's No.1 online hotel booking service that offers lowest rates & immediate confirmation, then
Click here to book
. 
Contact Information 
Four Seasons Resort Langkawi, Jalan Tanjung Rhu, 07000 Langkawi, Malaysia 
Phone: +60 (4) 950 8888; 
Check in at 3pm, check out at 12noon. 
Map Location of Four Seasons Resort, Langkawi 
Four Seasons Resort is located in Tanjung Rhu area at the northern coastline of Langkawi. It's about 20 kms (12 miles) from the airport and takes 25 minutes drive to reach. 
Related Articles 
Visitors' Reviews/Comments 
Share your experience.