The Geo Spa at Four Seasons Resort, Langkawi
This is one of our top favorite spas in Langkawi. Why? The sheer serene ambience and the wide range of spa treatments available can satisfy one and all. Geo Spa (also known as just The Spa) is located at one end of the vast Four Season Resort compound in Tanjung Rhu area. 
While you can walk, the resort offers battery operated cart to reach the spa. And then you will be treated to some outstanding therapies that are based on old traditional Malay methods of healing. That is of course if you choose a treatment or a traditional massage. There are several other services offered by the spa including facials, wraps, scrubs, manicure, pedicure, yoga etc. And the list of treatments in the menu is extensive. 
Lotus Pool at Geo Spa 
The best part of the spa is the rainforest around it and the beautiful lotus pool at the center. The pool is fringed by yoga platforms and spa rooms for treatments. But the couple of platforms or pavilions floating right on the water are our favorites for experiencing a spa session. The inviting beds on the pavilions are ideal place to get your spa treatment or a full body massage as you lay in the middle of water watching the rainforest and hearing the chirps of the birds. 
Spa Treatments & Offerings
A long list of treatments are offered in the spa. 
Earth Treatments
They use combination of rocks, mud and crystals to soothe the nerves of your body and calm the mind and spirit, and provide nourishment and energy. The treatments usually act on the nervous system. For example the treatment Urut Melayu uses the old Urut technique of Malay, applies long strokes with oil and releases tension and stress. Other services include the Face Therapy, Ritual, Back Treatment, Foot Reflex, Gel Wrap and several others. 
Water Treatments
The treatments in this category make use of the water properties and act on the kidney which essentially controls fluid in our body. Some of the treatments offered are Feminine Spirits & Radiance which uses old Ramuan tradition of Malaysia and applies six therapies including cleansing, herbal bath, massage, kidney packs, wrap etc. Water treatment is available for men as well but with some variations. Other therapies include Marine Flora Face therapy, Marine Flora Wrap, Kidney Pack therapy and several others. 
Light Treatments
Makes use of the light energy to energize and illuminate the body, mind and spirit. The therapy known as 'Manipura' which means 'beautiful sparkling jewel' in Sanskrit acts on Solar Plexus. It uses marma massage and lymphatic drainage. There are several other massages and wraps offered under this category. 
Geo Spa, Four Seaons Resort Langkawi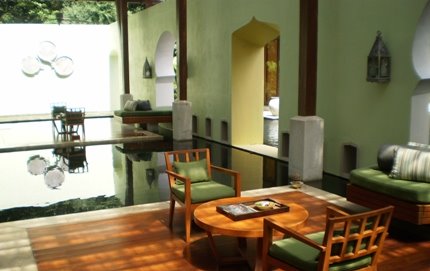 Air Treatments
Several therapies are offered under this including facials. Jantung Heart Ritual acts on the heart chakra by combining heart work and rose quartz. Rainforest Rejuvenation Face Therapy is a restorative face treatment which also makes use of plant extracts, massage, rainforest mud mask etc. 
The Spa also offers salon services, as well as private yoga sessions. 
Indicative Costs
Earth treatments can range from RM460 to RM680 depending on time (60, 75, 90 minutes) and type of treatments. The rituals and other longer treatments cost more. 
A proper Water treatment starts from RM470 (for 60 minutes). 
A proper Light treatment like Manipura starts from RM470 (for 60 minutes). 
A proper Air treatment starts from RM550 (60 minutes). 
A private yoga session can cost around RM350 per person, multiple private yoga sessions are discounted. Yoga sessions can be held at the Spa, as in-room service for hotel guests, or other place of choice in the hotel premises. 
Open Hours
Daily 10am to 10pm. 
Contact Info
Geo Spa, Four Seasons Resort, Tanjung Rhu, Langkawi 
Spa Reservations Phone: 60 (4) 950 8603 
Related Articles
Visitors' Reviews/Comments
Share your experience or stories.