7 Roof Restaurant, Langkawi
Category: Mid Range, Cuisine: Chinese & Seafood 
The restaurant is so named because of its seven wooden roofs. From outside you can actually count the green triangular roofs built in a row one after the other. In fact the entire restaurant is made if wood and is green in color both outside and inside. 
I was told by the owner that he mostly used mahogany wood for the interiors. It's just not the restaurant, but the overall setting and surrounding of the restaurant is really green. 
7-roof is nestled in a garden setting with lots of plants and greenery all around including a pond. There is a pebbled pathway that leads to the entrance. At the back side the garden is even more beautiful with different trees, decorative plants & bushes. The Sunflower Spa is located at the backside of this restaurant which is run by the same owner. So if you like to take a massage before your meal, this place can offer an excellent combination of spa treatment followed by a great lunch or dinner. 
7 Roof Restaurant, Langkawi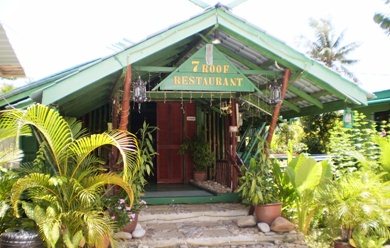 Inside as I mentioned almost the entire furnishing is done using green colored wood. With wooden tables and chairs, slanted wooden roofs it looks more like a traditional Malay house although the restaurant mainly serves Chinese dishes, and of course sea food prepared in Malay style. 
Locals mostly come here for the fresh seafood. In soup we love the Tom Yam Seafood Soup which is a hot & sour soup having prawn, squid, crabmeat, mushroom, lemon grass and lime juice. In appetizers, they have choices of chicken satay, spring rolls, seafood salad, French fries etc. 
7 Roof Restaurant, Langkawi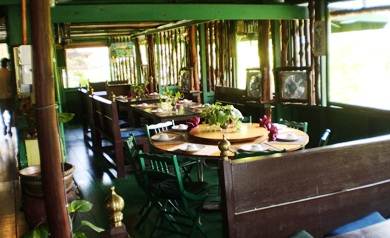 Chili Tiger Prawn with garlic sauce is one of our most favorite dishes here although they also prepare the mud crabs (several flavors chili crabs, black pepper crabs, butter cheese crabs, curry mud crabs etc) really well. In seafood the menu also includes several items of lobsters, king prawns, mantis prawns, squids etc. 
However note that they price some dishes like the shells and seafood by its weight, so ask for the final price before you order in case you want to be sure what your bill amount would be. 
The signature dish of the restaurant is Bailer shell fish which it claims is the only one in the island who offers this. You have a choice of stir fried shell meat with ginger and springs onion, or  stir fried shell with dry chilly. Both are great and served in large portions. 
If you want to try out something other than seafood, then try out some of our other favorites here like the black pepper chicken, chicken with cashew, onion ginger chicken (stir fried), black pepper or curry beef etc. There are some innovative fish items as well. 
This is a mid-range restaurant and prices are quite reasonable for its category. The service in general is very friendly and efficient. This is the mark of most family run restaurants in the island as this one. 
The smiling staffs at 7 Roof Restaurant, Langkawi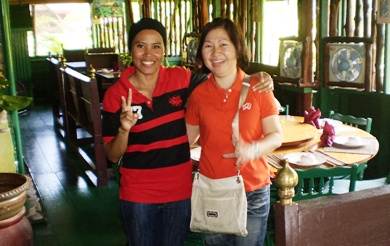 Open Hours 
12noon to 10pm Daily 
Location & Contacts 
7 Roof Restaurant 
Lot 1751, Kampung Kuala Teriang, Mukim Padang Matsirat, 07100 Langkawi 
The restaurant is about 15 minutes from Pantai Cenang and 25 minutes from Kuah by cab. 
Phone (Steven): 012-4239889 
Phone (Ms. Kang): 012-4295889 
Related Articles
Visitors' Reviews/Comments
Share your experience.