Great Vegetarian Restaurants in Langkawi
Well honestly, Langkakwi is not exactly a paradise for those who are looking only for authentic vegetarian food and that too in a Pure Vegetarian restaurant. While there are several restaurants in the island that serve good vegetarian and non vegetarian food, there is only one restaurant which is pure vegetarian and it's not easy to find that. 
Xin An
 - Pure Vegetarian Restaurant (Kuah area) 

Let me start with this restaurant which is the only one in Langkawi serving only vegetarian food. This is definitely not one of the greatest restaurants in the island, but those vegans who can't eat in the surroundings of non vegetarian eaters, this is probably the only option for them in Langkawi. Price is mid-range. 

 

It's located outside Kuah and about 1km from Bayview Hotel. They serve Malay, Chinese and fast food. In Chinese, some of the nice dishes to try would be hot & sour soup, mixed vegetables  etc. They also serve items like spring roll, tofu etc. They don't use onions or even garlic in the preparations. During breakfast and lunch, you get options for both buffet and ala carte. In dinner, only ala carte order is taken. The lady running the restaurant is very friendly. 

33, Pusat Dagangan Kelana Mas (opposite EON Bank), Langkawi. Phone: 04-9668133, 0175660662 

 
The Fat Frog
(Padang Matsirat) 

Although they specialize in Asian & Western vegetarian cuisine including Vegan dishes, there are also chicken and fish items for accompanying  guests who are looking for non-vegetarian meals. If inclusion a few (in fact very few) non-vegetarian dishes in the menu is allowable for you, then this is certainly one of the vegetarian delights in Langkawi. On top of it, with its location and alfresco dining, you get wonderful view of a Golf Course with backdrop of the sea and mountains.   

 

The vegetarian soups, quiches, salads, pasta, humus and many more items are some of the best in the island including fresh fruit juices as well as tea & fair trade coffee. They also have a bar. 

 

Read

The Fat Frog

to get complete description of their offerings. 

 
Sagar Restaurant
(Pantai  Tengah) 

This is an upscale restaurant in Pantai Tengah serving nice north Indian food including vegetarian and non vegetarian dishes. They have a vegetarian menu. Tandoori (earthen oven baked) items are specially good. The restaurant is set up in a lush garden setting and can seat 250 persons. You have the choice of dining al fresco, inside air conditioned dining room or in private cabanas.  

The restaurant is open daily for lunch and dinner (11am to 11pm).  

Address: Lot 1666 Pantai Tengah. Phone: +6012-9423213 
Hotel Malaysia
(Kuah) 

The restaurant is in-expensive and offers very nice Indian vegetarian food. South Indian preparations are quite special. Try out the South Indian vegetarian platter (thali) on banana leaf which comes with rice, vegetables, daal/rasam, curry, papad, bhaji etc. The portions are good, very filling and taste is good. They also serve dosas, idli etc in south Indian and also offer several north Indian dishes. 

 

It's run by an Indian and therefore this is the closest to what you can get in Indian food in Langkawi. Over all the restaurant is clean and the staffs are very friendly. It can get quite crowded during lunch time and service gets affected a bit. A good thing is it's open 24 hours serving breakfast, lunch and dinner. It's located in Kuah town and opposite Langkawi Parade shopping mall (Teo Soon Huat). 

 
Raj Darbar
(Pantai Tengah) 

This is a mid-range restaurant serving Indian and Arabic dishes. They also have western items in the menu. In Indian go for the Tandoor dishes like paneer tikka etc with naan. It's a small but quite popular restaurant in Pantai Cenang  and located by the side of main road of Cenang. It serves lunch and dinner and remains open until late night.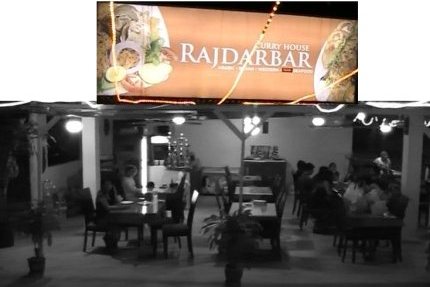 Fair Cafe
(at Langkawi Fair Mall, Kuah Town) 

This is a cafe style restaurant located at Langkawi Fair mall and about half a mile from Kuah Jetty. They serve Asian cuisine including nice Indian dishes (both vegetarian and non-vegetarian). The restaurant is casual and family friendly, although the service could be quite laid back at times. This is a kind of a place where you come just to eat and leave once you are full. However the Indian dishes are quite good. They serve the dishes in traditional clay pots and piping hot. Try out Naans (Indian breads made on earthen ovens), paneer (cottage cheese preparation), Daal Makhani (pulses). You will surely have a sumptuous meal. The cafe has booth indoor air-conditioned dining as well as outdoor seating. 
Papadam Ria
- Indian Cuisine (Pantai Cenang) 

A mid-range restaurant in Pantai Cenang located near Underwater World and serving great north Indian and Arabic food. While the non veg choices are more, you get good varieties of vegetarian food as well including naan and paneer preparations. Mango lassi is really refreshing. The owner and the staffs are very friendly. The inside decor is quite exotic with colors like red, sand and green with many Indian designed lamps hanging from the ceiling of the canopy. They serve lunch and dinner daily. Phone: +6 (0) 4  955 7775; Email:  

[email protected] 

 
Tulsi Garden
(Pantai Tengah) 

This is a mid range restaurant with nice decor and ambience, and located in Pantai Tengah. They serve both North and South Indian cuisine, and you will get vegetarian dishes as well. In South Indian, Tomato Rasam is quite popular. In north Indian go for paneer tikka, alu gobi masala, daal tarka, papad etc and combine it with rice or roti. They serve lassi (cold juice made of curd) of different flavors. They also have a bar. 

 

Tulsi Garden is located on the Road Jalan Pantai Tenga and opposite to Sun Spa. They have both indoor and outdoor seating. In the evening, the outdoor seating is quite pleasant. The staffs are quite friendly. Serves lunch and dinner daily. 
Related Articles
Visitors' Reviews/Comments
Shivaram (May 2015) 
Hi Raj, I have learned a lot from your website. It puts one at ease while planning for Langkawi. Thank you very much. We (one couple) plan to visit Langkawi in August 2015. I read that it is off season and there won't be too much crowd. I hope that is a good time to visit. I had a question: How much would a meal for 2 cost in a mid-range vegetarian restaurant (approx)? Regards, 
Raj (langkawi-insight.com) May 2015 
Hi, In a mid range restaurant, a main course would cost around RM25 to RM35 (vegetarian dishes would be little lesser).