The Fat Frog Restaurant, Langkawi
Category: Mid-Range, Cuisine: Asian & Western 
If a great outdoor ambiance & views combined with excellent organic food prepared from fresh ingredients is what you are looking for, then you can certainly consider The Fat Frog. This is a family run business managed by Indi - a lady who takes great passion on hearty yet healthy food and trying to serve customers passionately with all her resources. 
The restaurant (I would rather like to call it a small cafe) is set up on the former club house location of 99-East Golf Course and located by the side of the main road of Padang Matsirat. Being on top of the golf course, you get wonderful view of the vast expanses of the course, the greenery around and at a far distance you can see the mountains and even the ocean water. 
There is no inside dining here. You can either sit open-air on the patio (this is mostly suitable in the evenings when the sun is not beating down) or under a covered roof. As the sun goes up, you get nice breeze flowing in from the golf course. There is nice music as well. The ambience is that of a relaxed yet friendly cafe. The bar is tucked on one side. They can make nice cocktails or you can go for beer or spirits. Organic coffee and tea are also served (nice to see it's 'fair trade' certified). 
The Fat Frog Restaurant Langkawi 
The restaurant serves breakfast, lunch and dinner. Although the menu is not too elaborate, they have enough to serve almost all appetite. However most of the items are vegetarians (this is what they specialize in) and some for vegans as well. But in order to satisfy even the non-vegetarians, they do offer dishes with fresh poultry, chicken and even catch of the day. 
View from inside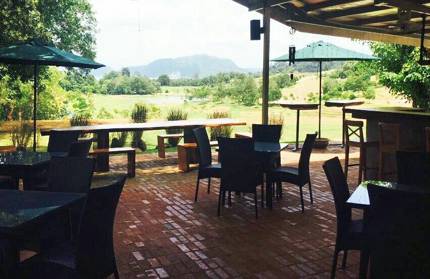 They claim to serve one of the best veggie lunch in the island. In a set lunch you get a two-course meal with homemade iced lemon tea and it's quite reasonably priced. Vegetables and ingredients are mostly sourced from organic farms in the island. Dinner menu is more elaborate. 
Here are some of the nice dishes to try out ...  
In starter go for the Soup of the day ... this is a thick soup made of coriander and carrot, and can be quite filling. Another great starter is Coriander Hummus which comes accompanied with carrots. You can also choose from salads ... a favorite here is the Mediterranean Salad... lots of roasted vegetables on lettuce. The restaurant also takes pride in making one of the best quiches in the island. 
In main courses there are several great choices ... Nasi Lemak, Pesto Linguine with roasted vegetables, Pesto Pasta, chicken with yellow thai curry, grilled fish (the fish depends on the day's catch... could be a snapper), Malaysian rendang curry, peas & rice, fish & chips etc. They also have topless vegetarian burger. In dessert try out the cake of the day, sorbets or from a range of fresh fruit juices (some of which are blended between various fruits & vegetables). There is also a Daily Specials menu. 
The menu marks out the vegan and vegetarian items. If you are specifically looking for vegan dishes, you can discuss with Indi and she can help with the choices. A good choice would be topless vegan burger, quiche, fresh juices etc. 
Although the kitchen here is closed between 2:30pm until 6:30pm, you can often find locals enjoying a drink or a coffee during this time. The bar and the dessert section remains open all through. 
There is also a gift & souvenir shop here offering several local and regional items including clothes, jewelry, soaps, candles, artwork etc. 
While this small cafe type restaurant has become quite popular since it opened in the beginning of 2016, there are few shortcomings that it needs to address. Being by the roadside, it can get quite noisy at times particularly during the day time when the traffic is high. 
Another issue is number of staff ... although the staff hired are quite nice and friendly, at times the restaurant suffers from shortage of staff which can lead to some delays in delivering the orders. 
Overall this is a great place to go for your lunch or dinner, particularly if you are looking for a vegetarian meal. And if you have an accompanying friend or member of the group who prefers non-vegetarian dishes, the restaurant would still be good enough for a try. 
Open Hours 
Tuesday to Sunday, 10:30am to 10pm. 
Breakfast: 10:30 – 12:30pm 
Lunch: 12:30pm – 2:30pm 
Dinner: 6:30pm – 10pm 
Location & Contacts 
The Fat Frog 
In the former clubhouse of 99 East Golf Club, Jalan Padang Matsirat, 07000 Langkawi 
Phone: +6 04 955 1153 
Related Articles
Visitors' Reviews/Comments
Share your experience.