Best Star Resort Langkawi
Category: Budget/Mid-Range,  Location: Pantai Cenang 
This hotel is all about its location for the beach lovers. It's right on
Pantai Cenang beach
and centrally located in Cenang. It's surrounded by all sorts of shops, eateries & restaurants, bars, tour agencies etc. So virtually everything you want is within stones throw distance. 
Several top attractions of Cenang including the
Underwater World
, duty free stores, Cenang Mall etc are within easy walking distances. The hotel belongs to Baron group which has several other hotels in the island including on-beach
Malibest Resort
in Cenang, Baron Hotel in Kuah and others. 
Rooms & Amenities
Entrance to the hotel is from the main road (Jalan Pantai Cenang) and the hotel building extends to the backside towards the beach. The lobby is fairly large with several sofas laid out. On one side is the reception usually staffed by Malaysian women during the day time. 
Best Star Resort and Front Parking 
There are 56 rooms in total out of which 2 are Super Deluxe, 2 are Deluxe and remaining are Superior Rooms. The Super Deluxe rooms are really large and spacious. Both Super Deluxe and Deluxe rooms have a king size bed, sweeping view of the beach & the ocean, and bathtubs. These rooms are ideal to enjoy the lovely sunset right from the room itself. 
The Superior rooms usually have two double beds or one queen and two single beds so that four persons can sleep. They are just about okay in size. However most do not have good views of the beach. The ones downstairs may have other buildings in front and the ones on the front side facing the road would only have road views with lot of noise coming from the passing traffic. 
A typical Superior Room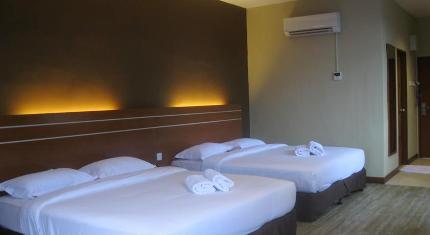 Rooms have a mini fridge, phone, air-conditioning, color TV with limited local channels, desk, hot & cold shower, a safe (which is usually not fixed to the cupboard or wall which means it is portable) etc. There is free wi-fi in the property including in rooms and it usually works quite well. Towels and basic toiletries like soap bar, shower gel, shampoo are provided in the rooms. 
The swimming pool is great and well maintained. It's located right by the beach. So when you enjoy a swim, you can also see the beach activities and the ocean. However only few pool-side lounge chairs are provided compared to the large no. of guests the hotel accommodates. 
Beach side pool 
There is a convenience store in the hotel which can be handy to buy light snack and other essentials. There are lots of other shops and restaurants around the hotel. 
Parking in front of the hotel is limited. On week ends you may find it difficult to find a parking here. You can however park on any designated parking lot along the road and walk back to the hotel. 
The hotel has opened an on-beach restaurant 'Beach Cove' in October 2016. It's a nice open restaurant upstairs with roof cover. With an all-wood finish all around including the ceiling, cushioned cane chairs with tables laid out with good space in-between, and wonderful view of the beach and the ocean, it's an ideal place to dine while enjoying the sunset. The restaurant serves Malay, Continental, Mexican and Pizza fares. It's open for lunch and dinner. 
Watersport facilities run by third parties are available on the beach (which is a public beach). Staff at the reception are courteous. However there is not much service offered in the hotel. 
What we like about the hotel
1) The location is excellent if you are planning to spend a lot of time on a public beach. A hotel can not be closer to the beach than this one. Beach facing deluxe and super deluxe rooms are great. 
2) The restaurant is a great place to enjoy view of the sunset. 
3) Plenty of restaurants, bars and shops around gives you a lot of options for dining & shopping. 
What can improve
1) Several rooms have been renovated in 2015 and are in nice condition and clean. However several rooms need to be updated and are not in great condition. In some of them you may find that the bathroom fittings are broken, dust accumulation due to nearby constructions is also a problem. 
2) They won't change the towels every day. And you may need to ask for assistance several times before a service is actually given to you. Although this hotel belongs to Baron Group, the quality of service sub par. It should be more professional and prompt. 
How to book this hotel
If you want to book this hotel through World's No.1 online hotel booking service (booking.com) that offers lowest rates & immediate confirmation, then
Click here to book
. 
Contact Information
Best Star Resort 
Lot PT 892, Jalan Pantai Cenang, Mk Kedawang, 07100 Langkawi. 
Map Location
The hotel is on Jalan Pantai Cenang road right at the heart of Cenang area and on the beach. It takes about 15-minute drive from the airport. 
Related Articles
Visitors' Reviews/Comments
Share your experience.