AB Motel, Langkawi
Category: Budget,  Location: Pantai Cenang 
This is a lodging only no-frill budget hotel. They have two properties, one on the beach side which is the original property and the other just across the road. So if you are looking for an ocean view room or one right on the beach, you will need to take one from the beachside property. And these rooms are obviously costlier. 
While the roadside rooms (across the road) have no sea view, the beach is anyway just several yards walk on the other side of the road and behind the original property. So you are not far away from the beach. And the good point is that the roadside property is relatively new and the rooms are also in a better condition. 
AB Motel Langkawi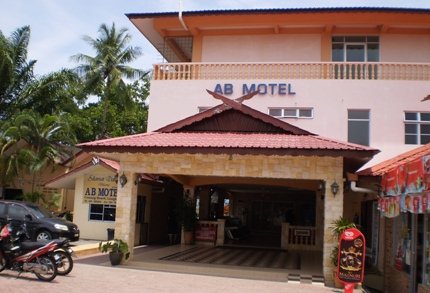 There is no breakfast or any food served in the hotel. But that is actually not a problem at all, because the location is perhaps the best in the whole of Pantai Cenang.  
Numerous restaurants are lined up across the street. You can get good food from the D'Khas Restaurant on the opposite side. You can buy all essentials and even snacks from the AB Mini Mart across the road (on the opposite side). For breakfast, the Turkish Kebab stand across the road is a good choice. You can have coffee there too. 
Rooms & Amenities
There are rooms of several types. Some are in the building and some are one-room villa type accommodations. Room types include Sea View, Beach Side, Road Side etc. Sea View rooms have one double and one single bed, beachside ones are right on the sand and have two double beds with small private balconies. Roadside rooms can have either a double bed or with an additional single bed. 
All rooms are air conditioned, have colored TV with limited local channels, attached bathrooms with hot shower, mini fridge etc. The sea view and beachside rooms have excellent view of the ocean. You can just walk into the Pantai Cenang beach to swim, relax or to take a watersport activity like banana boating, jet ski etc. 
Bathroom towels, soaps etc are provided but no complimentary drinking water or kettle to make your tea/coffee. You can however go down to the reception and fill up your bottle from the water dispensing machine. 
Right outside the hotel there is a private Tour Agency offering all kinds of island and boat tours. However the travel desk at AB Motel offers tours at attractive rate. Their Island Hopping Boat Tour is one of the cheapest (RM30 in off season per person). 
Wifi is available in reception area. Although there is car park in front, space is limited. Check out time is 12noon and check in time is 2pm. 
What we like about the hotel
1) Location is excellent. Numerous restaurants and shops are close by including duty free shops. You can easily walk down to Mc Donalds and Underwater World. 
2) Awesome views from the beach side rooms. You are right on the beach. Some of the villa type rooms give you a feel that you are staying at home but on the beach. 
3) Rooms are simple, however bathrooms are quite nice. 
What can improve
1) Cleanliness can be an issue at times. Sometimes you may find sand on the room floor after you check in. They should have cleaned up the rooms before new guests come in. Sometimes you may also find stains on bed sheets and pillow covers. 
2) Although the staffs at the reception are cooperative, but the service virtually does not exist. Unless you give specific instructions, rooms may not be cleaned during your stay. Some staffs need improvement in communication. 
Indicative Room Rates
Varies between RM100 to RM180 depending on room type. 
Map Location of AB Motel
Contacts
(for booking & inquiry) 

AB Motel, Pantai Cenang, 07000, Langkawi, Kedah, Malaysia. 

Phone:  +604 9551300 (8am to 11pm) 

Mobile: +6010 5610890 (9am to 9pm) 
Related Articles
Visitors' Reviews/Comments
Share your experience.