Langgura Baron Resort Langkawi
Category: Budget/Mid-Range,  Location: Pantai Cenang 
Langgura is another Baron group of budget / mid-range hotel located right at the heart of Pantai Cenang and very close to the beach. The entrance to the hotel is on the main road of Cenang and it's located right next to the Cenang Mall. Across the road is the famous
Cenang Beach
. 
There are numerous shops & restaurants just outside the property along Cenang road including in the adjacent Cenang Mall. So if you like to stay centrally in Cenang close to the activities, shops, restaurants and the beach, then this is a nice basic hotel to consider. 
Rooms & Amenities
The hotel has two types of rooms. Most rooms are Superior which are located in a large building with elevator which has new and old blocks. 
On the front side of the new block is the main road and therefore front rooms are subject to noise from the street traffic. However if you get one of the top floor rooms, you can beat the noise and also get lovely view of the ocean across the street and over the other smaller buildings. 
Old block and the wooden cottages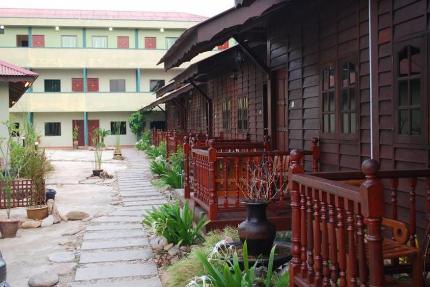 Photo: Baron Hotels 
The back side rooms of the building face the swimming pool and the car park, and are much quieter. The Deluxe rooms are also available in form of wooden cottages which are joined with each other. 
The family rooms have two double beds and can accommodate four persons. All rooms have TV with limited channels, safe, air conditioning, free wi-fi, mini fridge, electric kettle, hot & cold shower in the bathrooms, tiled floor etc. Towels & basic toiletries like shower gel, shampoo, soap are provided. 
New Wing, has both Superior and Deluxe rooms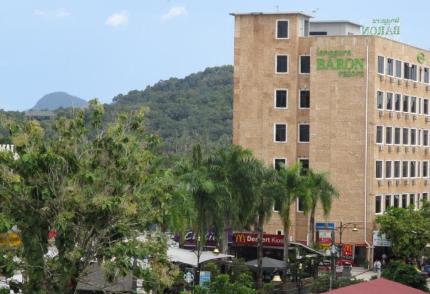 The Deluxe rooms have nice hardwood furnishing and finish and look more impressive. The wooden cottages are located in a garden setting and have their own private balcony with chairs for two. All rooms in the hotel are overall quite spacious and fitted with large mirrors. 
There is a tour desk in front which can organize several boating or island tours and activities. 
Room 
Photo: Baron Hotels 
There is no in-house restaurant. However plenty of eateries and even food trucks (after 8am) are available just outside on the main road, so food should not be a problem. You can also easily walk across the road and get to the beach, and avail watersport activities or get it organized by the hotel. 
The swimming pool is nice and located on the back side of the hotel and have a few lounging chairs. There is also a large free car parking area in the hotel. 
It's a great plus to have the Cenang mall next door. Other than shops and restaurants, there is also currency exchange counter there. Several great attractions including Underwater World, Laman Padi etc are within easy walking distance from the hotel. 
What we like about the hotel
1) Location is a big plus. It's located right at the center of Cenang. You can just cross the road and enter the beach area. Plenty of shops and restaurants are located in the area along the road. 
2) Rooms in the main building on the top floor facing the road have nice views of the sea. You can watch and enjoy great sunset on the ocean and behind the Rebak island. 
What can improve
1) While the rooms are generally clean, but cleanliness can become an issue at times. There are often complaints of mosquitoes. The amangement is however prompt in changing the room in such cases. 
2) Although the staff are friendly in general, the service can be patchy at times. 
How to book this hotel
If you want to book this hotel through World's No.1 online hotel booking service (booking.com) that offers lowest rates & immediate confirmation, then
Click here to book
. 
Contact Information
Lot 2608, Tanjung Mali, Jalan Pantai Cenang 07000 Langkawi, Kedah, Malaysia. 
Phone: 04-955 8880/ 7771 
Map Location
The hotel is on Jalan Pantai Cenang road right at the heart of Cenang area. It takes about 15-minute drive from the airport. 
Related Articles
Visitors' Reviews/Comments
Deborah (September 2018) 
We were unable walk out, it was raining and hard for us as we were having a baby. We requested to change the room the next day but the staff Azzizat didn't have courtesy to call us and inform. When we walked out through reception she called us and asked us if we wanted to change the room or not in (not in a well-mannered voice). I asked her how could you expect a guest to know whether the room is ready or not, do you think I have a 7th senses to predict it!!!! her reply was... change NOW.  I informed her I was going out. She said... No change now, they needed the room. She asked me what time will we come back, I said in 1hour. She instructed me... only 1hour okay. HELLO WHO ARE YOU MY DEAR TO INSTRUCT ME??????  
On our last day it was raining heavily, I called the reception using my own hand phone...... told them I needed to check out late because of heavy rain and it was hard for me and my husband to carry luggage with baby. At the background of the call there was a voice 'So macam mana tak check out kah? hantar payung je lah'... is this the way for a staff to talk to the guest who pay so high????? and they sais they will send umbrella. The umbrella came and I told the bellman to wait because my husband was bathing. But the staff was pushing the bellman non stop in walkie-talkie 'Ni pintu dah buka belum dah jam 1 dah, ketuk pintu lah' and he also knocked the door, it was 12.57pm. From this what you guys can see.  They Don't have any mercy on infant also. 
The towel were grey colour, not white. Room was not made up. The used glass that we left in the morning was the same when we came back. Well done guys with your worst service. I don't think you guys can survive if there are no tourists guests in your hotel. After check out we approached the reception to print boarding pass. But she was so busy entertaining a guy with so manja at the reception. You are supposed to serve your guest, and not flirt in the reception. You all work under insufficient salary from management. We are not guests to be treated like that... pls remember that. Can't check in early to room, or check out late. What is this.!!!! but on 12/9 I see another receptionist checking in some Malay guys at 2.30pm, how??? Treat all same. 
Please management, look into this before you ruin your business because your staff service is double standard. I am a hotelier so I know how it works. Hopefully management will be able to reply to me. Thank you.