Nany House Homestay
Category: Budget,  Location: Padang Matsirat 
As the name suggests it's a house and a great option to experience a homestay in Langkawi. I say great because the house looks quite attractive and cozy with enough open space & garden surrounding it including a fairly large open frontage and a patio with car park. It's a well furnished independent bungalow type house with three rooms and can comfortably accommodate a family or a group of six. 
However the owner's family does not live in the premises and therefore you will be on your own managing your stay in complete privacy. Which I guess is preferable to many. The house is however maintained very well, it's nice and clean. There are staffs who come in regularly during the day time and do the cleaning work both inside and outside. 
Nany House Homestay Langkawi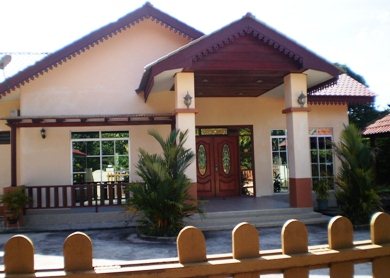 The location I would say adds to the overall advantage of this homestay. It's about 10 minutes drive from the airport and about 15 minutes from the Kuah Jetty. While coming from the airport, once you get on to the road Jalan Makam Mahsuri and then the village area Kampung Bukit Temin, you need to take a narrow lane towards right (there is a signboard on the main road where you need to take the right turn to the lane). 
The house is only about 100 meters from the main road and on the right. You can see the wooden short height fence, the main gate and the impressive house from the lane. So you will not only experience a homestay in a private house, you will also experience a village stay. Within 100 meters towards the main road, you can see vast stretches of green paddy fields... lovely sight. 
Rooms & Amenities
There are three rooms in Nany House, a living room and dining space. The master room has a king size bed with air conditioning. The second room too has a king size bed with air condition. While the third room has ceiling fan (no air-condition) and a queen size bed. All rooms have cabinets. There are two bathrooms/toilets in the house, one is attached with the master bedroom while the other one is shared. 
The living room has sofa with carpet, center table, a 32-innch LCD television with limited Astro channels, ceramic tiled floor, several windows with curtains, and ceiling fan (not air conditioned). Other facilities in the house includes a refrigerator, ironing facility, instant shower heaters in the bathrooms, microwave oven, kettle, plates & cutlery, coffee/tea maker, washing machine etc. So once you walk in, all you need to do is get your provisions for food and you are all set. And the good news is that Kuah town is within 12 minutes driving distance where you can find all types of stores. However there are also several food stores nearby in the village. 
Living Room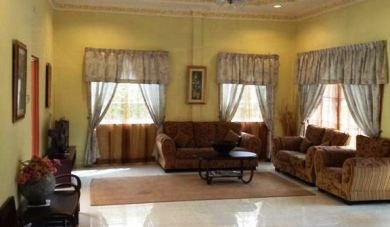 Although the front patio of the house is concretized (which I think helps during the monsoon), there are enough trees and plantations surrounding the house in nice garden setting. You will see coconut trees, banana trees and other plantations. There is a covered patio at the back side which is ideal for drying your clothes and kids to play. 
The hosts can also arrange for transport if you let them know in advance. However I would recommend that for such home-stays you rent a car from your port of arrival (that is airport or Kuah jetty) or ask the hosts of the house so that you have all the flexibility of moving around any time. The hosts speak Malay and English. 
Since the Nany House is quite centrally located in Langkawi, it's easy to reach out to most places in the island. For example the popular attraction
Makam Mahsuri
is only one km away from the house. Pantai Cenang and its famous beaches and restaurants are only 15 minutes drive. 
What we like about the homestay
1) The house is a typical village home with a bungalow style and very nicely maintained and clean. 
2) The rooms are quite well appointed, particularly the living room is a great place to relax and chat with family members. 
3) The central location makes it very convenient and you get enough greenery all around. 
4) If you are in a group of six or even four, overall the stay can be great value for money. 
What can improve
1) The living room should be air conditioned as well as the third bed room. During day time it can get quite hot and humid in Langkawi and the stay can become quite uncomfortable without air conditioning. It may be sometimes very difficult to use the living room in the afternoon when it's quite warm.  
2) There have also been complaints that the air-conditioners at the two bedrooms do not get adequate servicing resulting in insufficient cooling. You should talk to the hosts and ensure that the air conditioners are serviced and are cooling properly before you move in. 
3) The bedrooms are a bit small, well there is nothing one can do about this. 
How to book this hotel
If you want to book this hotel through World's No.1 online hotel booking service (booking.com) that offers lowest rates & immediate confirmation, then
Click here to book
. 
Contact Info
Nany House Homestay 
Kampung Bukit Temin, Jalan Makam Mahsuri, Ulu Melaka, Langkawi. 
Phone: 017 4488107; 5196519 
Map Location
Nany House Homestay is located 10 minutes from airport and about 12 minutes from Kuah town. 
Related Articles
Visitors' Reviews/Comments
Share your experience.