Malinja Homestay Langkawi
Category: Budget,  Location: Padang Matsirat 
I passed the homestay couple of times before locating it although it's right on the main road Jalan Makam Mahsuri. It doesn't have a signboard on the main road and you will mistake it to be a fairly large private property and so can not be the small quaint homestay you are looking for. 
Actually a significant part of the whole property is the residence of the owners - Zulkefli and his family. His wife also plays an active part in managing the homestay. They have a huge plush bungalow type house at the end of a broad open patio where they live. The large patio is the car park where you can park your car as well. The homestay is actually right on the road and before you enter the patio and on the right but in the same compound. Overall the entire property looks huge. However the homestay is an independent house with two separate units and separate entrances. 
Malinja Homestay, Langkawi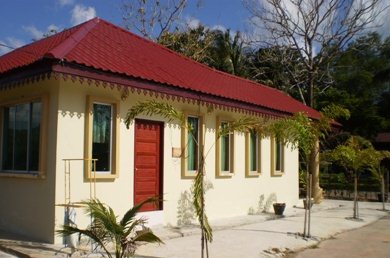 You can see the mountains and the lovely greenery behind the property. If you look through the windows of the kitchen or the living room of the homestay, view of the scenery and the mountains are so refreshing. So overall a nice peaceful location and very convenient, on the main road and only about 15 minutes drive from the airport. Kuah town is only about 18 minutes drive from the property. 
Rooms & Amenities
There are two independent units in the homestay building and each has three bedrooms, two bathrooms, small kitchen, a living room and a dining space. The homestay is well furnished and has all the basic necessities. The living room has leather-make comfy sofas and TV. As is the case with most homestays in the island, the bedrooms are small. They have cabinets, dressing table etc. The smallest room only has a bed though and hardly any furnishing. 
Living Room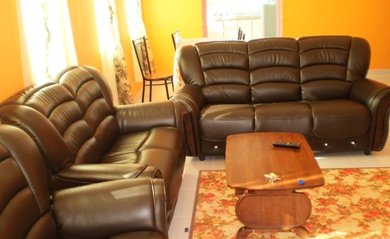 Each unit is good for a stay of up to six persons including children. There is really no space for any extra bed neither there is any provision for extra beds. The bedrooms have queen size beds each. Two rooms in each unit are air-conditioned. The kitchen has a fridge, sink, basic utensils, gas oven etc. There is also a washing machine. Although free wi-fi is offered, it may not work. So do not depend on that. 
The Main Bedroom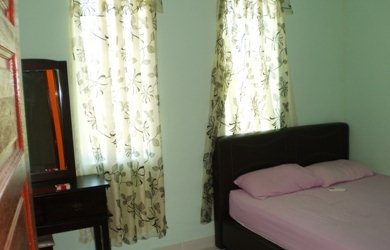 You can get your groceries and provisions from nearby stores. 
Location is quite central and access to most attractions is easy. For example the popular attraction
Makam Mahsuri
is only one km away. Pantai Cenang and its famous beaches and restaurants are only 20 minutes drive. 
What we like about the homestay
1) Overall the homestay is quite nice and clean. They mostly use transparent curtains in the living rooms and also the kitchen which allows a lot of daylight and offers nice views towards the back side. The view is one main reason I would like to stay here. However transparent curtains may not suit all. 
Kitchen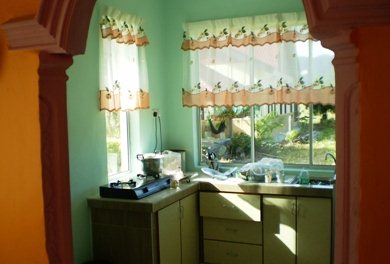 2) Location of the homestay is quite central and convenient. It's on the main road and unlike several other homestays around, you do not have to enter a side street. Kuah Ferry Jetty and airport are within 15-20 minutes drive. 
3) Owners are quite helpful and cooperative. This is a big advantage as you can approach them if you need any help and they just live few yards away in the same compound. 
Owners' House (my car in front)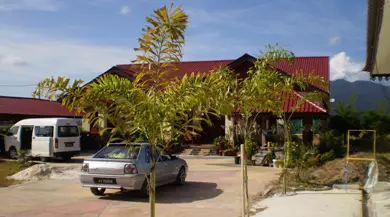 4) Turns out to be quite inexpensive and good value for money, if you stay here with a family or group of six. 
What can improve
1) I think the maintenance and the cleanliness could improve. There have been complaints that the showers at the bathrooms are not working properly at times. Mosquitoes can be a problem. So insect repellants are a must. 
2) There is no wash basin or sink at the bathrooms. How do you brush your teeth? 
3) Langkawi can get quite hot and sultry. So air conditioning in all rooms would be welcome. 
Owners of Malinja Homestay 
How to book this hotel
If you want to book this hotel through World's No.1 online hotel booking service (booking.com) that offers lowest rates & immediate confirmation, then
Click here to book
. 
Contact Info
Malinja Homestay 
Lot 30, Jalan Makam Mahsuri. Mukim Ulu Melaka, Langkawi 07000 
Phone: +60 19-426 3457 
Map Location
Malinja Homestay is located 15 minutes from airport and about 18 minutes from Kuah town. 
Related Articles
Visitors' Reviews/Comments
Share your experience.