Shirin Guesthouse Langkawi
Category: Budget,  Location: Pantai Cenang 
There are some problems with the name given to this nice homestay. The full name is Shirin Restaurant & Gueshouse. However there is actually no restaurant here. It's a nice little homestay with scattered chalets and bungalows with self contained simple & basic rooms. 
There is however a common area in the main house where you can relax with a beverage. The guesthouse is run more like a homestay by a senior couple, the lady being a Japanese and the more active of the two and looking after the day to day operations. Her husband is a Muslim. 
The guesthouse is located in Pantai Cenang across the beach and the main road. A narrow lane adjacent to Putumaya restaurant (and opposite to Orkid Ria restaurant) leads down to this nice property in a garden setting. It's a minute's walk from the main road. Once you get onto the lane, you will see the sign. 
The backyard is full of nice flowering plants and greenery. There is also a vegetable garden at the backyard. As you enter through the main entrance and to the main house, the small and usually unmanned reception area is right ahead. 
Yellow Chalet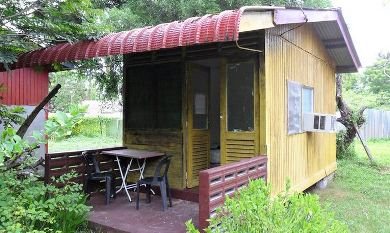 You will likely find the motorbike or the bicycles of the owners parked at the common area. Most who stay here are backpackers or budget travelers planning to stay for several days or weeks in Langkawi. You won't easily find phone numbers or contact emails of the owners. Which means you can find plenty of walk-in guests. 
Rooms & Amenities
There are several different kinds of rooms or units in the guesthouse. While there are a few double rooms in the main house, I would suggest you stay in a self contained chalet or bungalow. There is also a chalet which is meant for long term stay for the guests which has its own small little private backyard full of trees and a nice little patio with seating arrangements.... an ideal place to read books during the day time. 
The rooms in the chalets are simple and have air-conditioning, ceiling fan, simple bed for two (they also take single occupancy), attached western style toilet with cold shower (you won't usually need hot shower in the island), towels, a fridge, water boiler to make coffee, small cabinet etc. 
The long term chalet also has a tiny kitchenette with a wash basin along with cups, plates etc. However the most attractive part of the chalets is the front private porch with couple of chairs and a folding type table where you can sit and read books or have a cup of tea. 
Backyard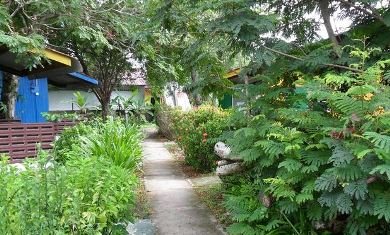 The rooms in the main house share toilets. Beverages like coke, coffee, orange juice, water, beer, wine etc are available at the common area and they are cheap. You can have a glass of wine for only RM3. They offer beach gears like beach mats, bat ball, snorkel gears, towels etc free of cost. 
While there is no restaurant in-house and no breakfast served, you can walk down to plenty of eateries and restaurants in just couple of minutes. This is perhaps the main reason why they decided not to operate the restaurant in-house. 
The Japanese lady owner (Hiroko) seems to love cats, and you will find them almost everywhere. The owners can arrange for car or scooter rentals if you like, or drop to the airport or Kuah jetty. There is a taxi stand at the main road. 
What we like about the homestay
1) Being away from the main road, it's a quiet and charming place and you will likely have a good sleep at night. The small porches in front of the chalet surrounded by plants or the common area in the main house are good places to read books. In fact the common area is great for meeting and chatting with the fellow guests. 
2) Although it's calm and quiet out here, the guesthouse is located in the heart of Pantain Cenang and less than couple of minutes walk from the beach. Numerous restaurants, eateries and shops are all within easy walking distance. 
3) No budget accommodations offer free beach gears like Shirin Guesthouse. This is definitely a plus. 
What can improve
1) Due to so many trees and plantations, there is a problem of insects and mosquitoes, particularly at night. So carry mosquito repellants and coils, and keep the doors and windows shut in the evenings. The owners can perhaps be more sensitive to this and make better arrangements to keep the insects away. You will also likely encounter frogs. 
2) In some rooms the air-conditioners are very old and may not work quite efficiently. 
3) The lady owner seems to be a bit moody and can get a bit cranky at times. However she and her husband are otherwise quite friendly and try to do their best. If you don't tend to gel with the lady owner, don't bother, just keep to yourself as there is nothing else here other than a simple night stay. 
** Update August 2015: The place is run down, has deteriorated considerably in recent times and is virtually not operational at present. Recommend you go through the visitors' comments below. 
Indicative Rates
RM60 per night for two in a chalet. 
Location & Contacts
Shirin Guesthouse is located at Pantai Cenang and off the main road Jalan Pantai Cenang and on a lane next to Putumayo Restaurant. The airport is about 12 minutes drive and Kuah town is about 20 minutes from here. 
Address: No.7, Lot 1584, Pantai Cenang, Langkawi. 
Related Articles
Visitors' Reviews/Comments
Martin Lutterjohann (August 2015) 
I am German and German language Malaysia guidebook co-author. I think you should delete Shirin from your Homestay recommendations, at least for the time being. I used to recommend them as well in our guidebook and stayed there in May when I was in Malaysia for my update trip, but things have greatly deteriorated; the place is run down, Ibrahim drank easily as much as I used to observe with Hiroko who was in Japan with her mother at the time (on the last day he asked me to lend him 250 RM which I did against my instincts, but I wanted to test him whether the proud colonel could be trusted. He did not repay me in KL as promised, in fact he never answered the phone after I left Langkawi).