Desa Motel, Langkawi
Category: Budget,  Location: Pantai Tengah 
This is a budget property in a nice location on the main road of Pantai Tengah (Jalan Pantai Tengah) with lush garden setting. Some of the key attractions like the popular Cenang beach, Underwater World, Duty Free stores are within 15 minute walking distance, yet the motel is located in a quiet place. 
Rooms & Amenities
There are 11 accommodation units in the motel of different types - Deluxe Villa, Deluxe rooms and Family rooms. Units are located around the garden which is full of flowering plants. 
The deluxe villas are meant for couples and are costliest of all. As the name of the unit suggests, it's like a cottage style chalet or a villa with wood finish. Other than a nice balcony over looking the garden (there are also units which have a small sit out area in front), a villa typically has a front sitting room with couple of chairs and a table. Behind that is the main bedroom with a large bed and a TV, another smaller room with amenities like a small fridge, electric kettle etc and a bathroom. 
Desa Motel Langkawi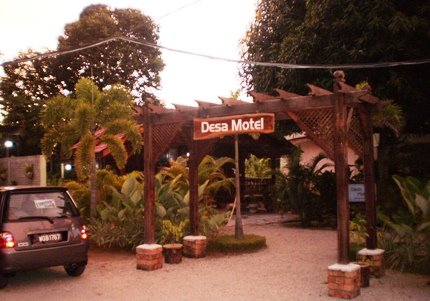 Deluxe and Family rooms are quite basic, where the deluxe room has a double bed for two while the family room has two double beds accommodating four persons. 
All rooms are air-conditioned and the in-room wi-fi offered is free of cost. Free wifi is also available at the common areas. Although the units are spread out, wi-fi signal is still available at the units. The TVs provided however have only limited local channels. The pathways through the lawn and the common areas are well lit at night so that you can get to your unit without problems. 
Garden 
The property has car parking, in fact rental car would be quite handy here. The property is owned and run by a couple. And they also operate a large laundry service from the same premises. So being guests of the hotel you too can avail the laundry service which is a plus point in a budget hotel like this. 
Housekeeping service is limited so do not expect rooms to be cleaned everyday. However they provide brooms which you can yourself use to keep your rooms free of sand and dust. The floors are tiled. The bathrooms have small instant geysers with shower, and a small wash basin with mirror. 
Family Room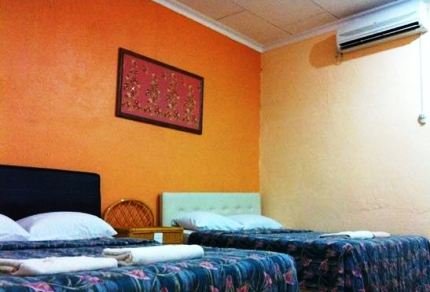 There is no dining option within the property. However right across the road there are couple of eateries - one serves Indian style food (named Tomato) while the other one serves local Malay food. You can also walk down to several other restaurants including the McDonald in about 10 - 12 minutes. 
When you come out of the property and walk towards right (i.e. westward) you will soon reach the crossing between the main roads of Pantai Tengah and Pantai Cenang. Turn right on Pantai Cenang Road and you will soon reach the restaurants and the famous Cenang beach. The Cenang beach will take about 15 minutes walk (about 850 meters) from the motel. 
However the Pantai Tengah beach is nearer (instead of turning right on Pantai Cenang Road, go straight) and you will reach in about 7-8 minutes. 
My overall opinion
Location is nice as many restaurants and shops of Pantai Cenang including the great beach are all at walking distance. 
Do not keep doors and windows open at night. Being in garden setting, there can be some insects getting into your room. 
While bathrooms in family rooms and villa are okay, some bathrooms in the deluxe rooms are very small. Don't be surprised to spot a cockroach here. 
I think the biggest drawback of this property is behavior of the owners. They need to be more cooperative and understanding with the guests. Otherwise this is a nice budget property. 
Contact Information
Desa Motel 
No 79, Jalan Pantai Tengah Langkawi. 
Phone: +60 12-511 5000 
Map Location of Sunset Beach Resort
The motel is about 6.3kms from the airport and will take about 15-20 minutes drive. 
Related Articles
Visitors' Reviews/Comments
Share your experience.