Tropical Eco Campsite, Langkawi
Category: Budget,  Location: Teluk Baru, Pantai Tengah 
This is a relatively new venture in the island. Mimi and her team had been working hard on this project to offer an eco friendly campsite by the water for nature lovers and those who care for the harmony & conservation of the environment. The project also aims at restoring the river that flows through the site, further growing the mangroves and fruit trees, attract varieties of birds etc. So far it has been quite successful. 
The secure location and the private beach are its added attractions. You will be in the company of constant sea breeze, birds, colorful butterflies, squirrels, eagles flying above, monkeys and more of Langkawi's natural creatures. The land area where the camp site has been set up belongs to MARA - a development agency of Government of Malaysia. The campsite was opened in June 2017.  
Tropical Eco Camp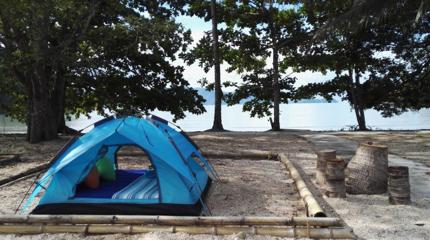 Amenities
Other than well equipped camps, they offer Washroom (WC, Wash Basin & Rain Shower), information counter with charging station & luggage storage, private beach, Campire/BBQ Pit, WiFi station and tours (both of the campsite as well as island yours), to & from transfers by land from a designated meeting point to the campsite etc... these are included in the rate. 
Surrounded by lush greenery yet by the beachside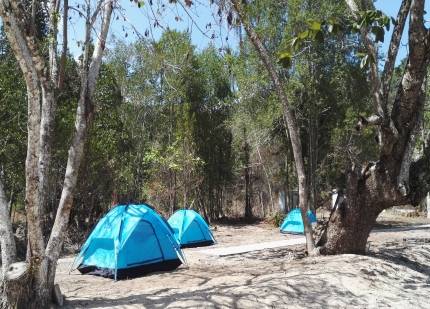 They have two different rates... one is a base rate where you pay extra for amenities not included, and the other for all-inclusive rate. If you are on the base rate then you pay extra per person for Bath Towels, Beach Towels, Bath Gel & Shampoo, Bottled Water, Breakfast etc which are otherwise included in the all-inclusive rate. Self service laundry will be offered soon. 
Breakfast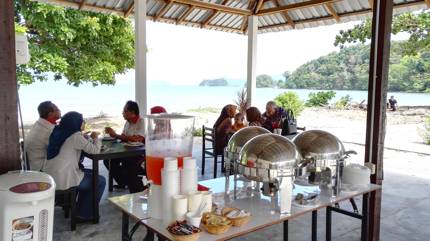 Contact Information
Tropical Eco Camping 
Teluk Dalam, Mukim Kedawang, 07000 Langkawi 
Phone: +604-9553075; +604-9554075 
Map Location
They will pick you up from a designated meeting point at Pantai Tengah. After a 5-minute drive, you will need to walk through a forested area for about 7-10 minutes and reach an open area by the beachside where the campsite is located. 
Related Articles
Visitors' Reviews/Comments
Share your experience.