Fossil Island Langkawi
Pulau Anak Tikus
Fossil Island, or Pulau Anak Tikus is an island which is part of the
Kilim Geopark
. If you take a boat tour to explore the nature park, this island will be one of the amazing geosites you are likely to visit. The boat is parked at a small jetty of the island that leads to a flight of stairs. The surrounding water area is marvelous. You will see several other islands at a distance. 
Climb the stairs and you will reach a massive rock structure which is full of fossils (dead impressions of once living organisms) that are some 480 million years old. This is the reason why this island is known as Fossil Island. On top of the staircase, there is a small platform from where you can view the fossils on the rocks clearly. Most fossils here are quite small, so a guide can help pointing at the fossils for you to look closely. 
Pulau Anak Tikus (Fossil Island) Langkawi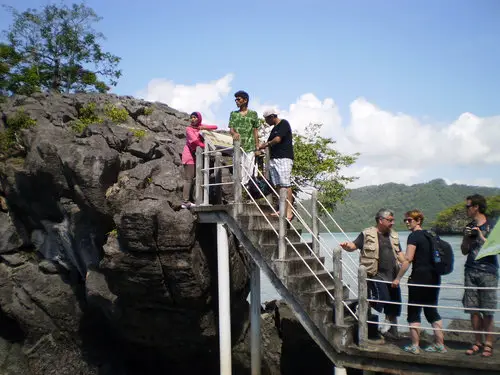 Ask the guide and he/she will point at a fossil with a stick so that you don't make a mistake. There is a board here which explains the nature of the fossils and its origin. 
Guide Haria showing a fossil 
In the picture above the pointed stick used by our guide (Haria) is actually not a stick. Look closely, it is a section of a mangrove root. 
A 480 million years old fossil on the rock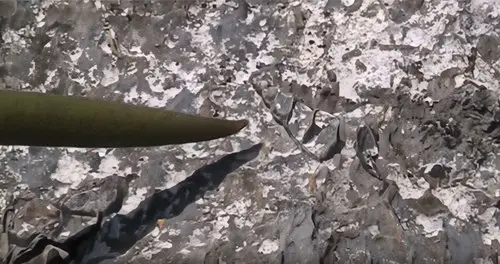 Another amazing sight here is so many plants and trees that grow out of the hard rocks. Their roots have gone deep into the rocks. A board aptly displays "Rock Garden", literally meaning garden on the rock. You will also notice a fern like tree (Cycad) hanging off the cliff that existed even 200 million years ago. This plant is therefore known as "Living Fossil". 
There is a long concrete footbridge which has been built by the side of the island and over the water so that as you walk along, you can see the amazing array of flora and fauna of the island. It is from here we spotted a wonderful White Bellied sea Eagle hovering over the water looking to catch a fish. 
Fossil Island 
Along the footbridge there are a number of boards explaining the flora & fauna in the island and the surrounding areas. On the other side of the footbridge, there are stairs that go down to the waters. The boat makes a circle and comes to this point to receive the guests. 
The footbridge and the boat at Fossil Island 
How to Reach 
You will either need to take a boat rental or a Kilim Geopark boat tour to access the Fossil Island (Pulau Anak Tikus). Check out
Kilim Geopark & Mangrove Tour
to know about the boat locations, tour details and the rates. 
Map location of Kilim Geopark where the Fossil Island is located 
Related Articles
Visitors' Reviews/Comments
Share your experience.