Bird Watching in Langkawi
If you are interested in bird watching, then Langkawi can offer you something very special. There are over 230 species of birds in Langkawi which includes residents and migratory birds. About 30% are migratory birds that come usually from countries like China, Siberia, Manchuria etc during October to April. 
You can spot even some of the very rare species of birds like the relatively recently discovered Mountain Hawk Eagles that are birds from Thailand but also found to be nesting in Langkawi. And there are other rarities like the Jerdon's Baza, Brown Winged Kingfishers, European Oriole and Plain Backed Sparrow.  
Some of the highlights of birds found in Langkawi includes: 
1) Three species of hornbills. This includes the awesome looking Great Hornbill which can be up to 1.3 meters long (i.e. about 4 feet) from tip of the beak to tail end. 
2) Eight species of King fishers. This includes the brown winged Kingfisher which has a strikingly dark brown wing against golden orange body and red beak. 
3) Twenty types of birds of prey that includes many different eagles like Brahminy Kites (brown eagles) and white bellied eagles. 
4) Four species of woodpeckers. This includes the largest species known to exist in the world called the Great Slaty Woodpecker. 
5) Five species of Sunbirds that includes the Crimson Sunbird with bright crimson colored breast. 
6) Four types of munias. You can even spot the white headed munia. 
7) There are various other species including herons, sandpipers, egrets, crakes, snipes, plovers and so on. 
8) Langkawi is in the route of bird migration from south Thailand. Some migratory birds that stop over at Langkawi includes Brown Shriek and Chinese Ponds Heron. 
Where to locate birds in Langkawi?
So how do you go about birding in Langkawi and where do you get to see these birds? There are diverse habitats and depending on the species of bird, you can find them in wet lands, rainforest, mangroves, reed lands and scrub forest and so on.  
The Great Hornbill, Gunung Raya Langkawi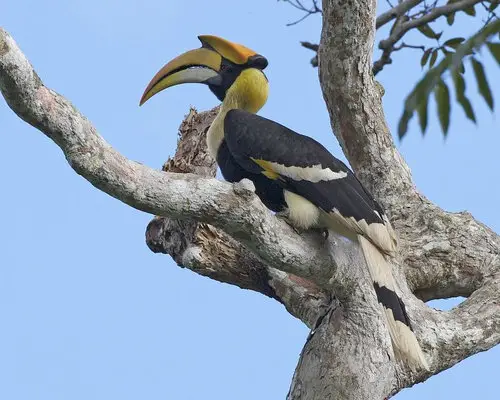 One of the most popular bird watching activities (although not quite conducive to eco system) are the boat tours to watch
eagle feeding
in the geopark water area. This is popular to almost all tourists because of the spectacular sight of brown eagles swooping down from the sky and picking up food on the fly. 
But for more serious bird watchers, there are many other areas. So let's take a look at each one of the habitats in Langkawi and the type of birds you can expect there: 
Mountain Birds 
If you drive towards the summit of Gunung Raya mountain, which is the highest peak of Langkawi with an altitude of 881 meters, you can spot the Great Hornbills and Wreathed Hornbills in the rainforest. 
Rainforest Birds 
The dense rainforests are found in Datai Bay area at north western end and also on the slopes of the mount Mat Cincang located at the western end of the island and Gunung Raya in Central part. The open corridors in the jungles are the best places to spot the birds. You can expect to see Flower Peckers, Hill Mynas, Eagles, Woodpeckers, Oriental pied Hornbils, Dollarbirds, Green Pigeons, Drongos, Tailorbirds, Babblers, Bulbuls, Sunbirds etc. 
Mangroves Birds 
There is a vast stretch of mangroves swamps and forests in the Kilim area and along teh Kilim river. This is home to many different kinds of birds including White bellied Sea Eagles, Golden Brown Eagles (Bhraminy Kites), Brown Winged Kingfishers, Collared Kingfishers, Black Capped Kingfishers, Sandpipers, Herons etc. 
Wetland and Pond Birds 
You will need to go down to a village area and you will find many different types of birds near the pond area. You can spot birds like Moorhens, Little Grebes, Pond Herons, Egrets, Little Herons, Swallows etc. 
Paddy Field Birds 
There are vast stretch of paddy fields in Langkakwi, particularly in Padang Matsirat areas. You can expect to spot several different kinds of birds here including Sandpipers, Plovers, Egrets, Bitterns, White-throated Kingfishers, Lapwings, Pond Herons, Spotted Doves, Plain-backed Sparrows etc. 
Scrubland & Mudflats Birds 
In some areas like Tanjung Rhu when the tide recedes, you can find several birds on the mudflats. They include Sand Pipers, Artic Warblers, Golden Plovers, Sand Martins etc. And in the scrubland forests yo ucan spot birds like Black-hooded Orioles. If you are lucky, you can also see Chestnut breasted Malkohas and Blue wing Pittas. 
Top Bird Watching Tours & Operators in Langkawi
If you are a casual birder then you can take a rental car or bike and can be on your own for birdwatching. Some of the common birds that are easy to spot include Brahminy Kites, White Bellied Sea Eagles, Black Nest Swiftlets, White Throated Kingfishers, Chestnut headed bee eaters, Dollarbirds, Barn Swallows, Common Mynas etc. You can find them all around the island.  
You may even be able to spot Olive-backed Sunbird, Richard's Pipit, Asian House Martin, Oriental pied hornbill, Chinese pond Heron, Spotted Doves, Common Sandpipers etc in Pantai Tengah area itself near the Holiday Villa Resort. 
However, if you are a serious birder or a bird enthusiast, and like to watch some of the Malaysian rarities, then you will need to go through a Bird Watching Tour operator with experienced guides. They know exactly where to go, when and what to find. 
JungleWalla is one such nature tour operator who has great birding guides and will offer you the best chances of spotting the birds. Jimmy and Indra are two of their best guides. Junglewalla offers a morning session tour, an afternoon session as well as a 2-day bird watching tour. They would arrange a small van to take you around different places in the island. 
Wendy Chin, a very knowledgeable & experienced lady specializing in birds, offers excellent bird watching tours. She earlier worked with Dev's Adventure Tours, but the company stopped offering such tours from 2017 following a change in ownership. Since then she is doing the tour individually. 
Another relatively new operator Darulaman Sanctuary does a nice job in bird watching through their friendly & knowledgeable guides. They first take you to Gunung Raya and later to Lubuk Semilang to show you different kinds of rainforest birds. 
Check out
Top Nature Tour Operators
to get information about them, their full offerings and contacts for inquiry & booking the trips. 
Useful Information
I would recommend that you wear a cotton T-shirt, a hat, comfortable walking shoes, shorts and use good sun protection lotion. Wear clothes of natural earth colors like green, brown, black etc and avoid bright colors like red and yellow. 
Update December 2014: The 5th The Asian Bird Fair (ABF) was held in Langkawi on 29th and 30th November, 2014. The fair was organized by Malaysian Nature Society) and hosted by Langkawi Development Authority (LADA). The theme was Flying High Island Style. The fair showcased many unique birds of the island, several guided walks, nature talks, photography competition, bird race and more. 
Related Articles
Visitors' Reviews/Comments
Subhalakshmi & Sandipan (August 2018) 
A wishlist... All high priority items got ticked. Bliss! That is how we describe our wildlife sojorun with Wendy. After booking through a local travel agent, we found we have a morning in Langkawi left free. So on our own we contacted Wendy. And thank God we did. Otherwise our trip would have been far less interesting. 
So we researched and presented a wishlist to her. She was up front and honest about few (e.g. Wreathed Hornbills already left the island). And we agreed to focus on a smaller list. A day before she gave us tips on where to find Dusky Leaf Monkey and Oriental Pied Hornbill near our resort. We followed that and we tick marked both at exactly same spot and time she predicted. So she started guiding us even before her clock started. 
And off we went in the morning. Started with dollarbird near a decaying mangrove patch, followed by collared kingfisher, brown-winged kingfisher, white-headed munia, glossy asian starling, and little heron. We witnessed her amazing skill in picking up faint calls and spotting the bird at far distance. 
We drove to Gunung Raya for change of habitat. Soon we were blessed with a Dusky Leaf Monkey family on a fig tree. We drove higher. Oriental Pied Hornbills glided over us. But we were after something more speacial - the Great Slaty Woodpecker. 
It was late. She was not very hopefull. Higher up cloud started to gather. We were planning to turn back. And then she showed her amazing skill again. She picked up the call. It was on a valley down. Slaty call. So we waited. Our patience paid off. A beautiful pair of steel grey large woodpeckers with red and orange patches near throats flew over us and gave us a great show over a leafless tree.  
We witnessed their strange and noisy behaviour (I thought it was courtship at an unusual rainy season - Wendy had different opinion) for good 20 min before we came down at a lowland rainforest in search of Colugo. Colugo could not be found. But we were not at all disappointed. We got more than what we expected. 
Cannot recommend Wendy enough. Book her. You will  not regret. 
Burnice Starkey (February 2017) 
I would like to recommend Wendy Chin as a very professional and enthusiastic guide. We had a very successful morning birdwatching on Gunung Raya getting all 3 Hornbill species, several raptors and many small forest birds. She knows her bird calls and can provide good habitat information for future self-guiding experiences. 
Raj (langkawi-insight.com) February 2017 
Thanks. I was planning to include her shortly in my list of guided nature tour operators. Viewers: you can email Wendy at
[email protected]
or call: +6012-595 2906.