Langkawi Nature Tours & Walks
Nature in Langkawi offers far beyond just the white sandy beaches and blue emerald waters of the Andaman Sea. This mystic island has been blessed with generous bounty and wide variations of nature. Some of such natures gifts in Langkawi includes the vast stretch of dense rain forests that are home to over 400 species of trees & plants with amazing flora & fauna as well as bird life. 
You can take an organized walk through the jungles explore the animal life, bird life, butterflies and different kinds of trees & plants. Or you can even trek to the summit of two of the highest mountains of Langkawi through rainforests. There are also tours taking you to traditional Malay homes in villages and on the way you will see many indigenous plants that you can smell & taste and able to learn their medical values. 
Langkawi village landscape 
Photo: Alex L., flickr, cc by 2.0 
There are world heritage geoparks where you can explore mangrove swamps along the river with its many unique flora & fauna. You can visit natural caves, seascapes, lagoons & lakes, or reach out to some small islands that have million year old fossils, or feed the golden brown eagles in a calm water area. 
In order to experience the above, you will need to take an organized nature tour and preferably from one of the well known operators with knowledgeable guides. 
There are several types of such nature end Eco tours offered in the island including jungle treks, exploring the animal life in rainforest after dark, nature cycling, birding, kayaking to explore mangrove swamps, mountain treks, exploring butterflies and even simple morning & evening walks. In most cases, hotel pick ups and transfers are offered by the operator. Set lunch is also included in several trips. Let us first look into some of best nature tours offered in Langkawi and then some of the top operators offering such tours: 
This nature tour takes places in the north east end of the island in Kilim Geopark area where there are lots of mangroves swamps and forests. Mangroves play critical roles in ecological balance and provide shelters to fish and act as nurseries. Activities include observing wildlife, bird watching, boat ride along Kilim river, exploring caves and mangroves.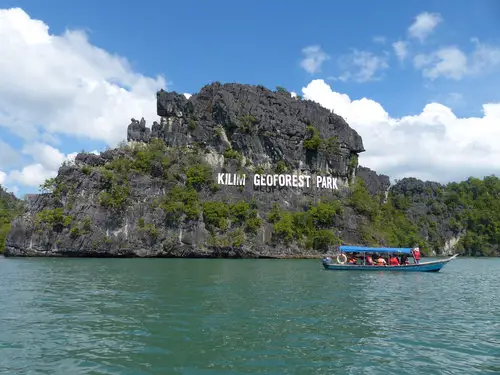 You can see many birds like the Brahminy Kite and White bellied eagles, kingfishers, many different fishes including the bizarre walking fish, and may even be dolphins & otters. You can also spot monitor lizards, monkeys and snakes. The tour duration is 4-5 hours. 
There are marked trails through the vast stretch of rainforests and jungles of Gunung Raya and Mount Matcincang which are the two highest mountains in Langkawi. There are organized treks that offer light, medium and challenging treks & hikes through the rainforests, some taking you to the peaks of the mountains from where you get wonderful panoramic view of the island and the sea. 
Boardwalk through mangroves at Geoforest Park, Langkawi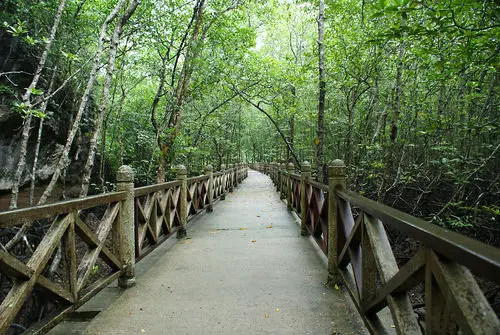 Photo: Alex L., flickr, cc by 2.0 
And you will see amazing array of flora & fauna on the way, some of which are unique to the island. There are also walks organized during the nighttime so that you can see even the nocturnal animals including some bizarre ones. 
There are over 230 species of birds that can be spotted in Langkawi, one third of them are migratory birds. This island has diverse habitats for birds including mountains, rainforests, lowland paddy fields, mangrove forests, ponds, scrub land forests and more. You can even see some rare species here including the mountain hawk eagles and also the great hornbills. 
Great Hornbill at Gunung Raya, Langkawi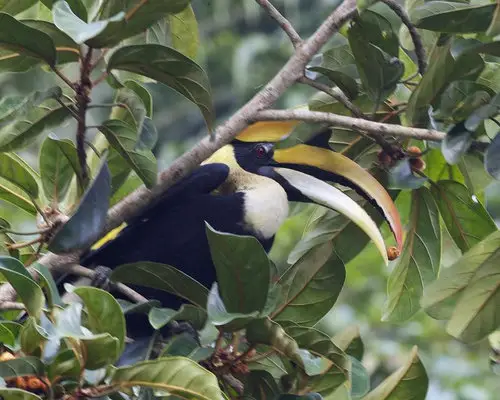 Photo: Lip Kee, flickr, cc by-sa 2.0 
However in order to explore all opportunities, you are best advised to take a bird watching tour from a well established nature tour operator who would provide an experience birding guide and transport. 
There are organized kayak tours to explore the mangroves and its many flora & fauna. The tours focus mainly on the nature, take you to water channels off the main river & very close to the mangroves and its animal life. It also includes visits to a cave, floating fish farm, fossil island, eagle feeding water area, jungle stream etc.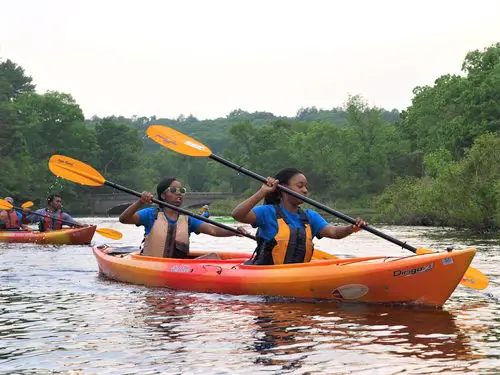 The packages also include set lunch on a floating restaurant, experienced nature guide, well equipped kayaks etc. If you are reasonably fit, it's easy to take this kayak adventure and see many aspects of Langkawi's nature closely from the water and gather knowledge from an experienced guide. 
There are great walking tours organized by nature tour operators whereby you can see and discover many gorgeous butterflies in the island, learn about their natural history and observe their activities from a close distance. There are over 500 species of butterflies in Langkawi. The rainforests, the mangroves, the coastal forests and the limestone outcrops are the large habitats.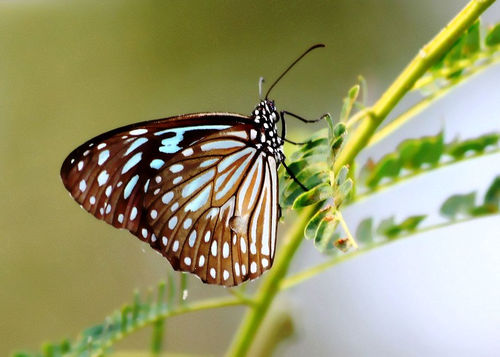 Photo: dany13, flickr, cc by 2.0 
You can take a guided cycling tour to explore the countryside of Langkawi, visit the villages, local market and ride by the river banks, paddy fields, forests etc. This is a leisure ride to enjoy the nature and the rural areas of the island. An experienced guide will explain the history and culture of the island as you paddle along. 
Top Nature Tour Operators & Packages
There are several operators that offer nature tours and treks. But for nature tours & treks, you will need experienced guide who can tell you all about the flora & fauna that you encounter on the way. There are few operators in the island who only specialize in nature tours, provide proper guides and offer quality amenities. Check out
Top Nature Tour Operators
to know about them, their detailed offerings, and contact information for inquiry and bookings. 
Related Articles
Visitors' Reviews/Comments
Share your experience.