Trekking & Hiking in Langkawi
Langkawi has vast stretch of dense rainforests along the slopes of its two highest mountains Gunung Raya (altitude 881 meters) and Mount Mat Cincang (altitude 701 meters). The reserve forest of Gunung Raya spans across an area of over 5,000 hectares. 
Boardwalk through mangroves at Geoforest Park, Langkawi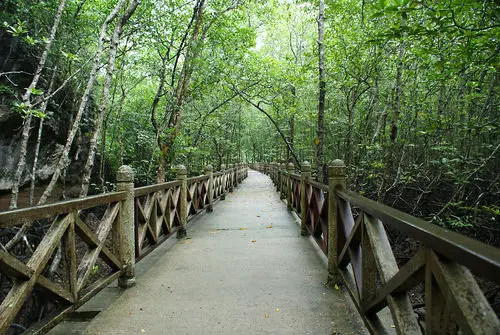 Photo: Alex L., flickr, cc by 2.0 
Most of the trekking trails and hiking routes in the island are through these rainforests where you get to see giant tall trees that are hundreds of years old, some having formed large canopy structures at the top, and also many amazing animal as well as bird life. There are more than 230 species of birds in forests of Langkawi and over 400 different types of trees. 
Gunung Raya trek starts from Lubuk Semilag park area which is at the base of the mountain and in central Langkawi. The reverse trek is more common, starts from the peak, ends at the park and is much less tiring. The Mount Mat Cincang Treks & hikes start at the Pantai Kok area. 
Some treks are light treks and designed for a duration of 2-3 hours for persons with average fitness. One of such treks is through the trails of rainforests of Mount Mat Cincang. But some treks like hiking to the peak of Mat Cincang is very challenging and requires full fitness and experience in trekking. 
I would advise that you take a guide or go through an operator who organizes group treks if you plan for hiking and trekking in Langkawi. There have been several reports of tourists and hikers getting lost in the rainforests trying to trek on their own. 
Here are the top treks & hikes in Langkawi. At the bottom, I have also mentioned the top operators who organize such treks with experienced guides. 
(In daytime & after dark) 
This is soft nature hike in the dense rainforest of Gunung Raya mountain which is the highest peak in Langkawi and is part of the Gunung Raya Forest Reserve that spans across 5,000 hectares area. The trek usually starts from the peak where you will first enjoy the breathtaking panoramic view of the island & the sunset or sunrise depending on when the hike starts. 
If you trek in the morning, you will come face to face with many interesting animal and bird life like dusky leaf monkeys, giant squirrels, eagles, great hornbills etc. And after dark, you will see many nocturnal animals including flying squirrels and flying foxes. The total tour duration is about 4 hours. 
If you want, you can also trek from the base to the peak. Either you can walk uphill along the winding road all the way up which is not very steep. Or, their is a stairway (over 4,000 steps) that goes all the way to the summit from the base and through the rainforest. There are even lighter walks offered by some operators for about 1 hour to explore the rain forest in the morning or evening. 
This is an easy trek through the secluded jungle of Mount Mat Cincang which is part of the UNESCO world heritage geoforest parks. The mountain was formed over 550 million years back and is the oldest rock in South East Asia. 
This 3 hour trek along a hilly terrain will take you close to many different species of trees, plants, animals and birds. Out of over 400 species of trees and 230 species of birds in Langkawi, you will get to see several of them. You will pass by and can even take a swim at a jungle stream. You can also combine a 2 hours day trek with one hour evening walk to experience both daytime and nighttime animal life in the jungle. 
This guided trek starts from the base station of Cable Car at Oriental village and leads all the way to the top station at Mat Cincang in 2.2kms uphill hike through dense rainforest. You will see wide range of flora and fauna along the way in a geo forest park which is over 550 million years old. Several trek packages are offered including basic, intermediate and extreme depending on the sections you trek. 
This trek is quite challenging and meant for the experienced hikers. You will first climb the 638 steps to reach up to the Seven Wells waterfalls. After a break, you will take the steep trail that passes through the rainforest of tall trees and then through bushes and orchids to reach the summit of Mount Mat Cincang (701 meters) which is the second highest mountain in Langkawi. The view from the top is wonderful - you get to see the cable cars, Telega Harbor and many other parts of the island. You can go on your own or take a guided trek. 
Top Nature Tour Operators, Packages & How to Book
There are only select few operators in the island who specialize in nature treks, provide proper guides and offer quality amenities. Check out
Top Nature Tour Operators
to know about them, their detailed offerings, and contact information for inquiry and bookings. 
Related Articles
Visitors' Reviews/Comments
Share your experience.