Kayak Mangroves Adventure, Langkawi
This is an amazing trip where you will be kayaking through the small tributaries of a river and reach out to some water areas that are rarely seen by others. You will be guided by an experience naturalist who will explain everything about the flora and fauna that you encounter on the way. 
This trip takes you close to the dense mangrove swamps that lie between the land and the waters. The guide will explain how important these mangroves are to human beings and the eco system. They provide shelters to the fishes and also act as nurseries. The mangroves are also home to so many small animals and creatures. This will not only be a thrilling adventure, but also a great educational journey.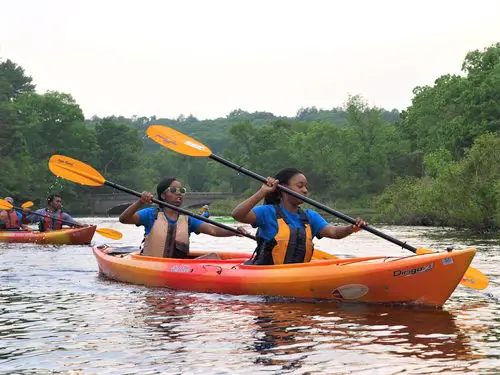 The kayak adventure starts from the Kilim Jetty at the north eastern part of Langkawi. You will kayak through the Kilim river and then get into the narrow secluded water channels right amidst the mangroves. Along the way there are opportunities to see many animal and bird life. 
During several of our Kayak trips, we have seen birds like white bellied sea eagles, the Brahminy Kites, Kingfishers and lot more. Plovers and herons are also quite common. 
We were shown a King Cobra that was swimming by and Pit Vipers in mangrove forest. if you are lucky, you can also see otters and dolphins. If you look around, you will also notice monkeys, monitor lizards, fiddler crabs and mud skippers on the shore and even the bizarre walking fish. 
Mangroves, Langkawi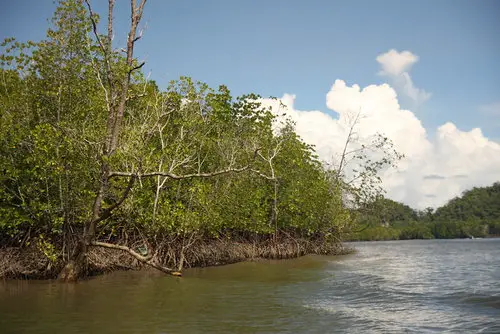 Photo: Saskia Bv Rosenthal, flickr, cc by 2.0 
Depending on the operator you choose, there can be some variations in the design of the kayak tours. One of them (by Dev's Adveture Tours) is for 5 hours excluding transfer time. Other than exploring the mangroves and learning about flora & fauna, you will also visit the
Bat Cave
. You will also get an opportunity to visit
Fossil Island
to see million year old fossils and learn about them and also enjoy the view around the island. 
You will pass by huge limestone cliffs that rise from the shore. For lunch you will be taken to a floating fish farm & restaurant
Hole In The Wall
. There you can also see and participate in feeding fish like the stingrays. The package includes lunch and transfers. 
The tour also includes visit to the water area where you can see lots of eagles hovering around. But they don't feed the eagles. They would often end the tour by handing over a small mangrove seedling to you and asking you to plant it and contribute to the conservation of the mangroves in Langkawi. 
White Bellied Sea Eagle at Kilim Geopark, Langkawi 
Photo: amrufm, flickr, cc by 2.0 
Another tour package is offered by JungleWalla. They too provide experienced guide and take you to the mangroves. You will also pass by the water area where all fishermen gather before they go out for fishing in the sea or return at the end of the day. After 2.5 hours of kayak, you will take a short drive and then an easy walk for about 500 meters to reach a jungle stream. Here you will spend some time relaxing. You can also take a dip into the soothing water of the stream. The package includes set lunch and transfers. 
Monkeys in Mangrove Forest, Langkawi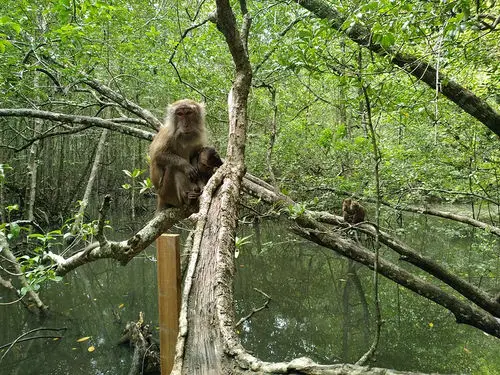 Photo: Sasha India, flickr, cc by-sa 2.0 
TIPS 
I would recommend that you wear a cotton T-shirt, a hat, comfortable walking shoes, shorts and use good sun protection lotion. It can be quite hot while you kayak. Wear clothes of natural earth colors like green, brown, black etc and avoid bright colors like red and yellow. 
It will be of advantage if you have had kayaking experience before. However the tour is easy going and focussing mostly on nature exploration rather than speed. It can be undertaken by anybody who is relatively fit. But if you are an absolute beginner in kayaking, you may end up spending sometime circling around rather than effortlessly navigating through the water channels. However, the guides will help you to stay with the team. 
Carry only a small camera and not an SLR one. The operators usually provide a small water proof bag which can only accommodate small cameras. Also note that these bags are not capable of floating. So just in case it drops into the water (unlikely), you may not get a chance to recover that. 
Top Mangrove Kayak Tours & Operators in Langkawi
Two of the top operators who offer Kayak Adventure to the mangroves include Dev's Adventure Tours and JungleWalla. Check out
Top Nature Tour Operators
to get information about them, their full offerings and contacts for inquiry & booking the trips.  
Related Articles
Visitors' Reviews/Comments
Share your experience.