Hole In The Wall Floating Restaurant
Category: Mid Range, Cuisine: Malay/Thai, Location: Kilim River 

 

Hole In The Wall is the only floating restaurant in Langkawi, and it also doubles up as a fish farm. This rustic looking restaurant and fish farm blends naturally with the environment in Kilim Geopark. It is owned and operated by Rahmad since 2003. The name has been derived from a narrow passage on the Kilim River called "Hole In The Wall". 

This floating restaurant is located on the Kilim River. From the

Kilim Jetty

it is about 7 minutes of boat ride along the river with lovely view of mangrove swamps on both sides. The restaurant is located within the

Kilim Geopark

nature reserve. 

 

Several organized boat tours of the geopark stop at this restaurant for lunch. So the restaurant gets quite busy during the lunch with many tourists who arrive here for lunch as part of the geopark tour package. If you plan to come individually to take lunch or dinner here, then call them up in advance and they will send a boat to pick you up from the Kilim Jetty and drop you back, and the boat ride is complimentary. 

 

Hole in the Wall Floating Restaurant & Fish Farm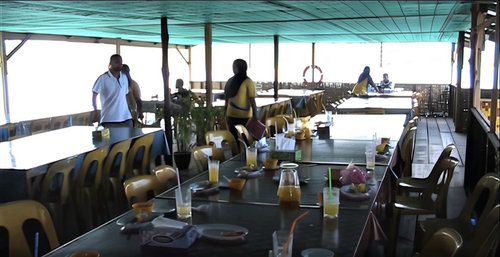 So why come to Hole in the Wall floating restaurant? There are several reasons actually. The first thing that we liked was its wonderful surrounding. Other than wide stretching blue waters of the river, you can see the wetland mangroves along the shoreline close to it, islands at a distance and the majestic limestone cliffs rising from the bottom. It's a spectacular setting. And the whole restaurant actually rests on a series of empty drums and floats on water. 
Coming to food... If you are taking a standard lunch as part of the
Kilim Geopark Tour
package, then the lunch isn't much to talk about. They serve fried rice, fried chicken, salad and chilled pineapple juice in big glass jars. Other than the juice, the quantity is fixed for the meal and may not be adequate for all. We found it okay though. 
If you take Ala Carta, then you actually get to taste the real food here. They specialize in seafood and prepare the dishes in Malay or Thai style. You will get items prepared from freshly caught seafood including prawn, crabs, red snappers, groupers, lobsters, sea bass and even squids. Try the mango salad, it's great. Other than fresh fruit juices and cold drinks, they also serve beer and wine here. 
Hole in the Wall Floating Restaurant & Fish Farm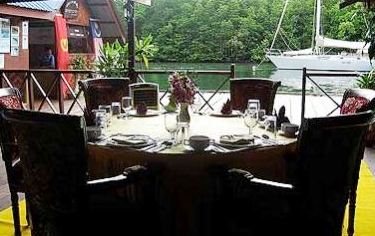 Candle lit dinner on the floating restaurant is quite special. This is the time when the restaurant is relatively empty. The service is also much better, you can ask a waiter to move your table right next to the water edge and enjoy the sheer natural tranquility of the place. 
If you so want, they also provide bed & breakfast accommodation for you to stay back at night. They have six rooms for guests. However, the staff will all leave at night and you would be all by yourself in the geopark amidst the natural flora & fauna in ultimate quietness. I haven't tried this but heard it's an amazing experience. 
Hole in the Wall restaurant is also a floating fish farm. There is a separate section where many types of fish are kept in water tanks. There are fish shows for the guests. You can see how tamed stingrays are being fed here. You too can feed and stroke them if you so like. Other fishes include Archer fish, electric eels etc. The owner Rahmad allows the guests to catch fish from the tanks and then cook for them. Before starting the restaurant, he used to culture and export fish from his farm. He had purchased woven rumbia mats from Thailand to construct the roof of the farm to keep it cool during the hot summer days. 
Later he expanded his operation to let his guests dine and stay here as well. Geopark Boat Tours and other activities are also organized by Hole in the Wall. 
From the backside of the restaurant there is a hanging narrow footbridge that leads to an wooden platform. From here you can see the mangroves and lot of coastal animal life from a close distance. The footbridge actually passes over the mangrove swamps. We spotted a monitor lizard. 
Open Hours 
8.00am to 11.00pm Daily. 
While many Kilim Geopark tour operators take you there for lunch, you can also book a table individually. If you do so, they will send a boat to pick you up and drop you back for free. 
Free pick up from Kilim Jetty for lunch at 12.00pm 
Free pick up from Kilim Jetty for dinner at 8.00pm 
Location & Contacts 
Jeti Sungai Kilim, Mukim Air Hangat, 07000 Langkawi. 
Hole in the Wall floating restaurant and fish farm is located on the Kilim river. It's about 7 -minute boat ride from the
Kilim Jetty
located at the north eastern side of Langkawi. You will need to take a taxi to the Jetty unless you have your own transport. 
Call them up for table reservation and get a free boat ride to/from the restaurant: 
Related Articles 
Visitors' Reviews/Comments 
Share your experience.