Royal Langkawi Yacht Club & Marina
Royal Langkawi Yacht Club (RLYC) was established in the year 1996 and located on Bass Harbor near Kuah Town and only at a few minutes walking distance from the Jetty Point where the harbor master, customs and immigration offices are located. 
Initially it was known as Langkawi Yacht Club. In 1999, the royal patron of the club Sultan of Kedah state conferred the 'Royal' title to the club. Over the years, the club has grown in its stature and become one of the top favorites to the yachters from all over the world. In 2008, RLYC went on to get the coveted award of Best Asian Marine/Yacht Club of the Year at Christofle Asia Boating Awards. 
Royal Langkawi Yacht Club Entrance 
In 2002, a seawall was completed to ward off the waves and swells arising out of the passing ferries that depart from or arrive at the nearby Kuah Jetty. The main building structure with the clubhouse was given a look of a ship's hull pointing towards the open sea. The club is also the main host of the
Royal Langkawi International Regatta
which is a major yachting event held in the island annually in the first quarter of the year. 
From an initial capacity of only 44 berths, RLYC has grown to have a modern marina with 200 wet berths that includes berths for both sail boats and mega yachts. It offers priority berthing to its members and also ample berthing facilities to visiting yachts. 
Reception - Royal Langkawi Yacht Club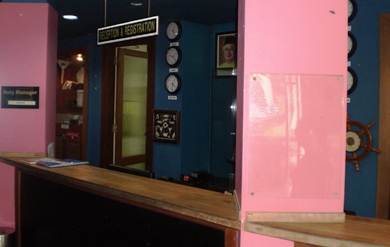 Club Facilities
The club offers almost all the modern amenities that yachters, their families and members would look for. Apart from being in a prime location close to Kuah town and within walking distance from the top shopping centers, ferry terminal for mainland access, hotels, car & bike rentals, the club itself offers the following facilities: 
1) The clubhouse building has two restaurants, a convenience store, the marina office and several other 3rd party offices who run their yachting & sailing operations from the marina. 
2) The Captain's Deck is a large elegant restaurant having wonderful view of the water. It is in fact shaped like a bow of a ship and literally juts out into the marina overlooking the harbor. The Malaysian and International menu is fast gaining in popularity. You can either dine inside in air-conditioning or at the outside balcony. There is also bar service here. The vast space is also a popular venue for parties and functions. 
Captain's Deck (RLYC)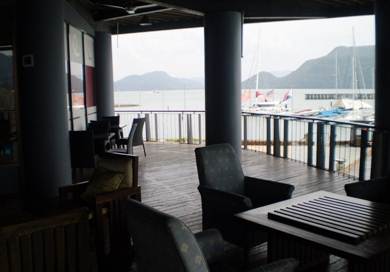 3)
Charlie's Bar & Grill
is a great dock side restaurant with a bar having a casual, relaxing and laid back ambience. It is extremely popular with the yachties and locals. The restaurant serves local and International cuisine, and is open for breakfast, lunch & dinner. Viewing the sunset while enjoying a cocktail at the bar is a special experience. It boasts of offering one of the best views of the marina, Bass harbor and stunning sunset. 
Charlie's Place Restaurant & Bar (RLYC)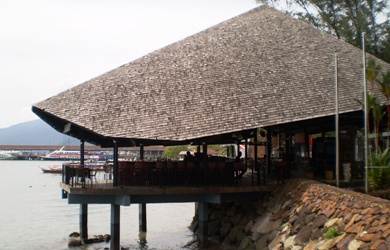 4) There is also a waterfront swimming pool with associated bar. Near the swimming pool there is also a Jacuzzi and shower room. 
5) Opened in 2018 and privately operated Trinidad Cigar Divan offers an intimate ambience for the cigar lovers to enjoy some of the best cigars in the world, have a drink and enjoy the wonderful views of the marina and Kuah harbor. It offers Cuban, Caribbean, and Central American cigars. 
Trinidad Cigar Divan Langkawi 
Fisherman's Wharf, Jalan Dato Syed Omar, Kuah 
6) Barbosa Pizza & Bar is the one for you if you love pizzas...a great place to savor a range of pizzas while watching the sunset and the marina. One of their unique offerings and a must try is the Crocodile Meat Pizzas... they have two varieties in this. 
7) There are several private companies that operate out of the club premises offering many recreational activities that can be availed by all. Blue Water Star Sailing offers crewed yacht charters from the marina. Sunsail is an international company offering bare boat charters (without crew). East Marine Holidays offers snorkeling and diving trips. Nautical Bits is a pro shop selling yacht parts and club merchandise. Pippen Marine is a yacht brokerage company. 
Berthing Facilities
The marina at RLYC has 200 wet berths including 6 that are for mega yachts of up to 60 meter long. Water depth is from 3 to 10 meters. The marina facilities include: 
Electricity: Single and 3 phase, from 32A to 100A in all pontoons. 
Free fresh water 
Wi-fi Internet access available in the club premises as well as in the entire marina. 
Shower and Toilet facilities 
Swimming pool 
24 hours security 
Maintenance services (yacht maintenance yard, travel lift etc). You won't be allowed to do major & noisy work in the marina. 
Pump out facility, Chandlery in premises 
Laundry, fax, telephone services 
Diesel supply. Only diesel is available from the two barges moored at the Bass harbor. The public ferries also use this and the quality of fuel has been noted as quite high. One of the two fuel barges is run by Shell. 
The marina office will receive and hold mails. 
Note that during high and low tides, there can be a strong cross current in the harbor (up to 4 knots) and it is advisable to enter the marina after  about 1 hour of high or low tides. Although there is a sea wall, still there are waves & swells that come from the passing ferries. 
The Marina, Royal Langkawi Yacht Club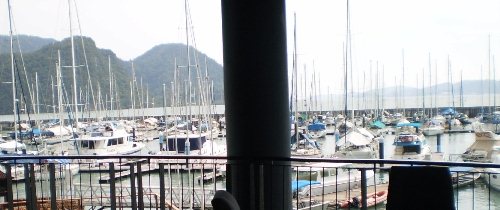 Update February 2015: Royal Langkawi Yatch Club is planning for an upgrade of their marina to accommodate more mega yachts. There will be 52 additional berths of 12, 17 and 20 meters. The marina will be fitted with new power system, sanitation pumps, safety equipment etc. The clubhouse will also go through major renovations... in Level-1 there will be a lobby and a reception area. 32 boutique rooms to come, 9 with private balconies and great views of the marina. Due to the redevelopment work, the club facilities will not be available between February 16 to end October 2015. 
Club Memberships
There are essentially two types of memberships offered by the RLYC club. Ordinary Members can avail both the clubhouse and marina facilities. The Resident Membership is limited to residents of Langkawi only who can avail only the clubhouse facilities. There are also corporate and Team memberships offered by the club. The members of the RLYC can also enjoy the amenities at several other clubs in Malaysia and around the world with which it has affiliations or arrangement of reciprocal memberships. 
Currently (updated January 2013), the one time fee for Ordinary Membership is RM28,000 and for Resident Membership is RM8,000. There is also a small monthly subscription fee applicable with each of the two memberships. 
Location & Contacts
Royal Langkawi Yacht Club (RLYC) is located at the south eastern end of Langkawi near Kuah Town and facing the Bass Harbor. It is only few minutes walking distance from Kuah Jetty as well the Jetty Point Complex where the Port Captain, Customs and Immigration offices are located. The location is also ideal to get a range of accommodations, rentals, shopping complexes within short walking distances. 
Sailors/Yachters Info: 
Location Coordinates: Latitude 6° 18.2' North / Longitude 99° 51.1' East 
VHF Channel: 69; Call sign: "ROYAL LANGKAWI YACHT CLUB" 
Address & Contacts: 
Royal Langkawi Yacht Club 
Jalan Dato Syed Omar, 07000, Kuah, Langkawi, Kedah Darul Aman, Malaysia. 
Phone: +604 966 4078; Fax: +604 966 5078 
Website: www.langkawiyachtclub.com 
Map location of Royal Langkawi Yacht Club 
Related Articles
Visitors' Reviews/Comments
Share your experience.