Langkawi Marinas
While there are plenty of moorings and protected anchorage available all around Langkawi, there are also several modern marinas that have been developed in the island offering you amenities far beyond just berthing. There are three state of the art marinas with modern facilities in Langkawi. Of course each has its own pros and cons.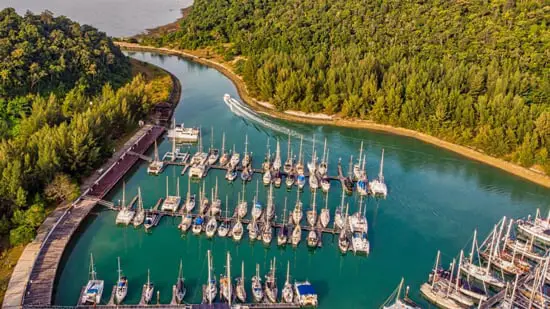 Some offer excellent access to accommodations, shops for provisioning, club & lounge facilities, bars & restaurants by the harbor side etc, while there is one that has a dry dock and offers some specialized services including extension of visa or stay permit in Malaysia. 
The marina of Langkawi Royal Yacht Club is located in Kuah at the south eastern water edge of the main island and offers excellent berthing, club and dining facilities as well as easy access to plethora of shops, accommodations & rentals in Kuah town.  
The Telaga Harbor Marina is located on the western water edge and has a modern harbor-side complex full of boutique shops and restaurants. The Rebak Marina is located at the island Pulau Rebak Besar off the western coast and in a tranquil but scenic setting. It offers a dry dock with a range of repairing facilities. 
There is also a small marina at the Resorts World Langkawi (formerly Awana Porto Malai Resort) where the Star Cruise ships dock at a short distance away. It is located at the southern end of Pantai Tengah. There are berthing facilities available there along with many upscale accommodation, dining and other amenities offered by the resort.  
One of the news docks (not actually a marina) is Jeti Pelancongan located in Kuah just behind the Al-Hana Mosque. It offers only moorings on plastic pontoon. 
Let's look into each one of the proper marinas in Langkawi in details: 
This is a beautiful pollution free and self contained harbor town which once used to be a fishing village. This scenic and quiet harbor with a modern marina is located at the western shore of Langkawi in Pantai Kok and is the only such self contained harbor town in the region. Other than a nice scenic setting, the marina offers clearing in and out services for yachts and has Harbor Master, Customs and Immigration departments on site. Diesel and petrol are available at the fuel dock as well as the Petronas Petrol station. There are several restaurants and boutique shops at the quay side commercial complex located alongside the harbor. However the shops are limited. You will need to take a taxi or drive down to Kuah town or Padang Matsirat for provisioning. 
The marina at RLYC is located on Bass Harbor and within short walking distance from the center of Kuah Town. The marina offers 200 wet berths including few for mega yachts. It is complemented with excellent club facilities including restaurants, bars, swimming pools, showers, Jacuzzi and range of watersports and recreational activities including yacht chartering, diving & snorkeling and lot more. There is also wi-fi internet access in the entire premises including at the Marina. 
The shopping centers, accommodations, bike & car rentals are all with in few minutes of walking distance, and so is the public ferry terminal and Jetty Point Complex where the customs, port captain and immigration offices are located. The club itself offers clearing in and out services at Kuah. Although a seawall has been built, there is still some swells that get generated from the passing ferries. Only diesel is available as fuel supply. 
This marina is located in a picturesque setting in Pulau Rebak Besar island off the western shore of Langkawi's main island. It offers both dry and wet berths for yachts up to 35m long. This is the only marina in Langkawi with hard stand / haul out facilities. Since the entire island is privately owned and not commercialized, the surrounding area is very pleasant, clean and quiet. The yachties enjoy a range of amenities including dining options, bar, swimming pool, luxury accommodations and amenities offered by the adjacent Rebak Island Resort. The facilities are really great and the staff are very friendly. 
However there are no diesel or petrol available in Rebak Island, neither any shops except for a small convenience store. For provisioning, you will need to take a short 7 minute boat ride to the nearest jetty in the main island and then take a taxi or a rental car to Kuah or Padang Matsirat. The ferry landing in Rebak Island is right at the Marina. 
WaveMaster - Langkawi Yacht Center
Although this is a large and modern boatyard located in Kuah, it also offers berthing facilities for yachts & sail boats (including mega yachts). Boats from 13 to 70 meters can be berthed here. Facilities include Supply of fresh water, 3-Phase power, Telephones, Petrol & Diesel, showers & toilets, spare parts and other items, nearby Supermarket, 24 hours security etc. As a boatyard they offer repair & refit facilities for super and mega yachts. There is one 140 ton and one 500 ton travelift. 
It's located on Jalan Bukit Malut west of Kuah.  243-G-6, Pst D'gan & P'gan Kelana Mas , P.O Box 98, Pejabat Pos Kompleks LADA, Kuah, Langkawi. Phone: +604-967 5555 Fax: +604-9671231. 
Jeti Pelancongan
This is one of latest additions to berthing facilities in Langkawi. It is however not a fully equipped Marina. Jeti Pelancongan is located on Bass Harbor of Kuah, between the Kuah Jetty and the Kuah Town, and right behind the Al-Hana Mosque. 
For yachts under 36-feet (single hull), there are berths available here. Rate is RM400 per month. Rate includes limited water supply available through a single hose pipe. Storage and locker space is available. There is no electricity here or any other facilities. However being in Kuah, the yachties get the advantages of being in close proximity to a range of stores, eateries, shopping complexes and accommodations all within walking distances. 
There is a blue colored floating pontoon and you can tie up your dinghy there. Dinghy rates are RM 3.00 per day, or RM 20 per week, or RM 60 per month. Note that the moorings at the Jeti Pelancongan are not protected by sea wall. So there can be rolling and swells coming in, particularly between May to November. 
Office Phone: +604-969 8300; Fax: +604-969 8302 
Related Articles
Visitors' Reviews/Comments
Share your experience.