Rebak Island Marina Langkawi
Rebak Marina is located on the island of Pulau Rebak Besar, one of the 99 islands of Langkawi. The 389 acres Rebak Island is privately owned by Tradewinds Hotels & Resorts and located a little off the western shores of the main island of Langkawi. Journey to Rebak Island is approximately 20 minutes by ground transfer from Langkawi International Airport to Jetty Rebak followed by a 7-minute free scheduled boat ride from Jetty Rebak to Rebak Island. 
Rebak Marina is the only fully equipped private island marina in Malaysia with a dry dock. This exclusive private island is surrounded by a million year old rainforest overlooking the emerald green waters of the Andaman Sea. The marina is adjacent to and part of the
Rebak Island Resort
, which offers great accommodations and a host of amenities. 
Protected from the elements of nature, this marina can accommodate yachts of up to 35-meter long in wet and on dry berths. The marina has a minimum depth of 02.5 meters during low tide, hence navigating through the channel may be tricky, particularly on strong windy days. 
Visibility of the island is limited unless you come close to it. Do contact VHF Channel 69 before approaching. As the marina is adjacent to a resort, the Marina remains popular within the yachties community with many of them having docked here for more than a decade. 
To inquire on berth availability, please proceed to contact Rebak Island's Marina Office (contact information given at the bottom of this page). 
Marina Facilities
There are 189 wet berths for boats from 10m to 35m long. 
The marina provides 24-hour security. 
This is a protected marina with calm basin eliminating surges and wakes. 
The harbor here is uncommercialized, and therefor very clean. It is also protected from the storm.  
Electricity: 240 volt, 16, 32 & 63 amp. Recently upgraded and now metered. 
Fresh water supply is available (also metered). 
Other facilities include Steel piling, HDPE float & fenders, timber walkways, fingers etc.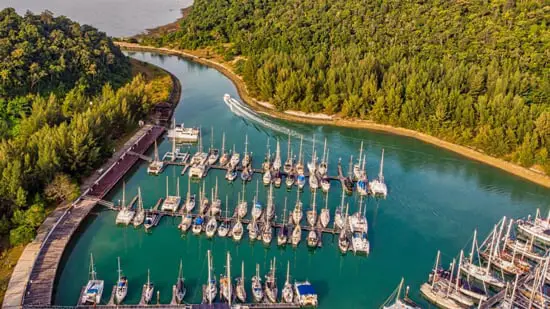 Dry Dock Facilities
There are 70 dry berths for boats from 10m to 20m long. 
24-hour security provided. 
65 ton marine travel lift is available. 
There is also travel lift jib crane (65 ton) for lifting engine and mast stepping. 
Hard Stands are storm protected. 
The dry dock is uncommercialized and is therefore clean and quiet. 
You can perform your own general maintenance work. Note that heavy work involving loud noises like grinding, refitting work etc are disallowed. 
Yachters Facilities
Self service laundry, shower and toilet. 
There is a harbor store (a convenience store) for items of personal use. However for full provisioning, you may choose to board the resort's free scheduled boats to main island Langkawi and then ride a taxi to Kuah town, Pantai Cenang or Padang Matsirat. 
Filling of propane gas. 
Storage lockers on rent. 
Photocopy, fax & internet (e-mail) services. 
The hard stand has a Hard Dock Cafe and toilets. 
There is one all-day dining restaurant overlooking the scenic Senari straits. 
Bar & Lounge with live evening entertainment 
Swimming pool with bar 
Private beach 
Fitness Center 
Spa 
Some points to note 
Many yachties who have lived here for a period have created a closely knit community of their own. You will often find them in the swimming pool. The resort team members are welcoming and always ready to be of service. 
Petrol or diesel is unavailable on the Island.. 
Open Hours
Rebak Marina office is open from 0800 to 1700 hours. 
Location & Contacts
Rebak Island is located off the western shore of Langkawi Main Island. Journey to Rebak Island is approximately 20 minutes by ground transfer from Langkawi International Airport to Jetty Rebak followed by a 07 minutes free scheduled boat ride from Jetty Rebak to Rebak Island.  
Here are the free scheduled boat timings: 
Rebak Island to Jetty Rebak: 07:30, 09:45, 11:00, 12:30, 15:30, 17:30, 19:00 
Jetty Rebak to Rebak Island: 08:15, 10:30, 11:30, 14:30, 17:00, 18:30, 19:45 
Sailors/Yachters Info: 
Location Coordinates: Latitude 6° 17.6 min North / Longitude 99° 41.7 min East 
VHF Channel: 69; Call sign: "Rebak Marina" 
Address & Contacts: 
Rebak Island Resort & Marina, Langkawi 
P.O. Box 125, 07000 Kuah, Langkawi, Malaysia 
Phone: +604 966 55 66 
Map location of Rebak Island Marina, Langkawi 
Related Articles
Visitors' Reviews/Comments
Share your experience.