Vivanta by Taj
Rebak Island, Langkawi
Category: 5-Star Luxury,  Location: Rebak Island, Cenang 
If you are looking to relax in peace and tranquility in a small island although not too far from the mainland where you can also enjoy all the activities, then Taj Vivanta is a great place for you. This is a Taj Group of Resorts which is a leading luxury brand of hotels & resorts from India. 
The island resort surrounded by Andaman sea, having its private beach, an open air pool, a marina full of sailing boats, lots of plantations and chirping birds is ideal for romantic couples, honeymooners and even families with children to enjoy a cool private vacation. 
From the airport, a hotel vehicle will pick you up. It's a 20 minute drive to Port Langkasuka (also known as Port Cenang) where there is a jetty to board a resort provided speedboat to get to Rebak island. In case you need to wait, there is a shade at the jetty and you will be given packaged water and newspaper. 
Vivanta by Taj - Resort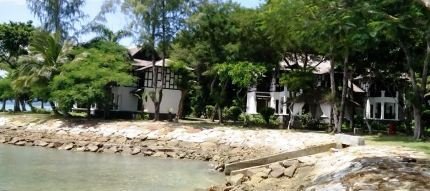 The resort has a published schedule of its private speedboat which operates almost every hour during the day time. The staff will help with loading and unloading your luggage in the boat. The boat takes about 7 minutes from the jetty (2kms) to reach Rebak Island. 
As you approach the island, you will see many yachts moored there. The resort operates a full service marina and offers facilities to the sailors who anchor their boats here. Once you get off at the jetty in Rebak Island, you can walk. But walking with your luggage could be tedious. Better take the buggy (cart) provided by the resort. In fact buggies are available to transfer between all facilities within the resort and even to get to your room. 
Rooms & Units
Rebak island spans across an area of about 390 acres, and the resort occupies a small part of the island. There are over 90 rooms in the resort, most are chalets that are built in traditional Malay style. There are several types of rooms including garden view rooms (the least expensive ones), partial sea view rooms and full sea-view rooms. There are also suites. All rooms are spacious having classical wood furnishing and flooring. 
As expected in any luxury resort, the rooms are complete with all in-room facilities including LCD TVs, complimentary wi-fi etc. The luxurious bathrooms are really large and have separate toilet and shower sections. Some bathrooms even have twin sinks. Most rooms (sea facing) have private balconies. These are the ones to go for. 
You get lovely view of the ocean from the balcony and the windows. The garden view rooms may have some problems with mosquitoes and insects, so you may not be able to keep your windows open in the evenings. 
A room at Vivanta by Taj 
Restaurants, Bars & Lounges
There is an in-house bar which is well stocked (but the prices are steep). The bar lounge sometimes has a live music. The food at the in-house restaurant is quite good. The resort has chefs specialized in Indian and Malay cuisine, however they also make nice Chinese and western dishes as well. But, the prices are quite high. The breakfast buffet spread is quite nice. While restaurant choices are limited, you can dine at a beach-side shack. It however needs to be pre-arranged.   
Hotel Amenities & Info
The resort has a nice private beach which is good for swimming. They offer non-motorized watersport activities like Kayaking from the beach. There is also a nice and large swimming pool at the resort. Although the pool is great for a dip on a typical hot sunny day, sometimes it can get crowded with the sailors who moor their yachts at the marina. 
The gym is well equipped and there is also a nice spa with a cabana. The spa uses only pure Indian organic herbs and natural oils. Massages, wraps, scrubs and even yoga and meditation sessions are offered. 
Carts are available to transport guests between various places within the resort complex. The speedboat service is available from the morning and almost every hour. The first service from the resort to Cenang Port is at 8:15am and the last one back to the resort is at 7:45pm. This is a complimentary speedboat shuttle for the resort guests. If you need a pickup or drop by the speedboat at a time outside the schedule, a special arrangement with the resort needs to be made and a one way transfer charge (of about RM160) would apply. 
Private beach at Vivanta by Taj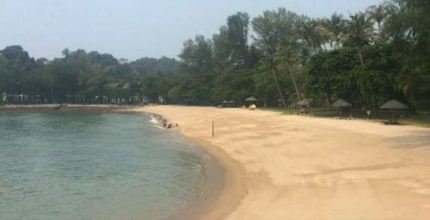 The speedboat service is often a contentious point for the resort guests. The last service at 7:45pm means that you can not enjoy nightlife (like bars or nightclubs) in the mainland or dine out late. While the resort points to local maritime laws for restricted operations of the speedboat after sunset, it could also be due to the reason that the guests are forced to dine at the resort's in-house restaurant, and that happens to be quite expensive. 
One could argue that you can not expect inexpensive food at such luxury resort, but that fact is many guests book here on special discount offers and would not like to break their vault just to have expensive food. The food in general is quite good though. 
The moon-deck by the ocean side is a lovely place for couples. You can order your wine here. It's a great place to have a romantic dinner. The deck is serviced as and when required. The resort also arranges sunset cruise, mangrove boat tour, batik painting and traditional Malay cooking lessons etc. 
Hotel staffs are well trained, quite friendly and helpful. They will guide you to almost everything you need. 
Rates provided by booking.com 
Map Location of Taj Vivanta Resort
Vivanta by Taj - Rebak Island 
P.O. Box 125, Kuah, 07000 Langkawi, Kedah Darul Aman, Malaysia 
Related Articles
Visitors' Reviews/Comments
Share your experience.