Royal Langkawi International Regatta (RLIR)
This is one of the most popular and significant sailing regattas in the whole of South East Asia. The first Royal Langkawi International Regatta took place in the year 2003 which was organized and hosted by the
Royal Langkawi Yacht Club
. 
Since then the regatta has gained popularity within the yachters community all over the world and has been established as a major sailing event in the region. Today RLIR has a separate committee that organizes the regatta in conjunction with Malaysian Yachting Association (which is the national authority in Sailing events) and under full patronage of Royal Langkawi Yacht Club which remains as the main host. 
The event takes place during the first quarter of the year (between Jan to March) for several days and Yachters from all over the world come to Langkawi to compete in this fascinating yacht race under various categories. 
Usually the regatta involves two different race conditions - Kuah Harbor Race which takes place on the Bass Harbor of Kuah town and offer windy condition with flat waters, and the Coastal Race which offers strong windy conditions in choppy waters. 
There are coveted prizes in different categories. For example Prime Minister's Challenge Trophy (for Racing Class yachts), the Commodore's Challenge Cup (for participants in club registered cruisers), the LADA-IRC Challenge Trophy (for participants in IRC 1 Class), the Langkawi Sports Trophy (for participants in Sports Boat Class) and the Malaysian Multi-hull Challenge Cup (for participants under the Multihull category - Catamarans, Trimarans etc). 
However an interesting trophy in this regatta is the Tunku Abdullah Sportsmanship Award (named in memory of the first Chairman of Royal Langkawi Yacht Club) where the participants themselves vote for the team that demonstrates best competitiveness along with fair racing and comradeship, both in water and land. 
Royal Langkawi International Regatta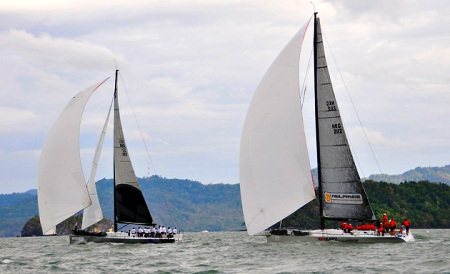 The regatta event is followed by award presentation and dinner party. 
Note that the entry fee to the RLIR includes berthing of the boats in the RLYC marina. The RLIR organizers also negotiate discounted rates with several hotels for the yachters participating in the regatta. 
Update January 2016: The 14th RLIR regatta will take place from 11th to 16th January 2016. Once again it will showcase participation from many countries as significant number of boats have already registered. 
Update January 2015: This year the RLIR competition is taking place between January 12 to 17, 2015. 40 yachts from various countries have already confirmed participation including Malaysia, UK, Australia, Singapore, Denmark, Austria, Thailand, New Zealand etc. Several other countries like Japan, Hong Kong etc are like to participate as well. Prizes will be given away for five classes - Racing Class, IRC Class, Sports Class, Multihull Class and Club Class. 
In 2013, over 40 sail boats of different sizes and classes participated from over 12 different countries. There have been a gathering of over 250 sailors and hundreds of yachting enthusiasts in the island. 
Contacts for further information and inquiry 
Regatta Secretariat 
Royal Langkawi International Regatta, 
Jalan Dato Syed Omar, 07000 Kuah, Langkawi, Kedah Darul Aman, Malaysia. 
Phone: +60 4 966 4078 Fax: +60 4 966 5078 
Website: www.langkawiregatta.com 
Related Articles
Visitors' Reviews/Comments
Share your experience.