Al Hana Mosque Langkawi
The mosque is also known as Masjid Al Hana and is located in Kuah Town. If you are driving towards Lagenda Park, this striking mosque will be to your left just before the park. Fringed by coconut trees along its boundary walls, this white colored mosque has a huge golden color dome with a shape of an onion and surrounded by several other smaller ones. 
This is the largest mosque in Langkawi and most popular to the locals here. It was established in 1959 and inaugurated by the first and late Prime Minister of Malaysia, Tunku Abdul Rahman. Since then, hundreds of Muslims come here everyday offering their prayers. It particularly gets full on Fridays. 
Masjid Al Hana (Al Hana Mosque) Langkawi 
The architecture has a mix of Malaysian style and that of Uzbekisthan. Many motifs and carvings have been adapted from typical Uzbekisthan mosques. The main hall or the prayer room is large and looks awesome. The walls here have verses from the Koran etched on its walls. 
There is an wooden pulpit in the main prayer room which is carved beautifully. This is where the prayer leader or the imam stands and delivers the summons. One needs to maintain complete silence in the prayer room. Women are required to wear borkhas (black gowns covering head, body and from ankle up to the knee). 
Masjid Al Hana (Al Hana Mosque) Langkawi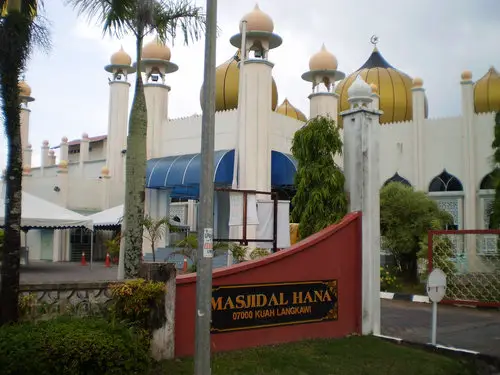 Admission & Open Hours 
Open 24 hours and admission free to all. 
Location 
The Al Hana Mosque is located in Kuah Town, just west of
Lagenda Park
and the on the road Persiaran Putra. It faces the kuah waterfront. Some of the attractions like CHOGM Park, Eagle Square and Kuah Jetty Point etc are all within short walking distance. 
Map location of Al Hana Mosque Langkawi 
Related Articles
Visitors' Reviews/Comments
Share your experience.