Splash Out Waterpark
About the Park
Splash Out is a new waterpark that has opened in the Kuah district of Langkawi. It packs an assortment of fun and games that you can enjoy with your family and friends. The park is quite expansive and is almost the size of seven football grounds put together, nearly five hectares. They have a total of twelve rides and water slides at the moment, that include plenty of fun rides for kids as well as some challenging ones for adults. 
The waterpark is one of its kind in the area and was built by the executive chairman of the famous Halim Mazmin Group, Tan Sri Halim Mohammad. The sprawling park claims to have had a budget of a whopping RM sixty million behind its completion. 
Splash Out, Langkawi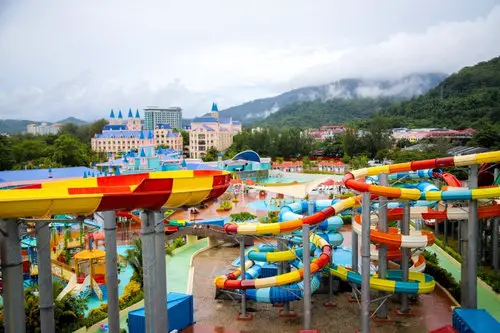 Photo: Splash Out 
The Main Attractions and Rides
One of the key attractions here is a water slide that towers almost six storied high complete with a turbulence effect which is sure to give a heart pounding experience even to the most weathered thrill-seeker. They make a reference to the Hollywood thriller "The Perfect Storm" and claim to give a similar experience of turbulence in the high waters and plunging at forty degrees, as was shown in the movie. 
If you can stomach more of the rush, be sure to try another ride called the "Ragin' Racers". This too keeps the momentum going and includes a downward scramble at the speed of around fifty km per hour all the way to ground level. It is a common excitement among the riders to compete with family members and friends to see who stops farthest from the base of the ride. 
Besides these, there are several other equally thrilling rides and slides where you are plummeted downward coupled with exciting twists, turns and at varying speeds. On some such sharp drops, you might even experience wonderful visual effects, such as the one in "Poseidon's Revenge". If you are further up for it, you can experience similar mind boggling and nerve racking thrill as riding five foot waves at the "Wild Water" or on such rides as Shipwreck Falls, Splash- Tacular, Splash- Python, Rainbow Rider and Splash- Twister. 
The Rides at Splash Out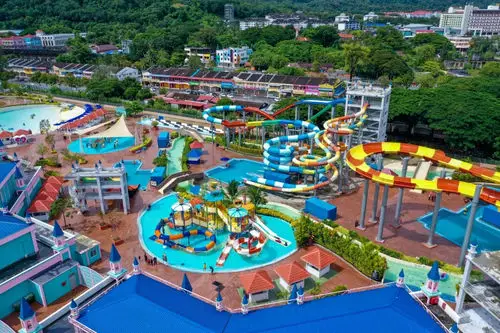 Photo: Splash Out 
The fun doesn't end with these high-powered, thrill inducing and adrenaline pumping rides. The park also includes gentler rides for those who are not up for the plummet just yet and even for those who want to slow it down after that roller coaster. You can spend a relaxed fun time with family and children at their various water playgrounds which feature calmer rides. 
There is the "Wild Water" attraction which actually includes six different types of waves in a pool that doubles up as a beach with all the undulating effects. Another great attraction that you can enjoy with your entire family is the "River of Life" where you can calmly float around the entire park on two-seater buoys. You can also experience the splash of your life under the "Big Splash Kingdom" which gushes down around 250 litres of water every couple of minutes from a massive barrel positioned overhead. 
Leave the kids free at "Sprinkle Island" which has a perpetual "rain" feature and gives the feel of a nice drench in a sudden downpour. With gigantic water sprinkler systems and water jetting out in all directions, it is a perfect cooling off spot for the little ones. 
Dining at the Park
The park does not allow outside food and drinks within its premises (except for food for infants and others with specific medical conditions). You will find a number of food venues offering mouthwatering delicacies, splattered throughout the park. 
For a food court like experience, step into Seafarer's Haven for a variety of cuisines from the various Asian countries including Indian, Arabic as well as a variety of Fast Food.  There is Straits Kitchen, Surf and Turf, Refuel which is their beverage counter, Splash Burger, East India for coffee and tea along with some quick bites, cakes etc, Cart and Kiosk for ice cream, fruit juice and snack, etc. 
Other important info
Each ride in the park has its own set of height/weight requirements. However, in general, for most of the rides the minimum height requirement is 120 cm. 
They give locker facilities with an additional charge of RM20 for small lockers, RM30 for the medium sized ones and RM50 for the large. However, it is completely subject to availability. You can even rent Cabanas at RM80 for an entire day. 
The park also provides wheelchair facilities in case of emergencies.  
You can visit their gift shop, Bass Harbour, and take a look at their little assortment of knick-knacks, toys, accessories and mementos. 
Conclusion
So whether it is the rush of adrenaline on one of the twisty rides or the more benign splash in the water, that attracts you, this waterpark has it all in store. The first of its kind on the isle, Splash Out is a fantastical world that offers an amazing journey, wondrous exploits, marvel adventure and all in all "a simply splashing good time"! 
Indicative Prices
Adults (aged 13-60): RM75 
Children (90cm to 12 years): RM55, Children below the height of 90 cm can enter the park for free. 
Senior Citizen (above 60 years): RM40 
You can also avail good offers, promotional deals and discounts if you procure the tickets in advance online from their official website www.splashoutlangkawi.com. 
They even have special offers and group discounts if you have a party of 30 or more. You can contact them at 603 8888 2288 for good deals or even mail them with details such as your contact info, tentative date of visit, number of heads etc. 
They accept cash, debit and credit cards and all tickets are non-refundable. 
Open Hours
Monday — Thursday: 
10.00 a.m. — 6.00 p.m. 
Friday, Saturday, Sunday: 
10.00 a.m. — 7.00 p.m. 
School and Public Holidays: 
10.00 a.m. — 7.00 p.m. 
Location & Contacts
Splash Out Park  is located right next to the Bella Vista Hotel in Kuah or about 3.4 km away from the massive Eagle Square.  
Map Location 
Address: 79, Persiaran Mutiara 2, Pusat Perdagangan Kelana Mas, 07000 Langkawi, Kedah 
Phone: +604 — 9611 520 
Related Articles
4)
Kuah Guide
: All about Kuah including activities, shopping, hotels, restaurants etc. 
Visitors' Reviews/Comments
Share your experience or stories.