Langkawi Zipline Eco Adventures By Umgawa
What To Expect
If you wish to experience Langkawi and its beautiful sights from over the treetops of the ten-million year old rainforest, here's your chance. Umgawa Zipline Eco Adventures takes you on this exhilarating ziplining tour in the Matchinchang Cambrian Geo Park. This is the only zipline eco adventure tour in this area. It is situated just a short distance from the popular Langkawi Cable Car, at the entrance to the Seven Wells Waterfall. 
The location is verdant and breathtaking and the crystal clear views of the ocean surrounding the island is simply amazing. If you are lucky you will also spot some wildlife down below, especially lemurs and monkeys or an occasional flying squirrel or a gecko hanging on the trees and some exotic birds too, as you are ziplining from tree to tree. 
Zipline through rainforest in Langkawi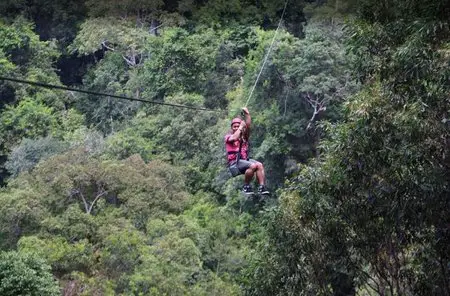 Photo: Umgawa Zipline 
The company has invested heavily in primarily three areas, which are also key factors that make the tour the safest of its kind- Zipline courses, Equipment and Guides. They use high quality Petzl equipment (one of the world's foremost provider of technical gear) and the zipline courses undergo regular maintenance and vigilant inspection. The guides are trained in wilderness and zipline safety with current certification in First-aid and CPR. They also must go through 8-weeks of rigorous training program and exams before being certified. Besides this, they undergo quarterly re-certification to ensure they are always on top of their game.  
Zipline Courses
There is long track of twelve ziplines and a short one of six ziplines. The former takes you on a course with 12 ziplines and 3 suspended sky bridges that leads you across the majestic waterfalls and the towering trees. The latter includes 6 zipline rides across the waterfalls and one suspended sky bridge. The longest zipline is about 200m (about 80m in height) and the second is 165m. The shorter tour consists of lines that are up to 100m. There are in fact, various types of ziplines, even a double one for honeymoon couples. 
Safety
Safety of the guests is paramount with the team here. The lines and gear that is provided are sturdy and safe. You are clipped on at all times. Before embarking on it, the guides help you don the gear, explain all the safety rules and also give a live demo. 
You start off as a novice, but by the time you reach the twelfth line, you almost feel like an expert. All equipment is well maintained and the highest standards are followed. Even the choice of position is taken great care over for abseils. The courses are visually and manually checked daily for unhealthy trees and natural obstacles. 
It is best to wear closed toed shoes or hiking boots and loose comfortable clothing such as pants or even long shorts. Wear sunglasses with strap and use sun block and insect repellants. 
The Guides
The guides are extremely courteous, helpful and patient with you. The initial briefing that is given is quite straightforward and easy to grasp. They are also very knowledgeable and explain about the trails, the nature here and the local flora and fauna. They are quite professional and stay with you from start to finish. The tour guides also keep the air light with fun stories and witty banter. You are made to feel at ease and all nervousness is abated if you find the idea of sliding across trees a little daunting initially. 
We had a few members in our group who have a fear of heights (and ziplines) and were a bit hesitant, but the team was very reassuring and made all of us feel very comfortable. They did a fantastic job of calming our nerves, so much so that every one of us could relax and enjoy the tour. Together they calmly and with utmost attention to safety lead you around the exciting course.  
The Tours
Big Waterfall Adventure is a full tour and lasts around 2-2.5 hours. It features their Coluga and Long Time ziplines which are known for their height, length and stunning views. It also includes a free one-way transport to the site. 
Jungle Flight is a shorter version lasting approximately 1 hour. The actual duration depends on several factors, such as the size of your group, etc. For example, a group of 8 will experience more time on the platforms than a pair of just 2. 
It is good to make a booking in advance as the tours tend to sell out fast, especially in busy seasons. There is water and refreshments available. They also hand you little pouches to store your belongings such as phones etc. should you wish to bring one along. However, they do not recommend it as it is near impossible to retrieve dropped/lost items from the jungle.  Instead they have lockers available for the use of guests at no additional charge. They can even provide you with GoPro mounts and wrist straps on rent if you require them. 
You are also accompanied by a photographer, so you get some good quality photos and videos of yourself and the entire experience. We think it is well worth it as some of the photos turn out really good that you could never hope to get yourself. They make for a nice keepsake. The photos are available for purchase individually, as an album, CD etc. Besides this, you also get 2-4 free photos (depending on your tour). 
The tour is suitable for families, groups, couples, first-timers and even individuals. Minimum age for the tour is 5 years and height is 1m. There is no upper age limit though the maximum weight permitted is 120kg. The tour is not handicapped accessible. Each group consists of 8 or less individuals with two guides. 
Indicative Rates
Big Waterfall Adventure (12 Ziplines): RM 499 
Jungle Flight (6 Ziplines): RM239 
There are discounts if you book a few days in advance. To avail group discounts, you can call them for details. 
In Conclusion
We felt that this company is admirably set up and managed. Right from the very encouraging and cheerful welcome and demonstrating safety procedures/ giving safety instructions to the well-designed trail and the platter of fresh local fruits offered in the end, it was all wonderfully organized, smooth and engaging. 
If you are looking for that heady feeling as you soar above the amazing rainforest canopy, waterfalls and get stunning bird's eye views of this beautiful island, this is your go-to tour. Across multiple ziplines, wondrous sky bridges, the thrills of sharp descents and the extraordinary accounts of the ecology and wildlife of the Malaysian rain forest, you will also experience the magic of this beautiful island from high up in the sky! We found this well-organized sky ranging tour relaxing, fun, addictive and educational, probably the highlight of our unforgettable tour of Langkawi. 
Open Hours
Open on all days between 8.30am — 4.30pm (last tour time however might vary by the time of the year depending on daylight availability) 
Location & Contact
Umgawa Legendary Adventures 
Phone: +604 950 2828 / +6013 343 8900 
Related Articles
Visitors' Reviews/Comments
Share your experience.