Faizy Crystal Glass Blowing Studio
If you love handcrafted exquisite glass items, this is the place to go in Langkawi. At Faizy Crystal Glass Blowing Studio, the local artisans create an array of glass make crystal items that are amazingly beautiful. Although glass blowing art became popular in 1990s in Malaysia, this studio in Langkawi was established in 2002. Since then the local craftsmen here have been using manual method to produce the beautiful artwork. 
During glass blowing, air is blown into a molten piece of glass to create a bubble and the craftsmen work on that blob of glass to give a delicate shape. It is a time consuming delicate process that requires the blowers to work in a furnace at very high temperatures ranging between 1,300° and 1,400°C, and sustain the radiating heat. 
Faizy Crystal Glass Blowing Studio, Langkawi 
Faizy Crystal Glass Blowing Studio is located behind the main building of the
Cultural Craft Complex
. The entry way is from the road Jalan Teluk Yu and opposite to the
Shark Bay Beach
. You can walk in and see demonstration of how such items are delicately handmade by the craftsmen. There is no admission or demonstration charges and there is also no obligation on your part to buy any items. 
The main showroom at Faizy Crystal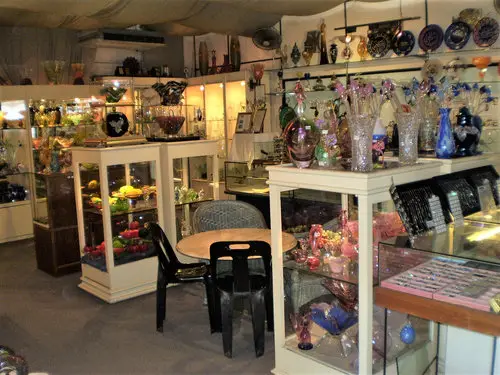 At the Faizy Crystal, the raw material (the glasses) for making the items are brought in from Netherlands while the color shades come from Germany. The technological know-how of making the glassware has been adapted from Sweden. However all items are designed and handcrafted at this studio by local artists. The items here are produced for sale in both domestic and international market (mostly in European market). 
Exquisite glass-made flowers & vases at Faizy Crystal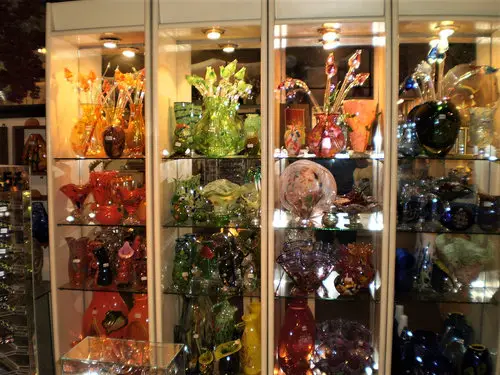 So what kind of glass items do you get at the glass blowing studio? 
Personal and desktop accessories including glass-made ducks & other animal models, ashtrays, wine glasses, perfume holders, glass covers, paper weights etc. 
Flower vases with glass-made tulip flowers, fruit plates & holders, side plates, lamp shades 
Crystal Jewelry with intricate designs and stunning colors, 
Trophies & Awards of various shapes & sizes, Crystal Cubes, 
And lot more... 
Exquisite Tulip bunch at Faizy Crystal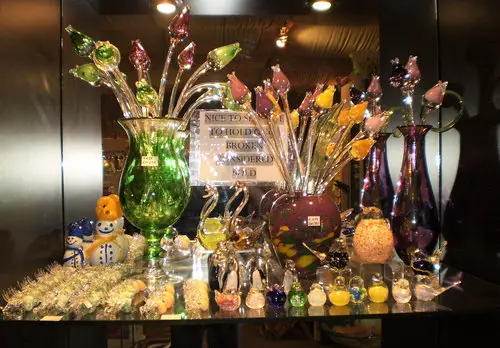 Open Hours 
Admission is free. The complex is open from 9:30am to 5pm. It is closed on Friday and some public holidays. Lunch break is between 1pm-2pm. 
Location & Contacts 
Faizy Crystal Glass Blowing Sdn. Bhd. 07000, Langkawi (Langkawi Craft Complex). 
Phone (Office): +604 959 4885; 
Cell: 012 402 2650 
Factory, Faizy Crystal, Langkawi 
Faizy Crystal Glass Blowing is located behind the main building of Langkawi Craft Complex. The approach is from Jalan Teluk Yu opposite to the Shark Bay Beach on the northern shoreline of Langkawi. It is about 21kms from Kuah Town and 24kms from the airport. You can come by a taxi, rented car or as part of a tour. See the location in the map below. Zoom and move the map to see the nearby places. 
Map location of Faizy Crystal (Behind Craft Complex) 
Related Articles
Visitors' Reviews/Comments
Share your experience or stories.