Langkawi Craft Complex
Locally know as Kompleks Kraf, this is the cultural craft complex of Langkawi that showcases and sells exquisite handicraft and artwork from Malaysian craftsmen and artists. The craft complex was set up in the year 1966 over 12 hectares of land area. It's so popular that it now draws about 90,000 visitors every year. 
The entry way of Langkawi Craft Complex is from the road Jalan Teluk Yu and opposite to the
Shark Bay Beach
. So it is located near the northern shoreline of the island. It's a huge complex and the main Craft Complex building has succession of halls with several sections that are designated as museums displaying varieties of intricate art & craft items and reflecting the rich cultural heritage of Malaysia. 
Reception at Craft Complex, Langkawi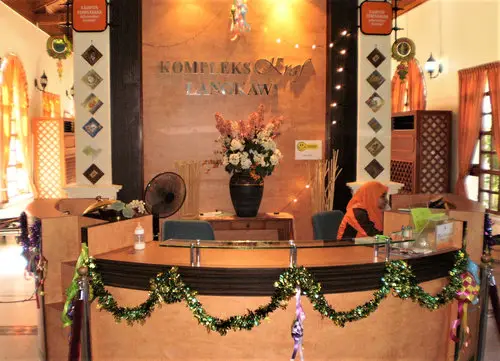 As you enter through the main door, there is a lobby area and the reception counter is on the right. Talk to the lady at the counter and understand the layout of the craft complex. It's not too simple and unless you know the layout, you may miss out on some sections. Straight ahead of the lobby and also on its left is the Crafts Bazaar which is the sales gallery. Here you will find different kinds of apparel & clothing, gifts & souvenirs, accessories, home furnishing products, utensils and lot more. 
Lobby & Crafts Bazaar - Langkawi Craft Complex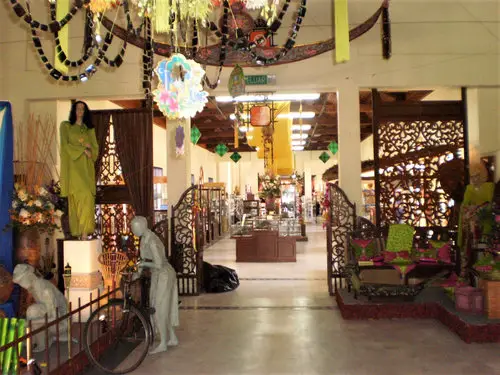 The sections of museums include Heritage Museum, Custom & Wedding Museum, Islamic Museum, Royal Museum and so on. The museums aim to educate the visitors with the help of exhibits and handcrafted diorama. One of the highlights here is the History & Legends Museum where the life story of Mahsuri (a legendary princess who was wrongly accused of adultery and executed) has been depicted with many stunning displays. 
There is a section demonstrating how local art & craft are made such as songket weaving, wood carving & plaiting, Batik printing etc. There are times when you can personally interact with the craftsmen and learn how they make the products. At the lobby turn left, at the end turn right and you will find the Craft Interactive Area where you can interact with the craftsmen and see the demonstrations. 
Carved Thrones at Langkawi Craft Complex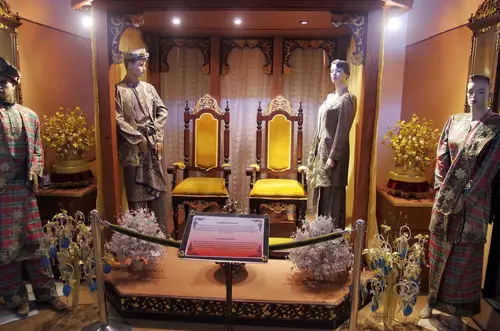 Photo: Balou46, cc by-sa 4.0 
Here they also show how Batik printing been done for the kids. However for a better guided demonstration of Batik Printing,
Atma Alam Batik Village
is the place to go. Update: The section for demonstrating Batik art for kids seems to have been discontinued. However, there are some batik printed materials available for sale (like T-shirts etc) at the main hall sales gallery (Craft Bazaar). 
Heritage Museum - Langkawi Craft Complex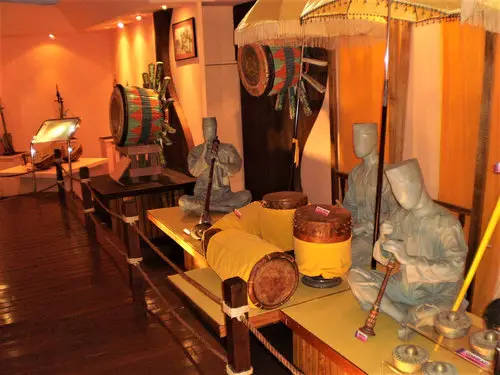 So what are the other great displays in Langkawi Craft Complex? Our personal favorites include the following: 
Fabulous beadwork and intricate bamboo carvings reflecting age-old craftsmanship which were created by ethnic tribes of Malaysia; 
Exquisitely designed batik on handmade silk; 
Songket, a kind of textile based design where silver and gold threads are interwoven to create magnificent fabrics that were once used by Royal families in functions; 
Beautiful brass and silver items 
Handicraft made from Newspaper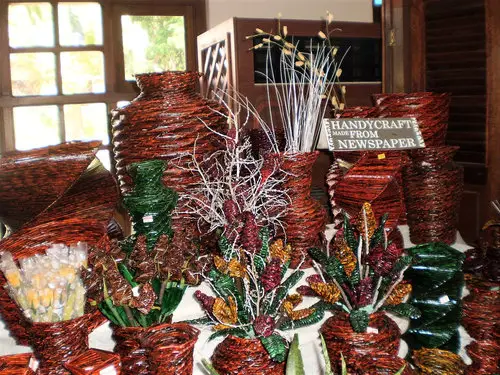 What are the great buys at the Langkawi Craft Complex? Here are some of the very popular traditional Malaysian items that the tourists look for from the sales gallery: 
Mengkuang and Pandan leaves that are woven in traditional delicate designs and can be great souvenirs from the island; 
Forest based products like wood carved items including frames, pen stands, flowers, models of eagle and lot more; 
Metal items like mugs with beautiful designs, wine glasses with metal holder etc;  
Ceramics like pottery items that come with unique Malaysian designs; 
Basket of rattans (created from stems of palms); 
Batik printed T-shirts and other dress materials. The silk batik clothes are fairly expensive; 
Songket pouches; 
Many other beautiful accessories sold in the stalls. 
Silver Jewelry - Langkawi Craft Complex 
Behind the main craft complex building, there is a
Glass Blowing Studio
. So don't miss that out either. Although not as professional as the one you see at Murano in Venice, the handmade glass items are however beautiful. They also demonstrate making the glass items in front of you. You can just go and visit, and need not buy any items. 
Facilities 
Public parking, toilets and meeting rooms are available at the Crafts Complex. 
Open Hours 
Admission is free. The complex is open daily from 10am to 6pm. 
Location & Contacts 
Address: Teluk Yu, Mukim Bohor 07000, Langkawi. Phone: +604 959 1913; 
Langkawi Craft Complex is located on Jalan Teluk Yu road opposite to the
Shark Bay Beach
and close to Black Sand Beach on the northern shoreline of Langkawi. It is about 21kms from Kuah Town and 24kms from the airport. You can come by a taxi, rented car or as part of a tour. See the location in the map below. Use the zoom and move buttons and see the nearby places. 
Map location of Langkawi Craft Complex 
Related Articles
Visitors' Reviews/Comments
Share your experience.