Langkawi Waterfalls
Langkawi is blessed with several beautiful waterfalls that mainly cascade down the major mountains in the island like the Mount Mat Cincang and Gunung Raya. The best time to enjoy the waterfalls is during the monsoon (August - October) when the water flow is at its best and the falls gush down with great speed forming swirling pools at various levels. In many cases the pools are great for swimming and offer breathtaking view of the Landscapes all around. 
In the other season, some of the falls get dried up or come down with thin streams of water. The pools become stagnant and loose the Jacuzzi like effect. But most still offer great views. In many of the waterfalls in Langkawi, the authorities have created paths or trails to reach up to the top of the falls. You will walk through dense rainforests and enjoy the flora and fauna. Most falls areas therefore offer great picnic as well as swimming opportunities. 
Here are some of our favorite waterfalls in Langkawi. 
(Pantai Kok, Mount Mat Cincang) 
The uniqueness of this waterfalls is its seven natural pools formed at the top. This is the best waterfalls in the island offering magnificent views of the Mount Mat Cincang and the valley from the pool area. In order to reach to the top, you need to climb more than 600 steps (takes some 45 minutes). There is also a lower falls area from where you can see the falls.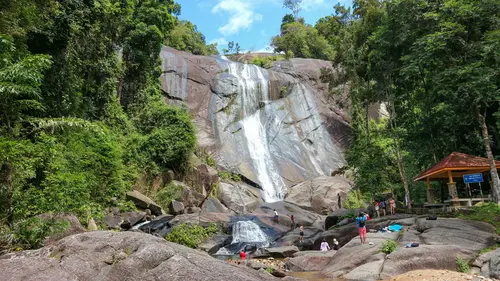 Photo: FilipTravelWorld, Shutterstock 
(Datai, Jalan Datai, North Langkawi) 
A great 3-tier waterfalls forming a lovely pool at the top tier. The cumulative height of the falls is 200 meters and is the highest waterfall in Langkawi. However it's very difficult to see the entire stretch of the fall, rather you will see in parts of it from various points. The walk is though a forested land that has many birds and small animals. There is a beautiful natural pool at the top tier which is great for a dip or swim.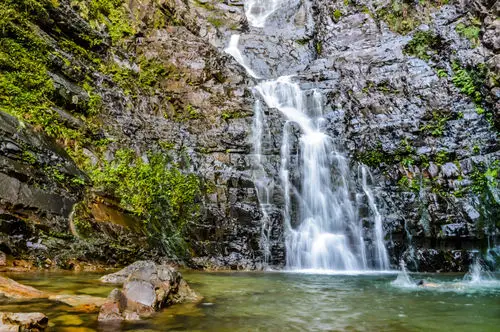 (North East, further north of Kilim Village off Jalan Air Hangat) 
This is a multi-tiered lovely falls (best viewed during the monsoon though when the water flow is at its best). At the base there is a nice forested parkland. Along the pathway as you climb up, there are covered resting places with great views of the forest. There are natural pools at different levels where you can take a dip and swim. There is a park and hanging bridge as well. A great place for families for picnics.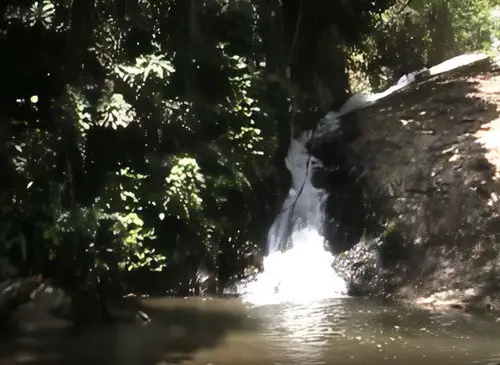 Related Articles
Visitors' Reviews/Comments
Share your experience.