CHOGM Park, Langkawi
CHOGM stands for 'Commonwealth Heads of Government Meeting'. This park was created to commemorate the one of such Commonwealth meetings that was held in 1989 in Malaysia. Langkawi was then used as a retreat for the delegates of the commonwealth countries that participating in the meeting. 
This park with lush gardens and many trees and plants is located in Kuah Town next to the
Al Hana Mosque
and spans across an area of about 10 acres. 
CHOGM Park Langkawi 
The park is marked by a large white concrete structure with mountains as the backdrop. It was built following the design of the CHOGM logo. There used to be flags of all participating commonwealth countries fluttering on the top of this structure. However, now all except that of Malaysia and the state of Kedah have been removed. You can see the empty flag poles on top of the structure now with only two flags fluttering. 
CHOGM park has a nice paved walkway and so many trees providing shades. It's a nice place to take a stroll and enjoy the greenery. There is a children's play ground in the park which is equipped with slides, swings, tunnels etc. 
CHOGM Park Langkawi 
There is a small manmade beach next to CHOGM park. While the beach is not particularly well maintained and also not suitable for swimming, you can get lovely view of the water and the surrounding area from here. The white sandy stretch is fringed by the shady trees of the park. While during the day time it can be very hot at the beach, the sunset time is ideal to visit the beach and soak in the views. 
Near the entrance of the park and facing the main road there is a concrete stand with a large shining metallic board. The middle section of the board says "Taman Peringatan CHOGM" and describes the background of the park in Malay. The sections on its two sides describe the 1989 Commonwealth Heads of Government Meeting along with the list of participating countries.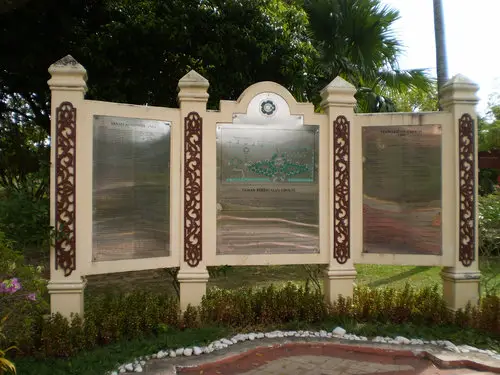 Facilities 
There are no facilities in CHOGM Park like toilets etc. However Langkawi Fair Mall is within walking distance and you will get all facilities there including eateries. 
Admission 
This is a public park and admission is free. 
Open Hours 
Open daily all day 
Location & Contacts 
The main entrance to CHOGM park is from the road Jalan Persiaran Putra in Kuah which goes by the Al Hana Mosque. You can take a taxi and come to the park. For further information, call +604 966-7789 (Langkawi Tourist Information Center). 
Map location of CHOGM Park Langkawi 
Related Articles
Visitors' Reviews/Comments
Share your experience.