Langkawi Gift & Souvenir Stores
Gifts & souvenirs are the most sought after items in the island. After all having visited Langkawi, you will like to take back some gifts for your dear ones and some souvenirs to take back the memories. No wonder there are hundreds of shops that have mushroomed in the island selling all kinds of gifts & souvenir items. 
Walk along the streets of Pantai Cenang or Kuah, every other shop would be a Gift & Souvenir shop or at least have a section dedicated to that. 
Exquisite Glass-made Tulip bunch at Faizy Crystal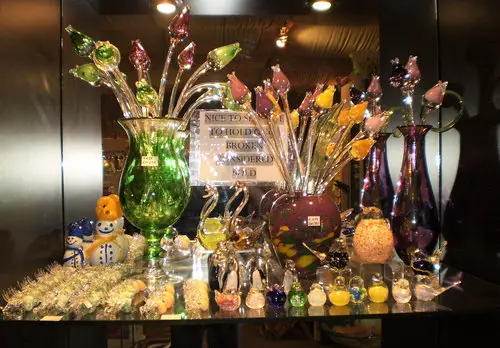 So the next question is what kind of items are you looking for? If you are a serious buyer looking for some authentic art & craft ware, crystal & glasswork, then there are some places in the island that will blow your mind away. But you will need some money in your pocket or else you will only keep watching such handcrafted wonders.  
High Quality Crafts
Visit the
Craft Complex
, a large craft house near the northern shoreline of the island showcasing intricate artwork & designs by local and reputed artists & artisans. You will get forest based products, exquisite silver & brass ware, paper based products, wood & bamboo carvings, clothes & apparel, batik prints and even Sogkets that are made of gold & silver threads being interwoven into a textile. 
Silver Jewelry - Langkawi Craft Complex 
Right behind the Craft Complex is another gem of an artwork studio,
Faizy Crystal
which is a glass blowing studio making exquisite glass items like figures of birds, animals, flowers, then flower vases, plates and lot more. You can see the artists making the pieces right in front of you. 
Exquisite glass-made flowers & vases at Faizy Crystal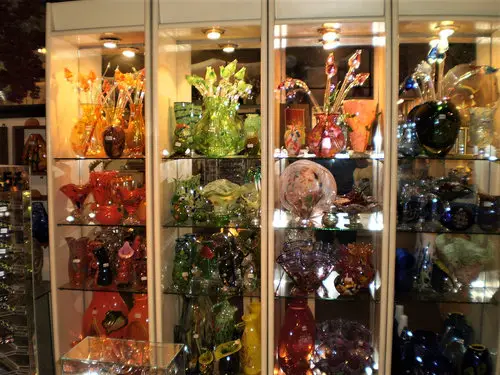 If you take interest in authentic Batik art & prints, visit
Atma Alam Batik Art Village
, a place where resident artists and the owners themselves create amazing batik prints. Don't forget to pick up a batik art on silk. 
Batik silk prints at Atma Alam, Langkawi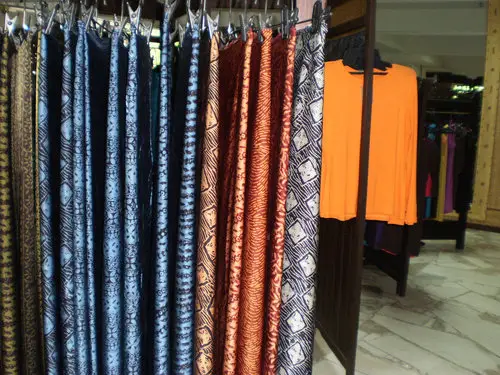 If you are interested in Kashmiri Art from India, then visit Asian Heritage Center. This is an outlet of the company 'Little Kashmir' which has now extended its reach globally and makes exquisite products in the area of art, shawls, furnishing, woodcraft, silk carpet and jewelry that genuinely reflect the art of Kashmir in India. You will find their outlet opposite to Underwater World in Pantai Cenang (No 7 & 8 Landcons Square; Phone: +604-9663002) 
Cheap Gift & Souvenirs
Well those were for serious shoppers. But most of us are probably interested in small knick-knacks and stuffs that are cheap but can serve as attractive gifts for friends and family members back home. So if you are one of them looking for stuffs like cool Langkawi T-shirts at cheap prices, or key rings, caps etc, then here are some great shopping venues: 
Langkawi Night Markets
Night Markets are like street or flee markets that are set up every day in the evenings, but at different places in Langkawi depending on the day of the week. While one of the major attractions at the night markets are the cheap traditional Malay food that are sold by the vendors from their stalls, several night markets like the one in Kuah have many stalls that are packed with small souvenir & gift items like fridge magnets, key rings, sunglasses, T-shirts & dress materials, watches, bags, different types of accessories etc. 
Night Market at Kuah Town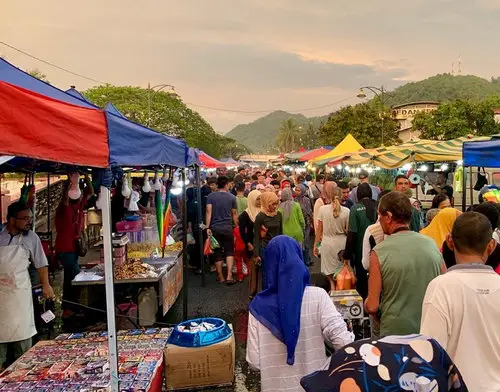 Photo: Langkawi Trips (facebook) 
Night markets in Langkawi are extremely popular venues for both locals and tourists, are great places serving as cultural melting pots. Go through
Night Markets in Langkawi
for complete details. 
Art Zone Delight Shop
This store is located in Kuah town. Here you can buy lots of cheap souvenirs and art. There are wide range of items here, mostly very cheap including key rings of different types, perfumed pen stands, handcrafted pencils, caps & hats, belts, bags, sandals, banners, printed cloth pieces and lot more. A simple key ring could be as cheap as RM1. 
Art Zone, Kuah Langkawi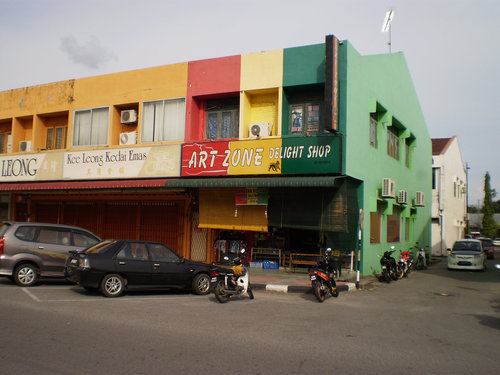 Address & Contacts: 54, Jalan Pandak Mayah 5, Pusat Bandar Kuah; Phone: 604 966 3303 
Oriental Village
Located in Burau Bay in Pantai Kok area where the Cable Car ride takes place, Oriental Village is a great place to hunt for casual gift & souvenir items. There are lot many shops here that are dedicated only for souvenir & gift items and they are all moderately priced. The hottest selling products are the T-Shirts & souvenirs. Check out
Shopping at Oriental Village
for full information.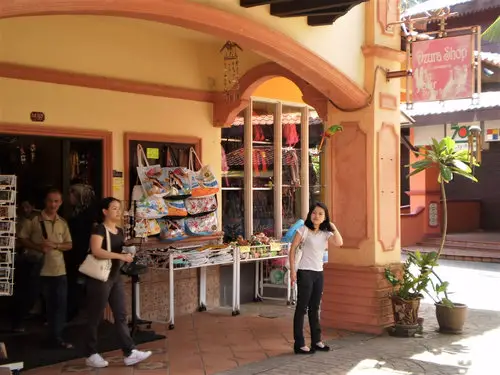 All Time Collections
This is a very popular store with the tourists looking for Langkawi imprinted T-shirts, dress materials for men & women, some nice batik printed clothes etc. They are all very reasonably priced. The staffs here are quite friendly as well and they won't get tired showing you the stock. You can also do a bit of bargaining here. The store is located in Kuah. 
23, Jalan Pandak Mayah 1, Kuah; Phone: +(604) 966 4663 
Souvenir Shopp'e
This is a large chain and a branch is located in Pantai Tengah near the Holiday Villa Resort. They offer various handcrafted souvenir items made of Wood, Bamboo, Marble, Leather, Ceramics etc. They also keep silver jewelry, summer wears, batik prints etc. 
Lot.589, Kampung Simpang Tiga, Pantai Tengah, Langkawi. 
Phone: 604-9555992; Cell: 6012-4086613 
Gifts & Souvenir shops in Pantai Cenang
There are a myriad of souvenir stores along both sides of the main street in Pantai Cenang selling all kinds of items. Check out
Pantai Cenang Shopping
where I have discussed several of them and their offerings. 
Related Articles
Visitors' Reviews/Comments
Share your experience.